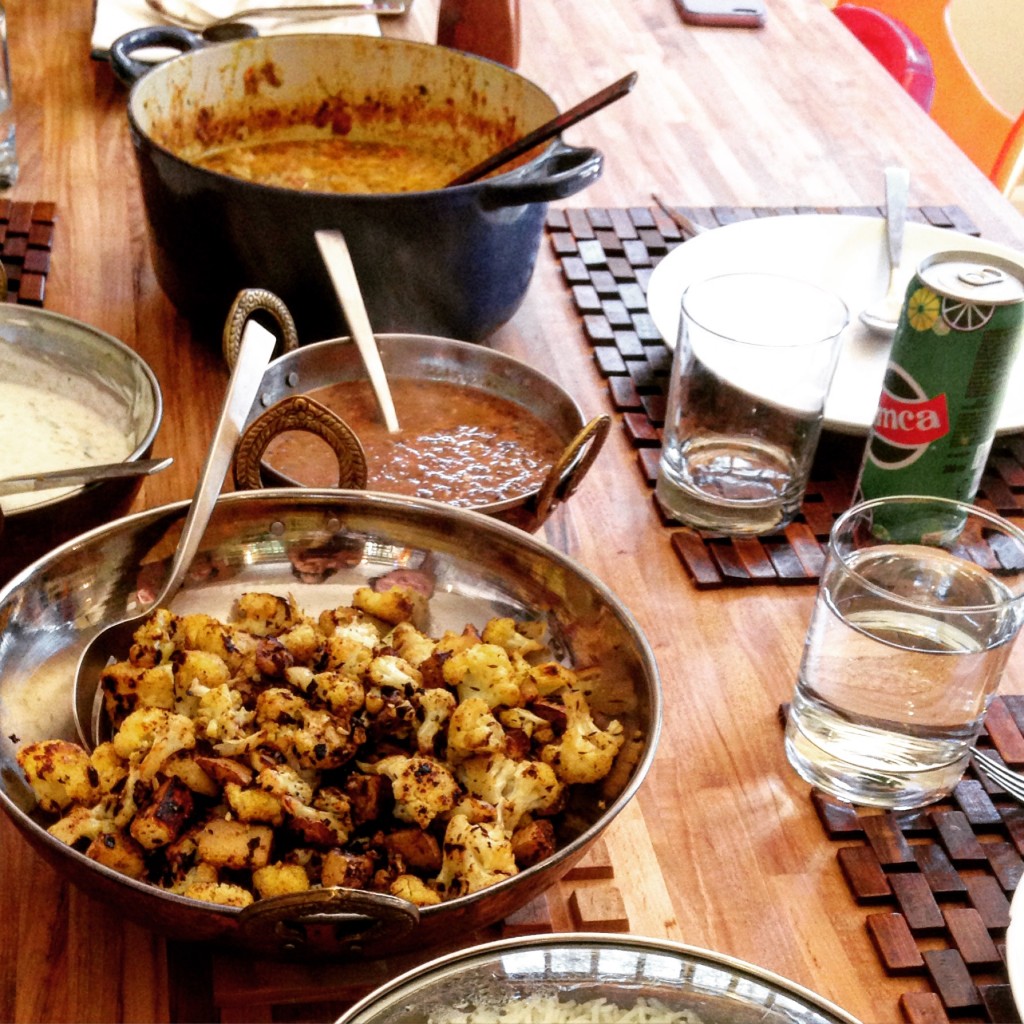 August was an absolute blur.  Work was a bit nutty for me.  My son was out of school and going to a different camp every week. And my parents came to visit and we went on a short vacation to Lake Tahoe with them.  Arjun and I also got the chance to escape by ourselves for a weekend and check out the dining and wineries in the charming Sonoma County town of Healdsburg.  I will be writing all about the goodies we discovered there in a future post.  Oh, and I gave my first official cooking class!!  I donated an Indian cooking class for one of my son's school's fundraisers last year and was pleasantly surprised when it was a hotly bid upon item at the auction.  The picture above is from the resulting class where I taught my willing group of four ladies how to make aloo gobi, butter chicken, kali dal, and cucumber raita.  It was a ton of fun and I would love to do it again so if you are in the Bay Area and want to learn Indian, please reach out – shveta.berry@gmail.com
Now that summer vacation is over and we are settling into more of a regular schedule I"m hoping to go back to my normal cadence of publishing once a week.  It is sad to see the summer season end but I am really happy to welcome back the stability of a routine!
But I am getting ahead of myself.  The unofficial end of summer is actually this Labor Day weekend and like many of you I hope to get in some quality time at the grill.  Now in the spirit of transparency, in case you start to think I am some sort of grilling expert, I'm not.  I leave the actual cooking of the meat to my husband, Arjun.  But I can make a mean marinade and wanted to share some of my favorite go-tos and also a couple I'm hoping to try.  Of course, first on the list is the tandoori ribs.  If you want to keep the dish more classic, you can use the same marinade with great success on chicken as well.  My favorite cut for this recipe is skinless thighs.  I also love doing an Asian herbed chicken that is juicy and bursting with flavor.  Another chicken knock out dish are these reshmi kebabs which work well on the grill or under the broiler.  I am dying to try this honey chipotle chicken and may give that a whirl this weekend.  If pork is more your speed, I cannot get enough of the molasses mustard pork tenderloin.
On the side, grilled corn is a big hit in our house.  I like to squeeze lime juice on it and sprinkle over salt and the tangy spice blend, chaat masala.  I'm also a big fan of this avocado and cucumber salad which seems to go with everything and takes minutes to put together.  Another side dish which also makes brilliant leftovers is this kale and quinoa pilaf.  I recently packed it in mason jars layered with some lefotver roasted broccoli and chorizo that I had in my fridge and it was the best. lunch. ever.  And light and healthy to boot.  Hopefully this gives you a few ideas to get the long weekend party started in your kitchen!