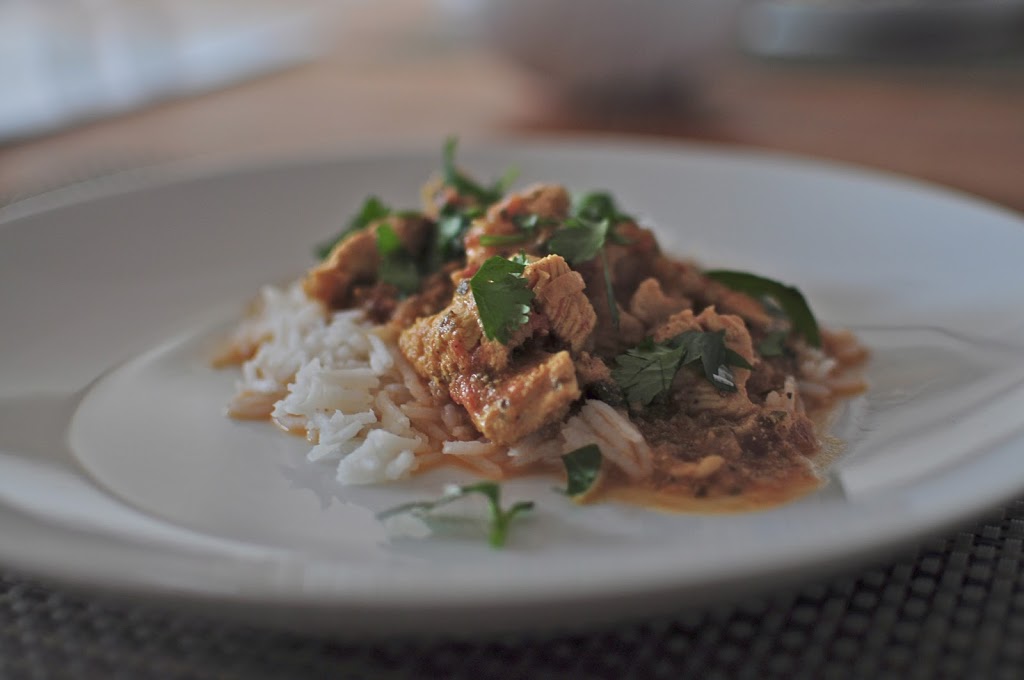 Okay, it has been a while and many of you have asked me to please return to samosajunkie!!  Thank you for the kick in the pants and encouragement.  Even though I had an excellent excuse (my baby girl was born February 8) I have missed writing and cooking terribly and am happy to be finally back doing both.  My new little lady, Ishani, is still not letting me consistently sleep through the night but I have somehow managed to become a somewhat functioning adult on only 4-6 hours of consecutive sleep.  So please be kind when pointing out my typos.
On my maternity leave I have discovered the most delightful series of Indian detective novels called the Vish Puri mysteries by Tarquin Hall.  The main character, Vish, is a fabulous Delhi dwelling detective who LOVES to eat.  The descriptions of the food in the books is delectable – and will make you crave some Indian grub like nothing else.  Consider yourself warned.  Tarquin Hall is kind enough to provide a killer recipe (pun intended) for butter chicken in The Case of the Deadly Butter Chicken.  My husband was very skeptical when I told him I wanted to try and make the dish.  But the recipe looked good and pretty easy, especially since you can split it over two days.  I marinate the chicken one day and then make the curry the next.  I've received rave reviews both times this has graced our table, even from our resident wild card – my almost three year old Shiv.  He gobbles this up with relish.
The curry itself has a mild sweetness from the tomato, and is tangy from the yogurt.  The spices are perfect – not too overwhelming but a nice balance to the richness of the butter.    The only change I made to the original is using half and half instead of cream to keep it on the lighter side.  If you want to recreate what you typically get at restaurants I would recommend going whole hog and using the heavy cream.
I served simply with basmati rice and a veggie side.  And leftovers reheat beautifully.
Vish Puri's Deadly Delicious Butter Chicken
(from The case of the Deadly Butter Chicken by Tarquin Hall)
Ingredients:
2lbs chicken skinned and boned (I used both thighs and breast and prefer thighs)
juice of one lime
salt to taste
1 tsp red chili powder
2 bay leaves
6 whole cloves
1/4 tsp cinnamon
4 cardamom pods
10 almonds
1 cup low-fat or full fat yogurt
1 tsp garam masala
2 tsp coriander powder
1 tsp cumin seeds
1/4 tsp turmeric
4 tbl canola oil
1 large red onion chopped
1 tsp crushed ginger (grated mine on a microplane)
2 tbl minced garlic (about 5 medium cloves)
14 oz. canned chopped tomatoes
1 cup chicken stock
2 tbl kasuri methi (dried fenugreek leaves)
3 tbl butter, softened
1/4 cup cream or half and half
1/2 c. fresh cilantro, chopped
1.  Mix the chicken, lime juice, salt, chili in a large bowl.
2. Dry roast the bay leaves, cloves, cardamom, cumin, and almonds in a skillet until fragrant and the almonds are starting to brown.
3.  Grind the toasted nuts and spices in spice powder until a fine powder.
4.  Mix the powder with the yogurt and add the garam masala, cinnamon, coriander powder and turmeric.  Add to the chicken and marinate at least an hour up to a day.  I always marinated 24 hours.
5.  Heat the oil over medium heat in a dutch oven.
6.  Fry the onion until it turns pale golden – about 5-6 minutes.
7.  Add the ginger and garlic and fry until you can smell it – about 2 minutes.
8.  Add the chicken pieces and fry until the flesh turns white, stirring frequently.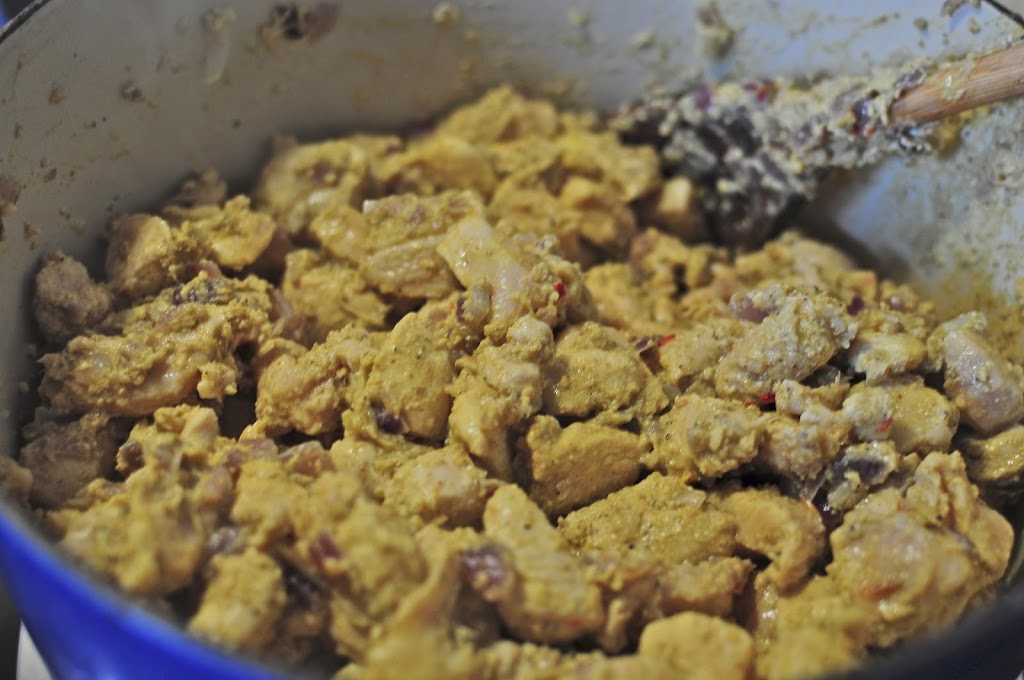 9.  Add tomatoes and the any remaining chicken marinade and cook until the tomatoes have gone soft and almost disintegrated – about 7-8 minutes.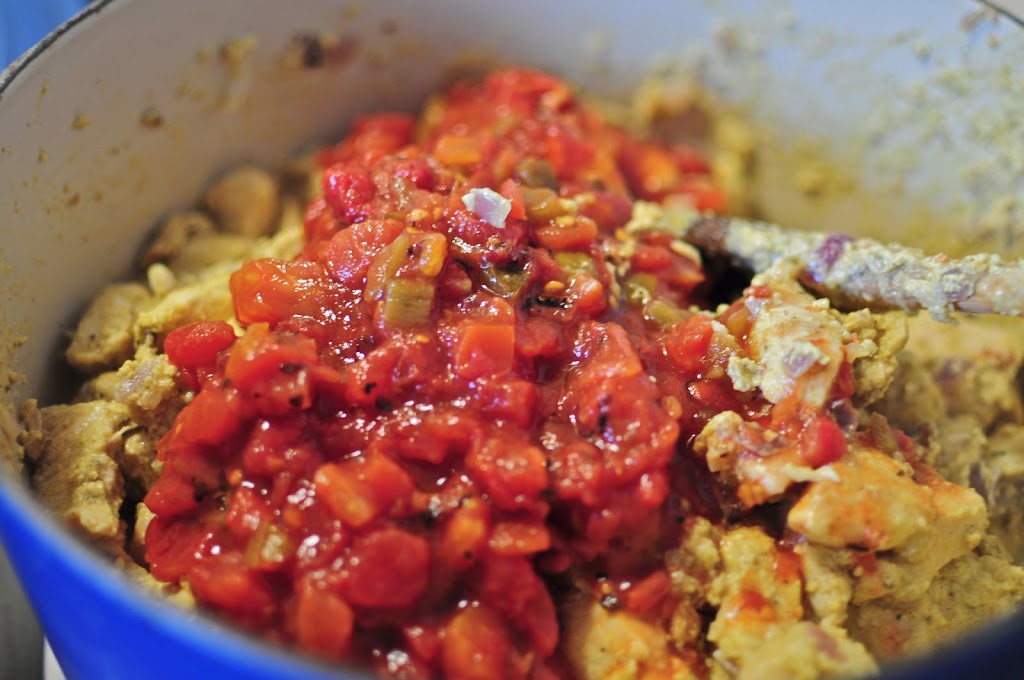 10.  Add the chicken stock and kasuri methi.  Simmer 15 minutes until the oil has separated and the gravy has thickened.
11.  Add the butter and cream or half and half and stir to incorporate.  Garnish with chopped cilantro. Serve over rice with your favorite vegetable.