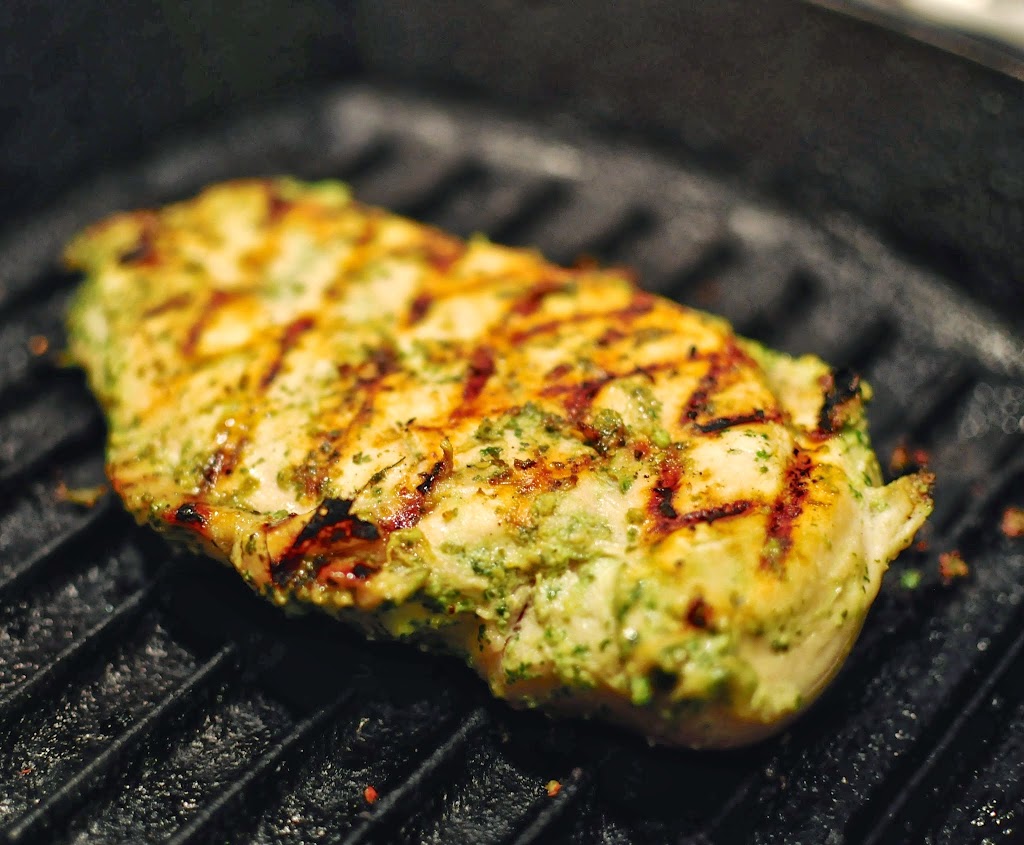 In your cooking repertoire you gotta have one fail safe chicken recipe that is always delicious and preferably easy.  And if it also happens to be uniquely memorable all the better.  Well this Asian herbed chicken recipe is exactly that for me.  It is perfect whether I am entertaining or not.  The marinade really does all the work of providing flavor and it comes together in seconds in the food processor.  In fact, the greatest testament of this recipe's ease is the fact that not I, but my husband found it.  And unless he's making some complicated Indian dish, he is interested in maximum flavor for minimal effort.  The first time he made it was for a welcome home dinner for me.  I was driving to Durham, North Carolina from northern Virginia.  Arjun had just moved to start graduate school and I was following to join him, a few weeks later.  Being a city lover, I was a little skeptical of this move to small town living and he made this chicken to, I think, get my move started on the right foot.  I still remember how impressed I was by this mouth watering dish even though that was now eight years ago!  Small town living never really grew on us but this recipe has certainly endured.  The blend of herbs with ginger and fish sauce really gives the chicken a complexity that makes it feel a bit luxurious.  You can grill it on an outdoor gas or charcoal grill or stovetop it on a grill pan with equal success.  And the fresh herbs and grilling do make it feel summery even if you are making it in the dead of winter – a big plus in my book.  I have barely adapted it from this recipe on epicurious, one of my favorite recipe sites.  The only thing I changed was omitting the chili so my young fry will eat it.  Feel free to add it back if you like things spicy.
ASIAN HERBED CHICKEN
Ingredients:
1/3 cup finely chopped fresh basil
1/3 cup finely chopped fresh mint
1/3 cup finely chopped cilantro
3 tablespoons finely chopped peeled fresh ginger
4 garlic cloves
1 1/2 tablespoons soy sauce
1 1/2 tablespoons fish sauce (nam pla)
1 1/2 tablespoons canola oil
1 1/2 tablespoons (packed) dark brown sugar
6 skinless boneless chicken breast halves (about 2 1/2 pounds total)
1.Combine first 9 ingredients in processor. Process until well blended, scraping down sides of bowl occasionally.