So at the risk of sounding like a bad Indian, I will admit I am not the biggest fan of lentils, or dal.  Growing up in my vegetarian home, dinner almost every night was a dal, a veggie side and roti – whole wheat Indian flat bread.  Super duper healthy but I got SO tired of eating dal.  And my mother would make all kinds of dal too.  For the uninitiated there must be over a dozen types of dal available at the Indian store – it is way beyond French lentils!  So I mean it as very high praise when I say kali dal, literally translated as black lentils, is the only dal I still enjoy eating.  It also happens to be my husband's favorite dal so it certainly makes it into my cooking rotation with some frequency.  It is also a dish that everyone who tastes it wants the recipe.  I had a friend in Atlanta, Aparna, that loved this dal so much that I gave her the recipe and she would make it more often than I would!  Could there be a more genuine compliment or endorsement than that?  At least once a week I would hear from her that Shveta's kali dal was for dinner.
This dal is made with black urad dal with the skin and kidney beans.  It is also called dal makhani or dal bukhara in restaurants.  It has a bit of BOTH butter and cream so it is very voluptuous with a gentle tang from pureed tomatoes.  It goes beautifully with any Indian grilled meat like tandoori chicken or kebabs.   My husband loves to eat it with mango or garlic pickle.  It is again a slow cooker recipe so actually requires little active effort.  Warning – after making it once it may also become a regular staple at your dinner table!
KALI DAL
Ingredients:
1 c. black urad with skin

1/2 c. kidney beans
1 inch ginger finely chopped
1/4 tsp turmeric
1 1/4 tsp salt
2 tomatoes cut into eigths
4 tbl butter
1/4 c. heavy cream
1 onion chopped
1 green chili finely chopped
1 tsp cumin seeds
1/8 tsp asafoetida
6 cloves garlic finely chopped
1/2 tsp chili flakes
2 tbl canola or vegetable oil
1 tsp garam masala
1. Soak the black urad dal and kidney beans in  4.5 cups of water in your slow cooker overnight.
2. In the morning, add the ginger, salt, and turmeric to the dal and beans.
3.  Turn your slow cooker to high for an hour and then turn down to low.  Cook for 6-8 hours.  You want the dal to beecome totally soft but not cook so much that the skins start to split.
4. Blitz the two tomatoes in the food processor until they are a smooth liquid.  Add them to the dal.  It's not going to look like much yet – do not be alarmed!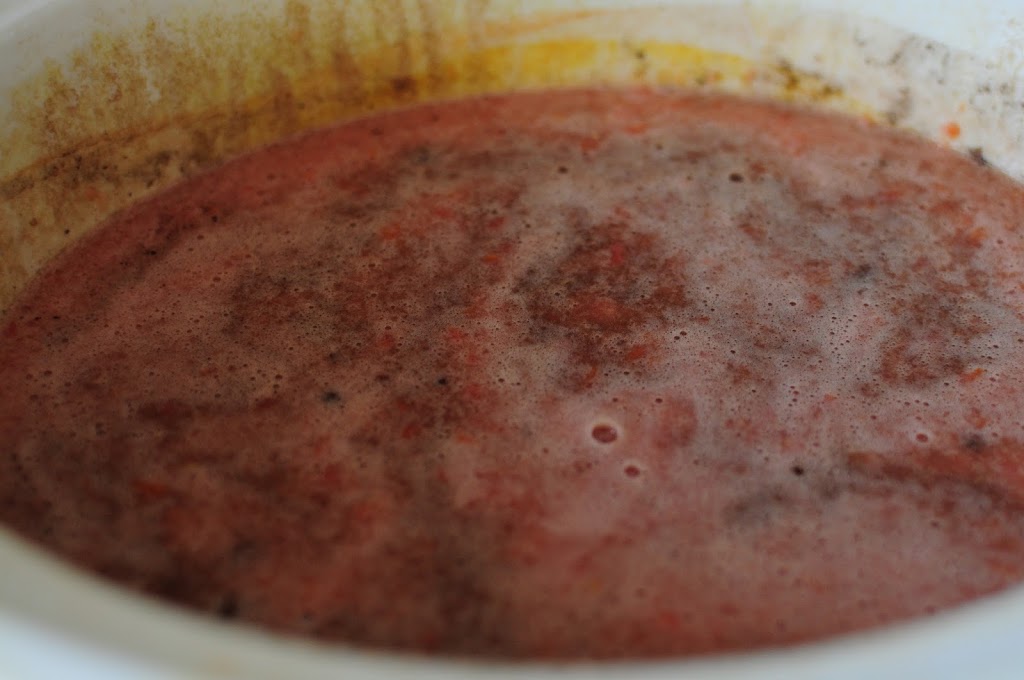 5. Turn the cooker to high and cook with tomatoes for 10-15 minutes until the dal starts to bubble.
6.  Add the butter and cream to the dal.
7.  Heat the oil in a small saucepan on medium heat.
8.  Add the cumin seeds and saute until brown – about 2 minutes.
9.  Add the garlic and chili and cook for about a minute until the garlic becomes golden.
10.  Add the onion and cook for 5-7 minutes until it is soft.
11.  Add the chili flakes and asafoetida and stir to combine.
12.  Add the onion mixture to the dal and stir well.
13.  Sprinkle with garam masala and serve with basmati rice or naan.