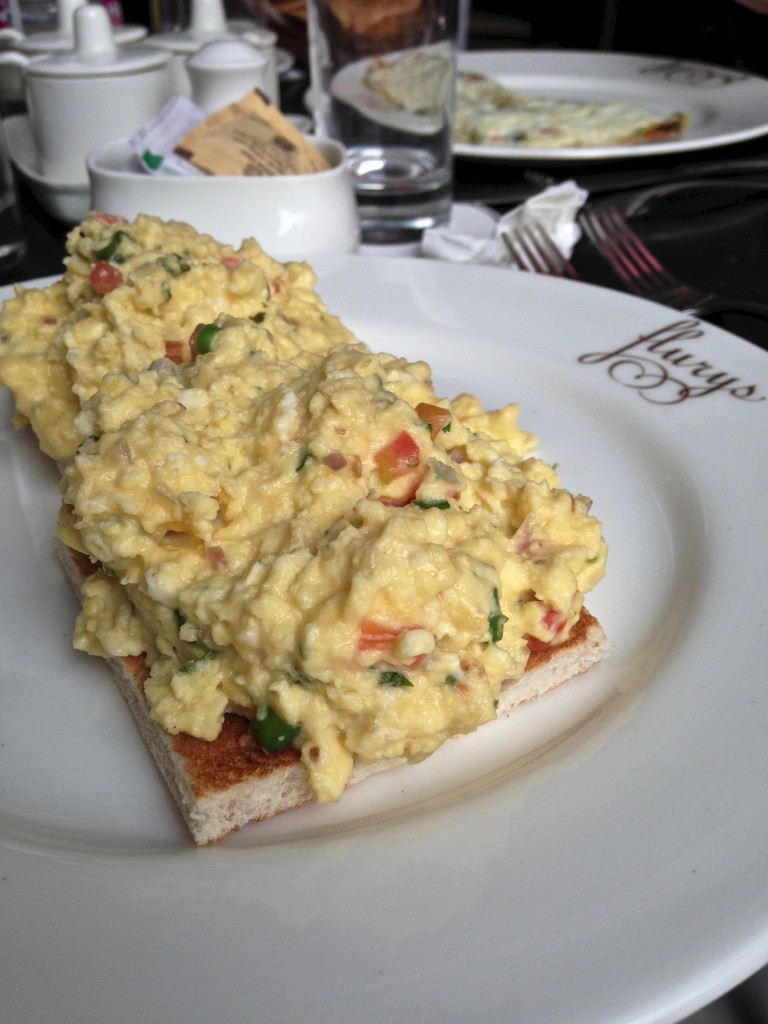 So, my sister was in town last weekend visiting from the Big Apple.  I had grand plans to try my hand at a Bengali shrimp coconut milk curry (chingri maachher malaikari) that I have been trying to get right for YEARS!  Seriously, Arjun's grandmother made the most fabulous version of this dish that I've been trying to replicate and I almost have it.  But, of course, best laid plans….my sis and I both caught my two-year-old Ishani's cold and it is a doozy.  I've been a congested mess since Saturday and if I can't smell, well, basically I can't cook.  Any natural gift I may have in the kitchen can be attributed to my scary strong olfactory sense.  My son has also inherited this super power and he can tell me when I walk into a room freshly showered if I have changed shampoos.  True story.
The silver lining is that this gives me an opportunity spill all the juicy details of the delicious eats we had in Kolkata – something that I really meant to do weeks ago.  The good news is that now I have some time away from it, I can tell you exactly what stands out.  The first memorable culinary experience is Flury's.  This European style tea room has been open since 1927 and is a Kolkata institution.  It was high on my list of places to try for this past trip and luckily for us jet lag worked in our favor for our outing there.  Flury's is located on fashionable and popular Park Street and there is generally always a wait.  Unless, of course, you get there close to 7am when they open.  Kolkata, in general, is not a city that rises early and we used this to our advantage.  The second day into our visit when our children had basically been up since 4am we decided to leave early and have an adventure.  We were staying at the Tollygunge Club which was conveniently walking distance to the city's subway system, the Metro.  We took our brood out for walk, boarded a train (which Shiv and Ishani thought was SO cool) and emerged on Park Street.  A short two block stroll later we were seated near a bright window at Flury's feeling fairly civilized despite our two young monkeys.
I had heard and read a lot about Flury's but was totally unprepared for how terribly European it was, from the decor to the pastry case to fabulous espresso drinks.  We got the kids a cold coffee (a delicious concoction of ice cream, coffee and milk – basically a coffee milkshake) and I sneaked a sip when they weren't looking.  It was the best cold coffee I've had in years because, I suspect, they used really stellar coffee.  The kids had pancakes, Arjun got beans on toast (a British import that the Indians have adopted) and I got the masala scramble.  Masala scramble is a pretty ubiquitous Indian breakfast – eggs are scrambled with chopped onion, green chili, tomato and sometimes fresh cilantro – but Flury's version was in a class of their own.  The eggs were perfectly soft and tender, textbook scrambled eggs if you will.  They gave me a huge portion and I ate every bit with relish.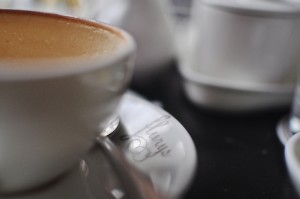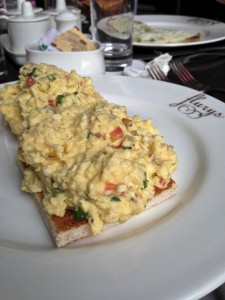 With Flury's checked off on our list, the next thing we had to find was awesome biriyani.  Kolkata is famous for their version of this chicken or mutton and rice dish.  It often also features hard boiled eggs, chunks of boiled potato and a splash of rose water to give the dish a subtle floral essence.  We tried a few versions of the dish that didn't wow us and then we hit the jackpot at Arsalan.    One of Arjun's uncles, Bashu Mama, had turned us on to this place.  It has a cult following for their kebabs and biriyani and best of all, they deliver!!   Their biriyani was a thing of beauty.  All the spices were totally balanced and the meat was super tender.  But surprisingly the other dishes we ordered to go with it, palak paneer (ground spinach with chunks of Indian cheese) and Arsalan's special kebab, were just as good.  The kebab in particular was outstanding and our daughter Ishani went bonkers for it.  They wrap chicken in some sort of cheese or perhaps malai (the skin that forms on top of hot milk as it cools) and then grill it in a nuclear hot clay oven.  It is perfectly melt-in-your-mouth tender and is smoky, creamy and just a little spicy all at the same time.  If I lived near Arsalan I would have a hard time not eating the food from there at least once a week.
I also had to have my fill of singaras (samosa Bengali style) and kathi rolls.  Singaras are more mildly spiced than your typical North Indian samosa and also include the most lovely tastes of fennel seed and fresh ginger.  I adore them with a hot cup of tea and will happily forgo dinner if that means I can eat several of them.  Kathi rolls are basically a thin flatbread made out of white flour that is coated in beaten egg, fried, and then stuffed with chicken, paneer, or mutton, pickled onions, and some fresh green cilantro chutney.  I'm sorry I don't have a better photograph of them – they kind of look like beige burritos and the camera was not kind to them.  Plus I was in such a hurry to eat one that I didn't have the patience to keep snapping away until I got a shot I liked.  I'll do better next time, promise.  And by do better, I mean that I will order an extra that I can photograph peacefully after I have stuffed my face with one first.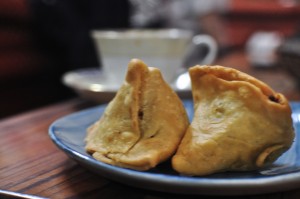 The last interesting food experience I want to mention is club dining.  Kolkata is filled with clubs, similar to our country clubs, except most don't have golf courses attached.  Club culture is thriving in the city and most people who are upper middle class belong to at least one if not several of the clubs.  They are definitely places to where you go to see and be seen.  I have dined at clubs in the past but this past visit was the first where I actually stayed at a club.  The Tollygunge Club is quite lovely and parts of it retain that old world British charm.  They have quite a bit of open green space and even a decent playground which my kids visited daily.  We also got to experience club food everyday which was actually fascinating.    I've eaten at probably 5-6 clubs in my life and the food has never been terribly good.  Never bad, but also never great.   Staying at a club, however, gave me an up close and personal experience with the cuisine and I really got to the study the menu and order a bunch of things.
Generally most clubs offer three cuisines, Indian, Chinese and Continental.  It is the last that I find to be utterly fascinating.  Kolkata is obsessed with Continental food which is basically a sort of made-up cuisine of Europe's greatest hits from 50 years ago.  Think chicken a la kiev, pasta marinara, fish and chips, and cream of asparagus soup all on one menu.  Yeah, I was confused too.  My brother-in-law shed some light on it when he put it in these terms – Kolkata suffers a bit of a British hangover.  They are still quite taken with European customs and foods.  Which makes sense when you realize that Kolkata was the capital of the British empire for over 50 years, from 1858 to 1911, quite a bit longer than Delhi which became the capital in 1912 (and stayed the capital of the British empire only until 1947, when India achieved independence).  For Arjun's grandfather, who experienced India under British rule and then as an independent country, Continental food is still the bees knees.  He loves soups more than any person I know.  And for him, a weekday is not complete until he takes his afternoon cup of tea at the Calcutta Club, chats with his cronies, and indulges in a typical club snack like a chicken patty.  Side-note – the chicken patties from the Calcutta Club are truly delicious.
For any of you that plan a trip to Kolkata in the future, you must experience the club culture and food firsthand.  It is integral if you want to gain a deeper understanding of the city and and it's people.  Although for me understanding India is proving to be a life long venture.  Thankfully, through this blog, I've at least gained a pretty good understanding of some of the food – which, let's be honest, is my favorite part anyway!
I'll be back next week with a fully functioning nose (hopefully) and a new recipe to share.