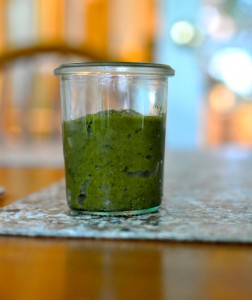 Growing up we always had a huge barrel of mint planted in our backyard just for this chutney.  As far as I can remember I don't recall my mother using the herb for anything else.  It was my job to go cut the mint and bring it to my mother whenever she would get ready to make this spicy green concoction.  We always had a container of it in the fridge.  Over the years we discovered that this chutney was, of course, a fabulous accompaniment to samosas and pakoras, but it also elevated a grilled cheese sandwich to something absolutely spectacular.  I remember in high school, when appetites are huge, making chutney grilled cheese sandwiches for two of my friends late one evening.  I'm pretty sure we used almost an entire loaf of bread and they only asked me to stop after I had grilled the sixth sandwich.  I am well past high school now but the chutney grilled cheese still holds immense appeal.  In fact we had some for dinner last night with chilled soup.  Making the chutney is so easy – you don't even need to turn on a stove.  Gather all your ingredients and blend and you are in business.  Plus, when you make it yourself, the flavor is so much brighter than what you normally get at a restaurant where I find they often use too much yogurt which dulls the taste of the herbs.  You can also tailor it to your taste. Really like it minty – add more!  Have to have it hot, up the amount of chilies.  It is like having magic green sauce in your fridge.  Trust me.  You will be finding all kinds of new ways to use this stuff.
CILANTRO-MINT CHUTNEY
Ingredients: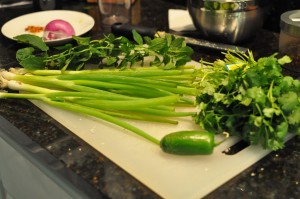 1 bunch cilantro, rough chopped
handful of mint leaves – about 1/3 a cup
1 jalapeno or serrano chili, chopped
1 bunch scallions (6-8), rough chopped
1 tbl chaat masala **
1 tsp salt
1 tbl yogurt
1 tbl crushed anardana **
juice of 1 lemon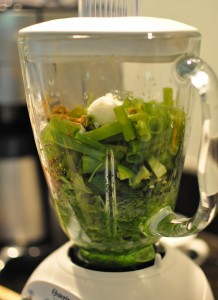 1. Put all the ingredients in your blender and pulse until it is a thin paste.  You will need to keep scraping down the sides since there isn't too much added liquid.  It may feel like it will never all crush together but it will!  It will keep 2-3 weeks tightly sealed in the fridge.
** Chaat masala and crushed anardana can both be found at your local Indian market.
Anardana is dried pomegranate seeds.  They have a fabulous, unique sour taste.
Chaat masala is a spice blend – also quite sour – that is often used in Indian street food, called chaat.