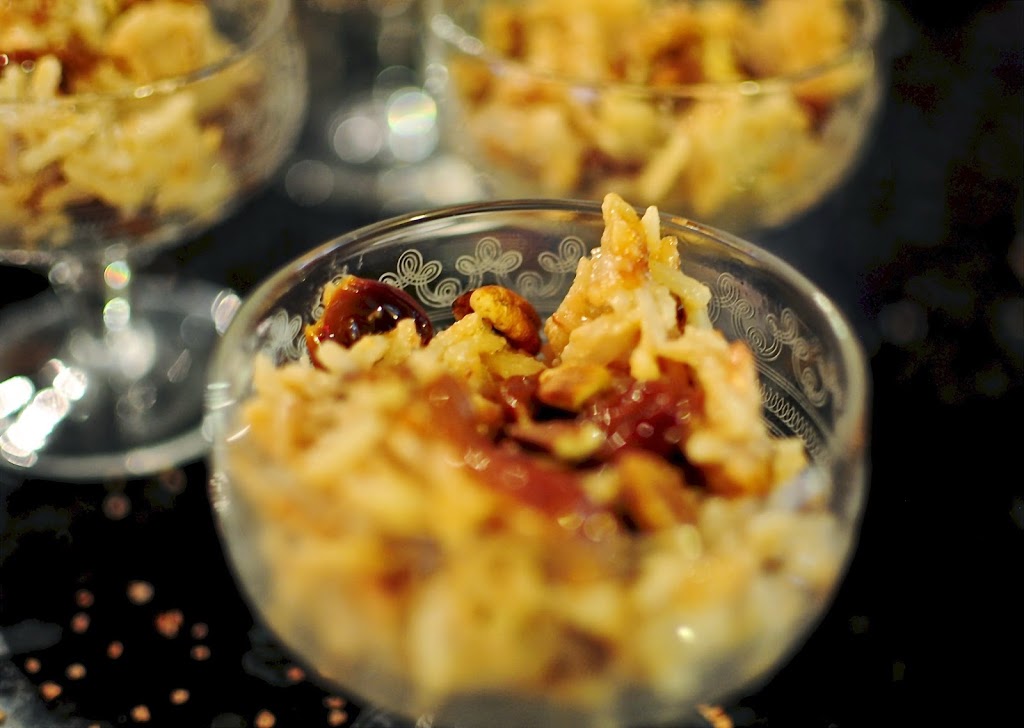 My father's favorite dessert is kheer, basically Indian rice pudding.  My mother would make it for his birthday and special occasions.  Studded with raisins and almonds, and infused with cardamom it was easy to see why my Dad loved it.  It was, however, not my jam.  Still isn't.  But one night at dinner, my sweet 4-year old boy, Shiv, looked at me with his big, brown eyes and asked, "Mommy, is rice ever a dessert?"  And then I knew, I had to find a way to make a rice pudding that even I could love.  And that is how this recipe came about.
The first thing I thought to do was replace the traditional milk with coconut milk.  My husband and I recently had a brilliant Thai black rice pudding at Kin Khao in San Francisco that was made with coconut milk and our experience there inspired this choice.  I wanted to keep the flavors simple and chose not to add any spices to compete with the coconut milk.  I did add dried cherries – a favorite of mine – because I thought their tartness would play well in the dish.  And it did.  The result was a soft, creamy pudding that was a bit drier than your standard rice pudding dish.  That didn't bother me or my guests.  It was divine.  I garnished it with a sprinkle of toasted pecans and coarse Hawaiian sea salt.  Dark chocolate shavings would also be lovely here.
I served this after a fairly traditional Indian meal and even though this dish is not typically Indian it worked well with the flavors.  The creamy coconut milk had a lovely cooling effect after the spicy meal.
This did not make a rice pudding lover out of my son – but he is requesting Hawaiian sea salt on everything now.  Small (expensive) victory?  And for my vegan readers, if you swapped out the butter for coconut oil this is a perfect dessert for you.  In fact, I am making it the next time we entertain guests who do not eat dairy.
COCONUT RICE PUDDING WITH DRIED CHERRIES
Ingredients:
2 c. water
2 tbl unsalted butter
1/4 tsp salt
1/2 tsp finely grated orange zest
1 c. basmati rice
2 14 oz. cans full fat coconut milk
1/3 c. sugar
1/2 tsp vanilla extract
1 c. dried cherries
toasted pecans for garnish
coarse sea salt for garnish
1. Combine water, butter, salt, and zest in a 2 qt. heavy saucepan and bring to a boil.
2.  While you are waiting for everything to come to a boil, wash your rice 4-5 times.  This is as simple as it sounds.  Put your rice in a bowl, cover with water, swirl your fingers through a little and drain.  Repeat.
3.  When the water mixture is boiling, add rice, reduce heat to low and cover.  Cook until all the water is absorbed – about 10 minutes.  I use a pot with a glass lid so I can watch easily when the rice is done.
4.  Combine coconut milk, sugar, and vanilla extract in a larger heavy saucepan and bring to a simmer over low heat.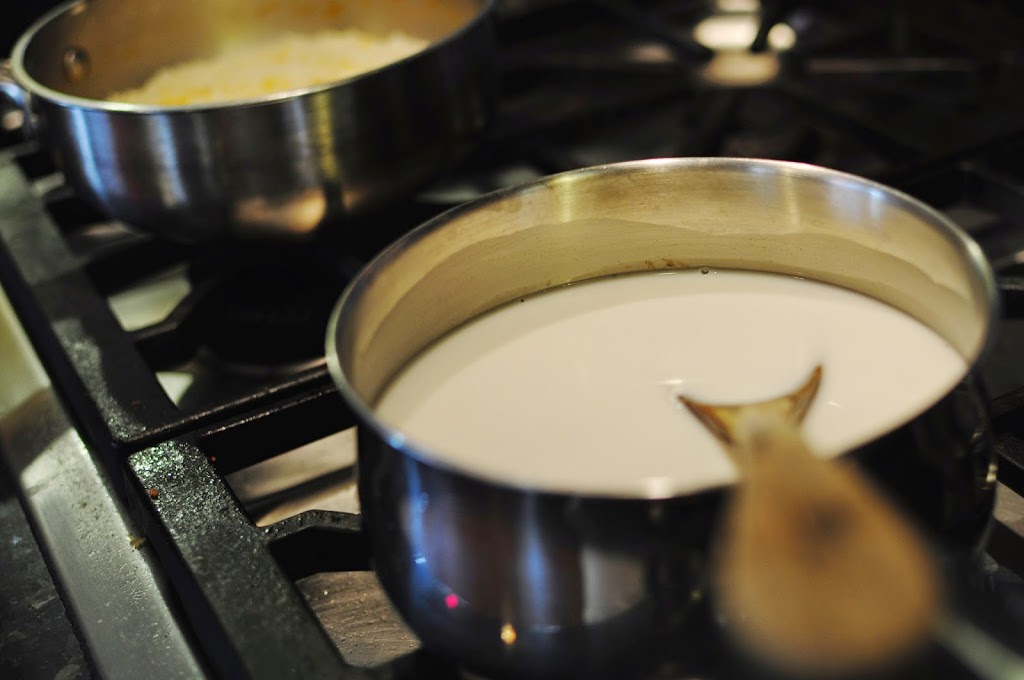 5.  Add the rice mixture and dried cherries to the coconut milk and simmer until most of the milk is absorbed – about 15 minutes.
6.  Garnish the pudding with toasted pecans and coarse sea salt and serve.