While Indian cuisine has certainly become more mainstream in the past decade, generally most restaurants stick to the usual tried and tested North Indian heavy menu.  I'm talking about, of course, chicken tikka masala, tandoori chicken, dal makhani, and other usual suspects that are delicious but by no means represent the breadth of Indian cuisine.  Once in a blue moon, I will stumble upon a restaurant that is trying to highlight a regional cuisine within India.  A beautiful example of this (that I miss dearly) is
Cardamom Hill
in Atlanta.  This restaurant focused on the foods of Kerala and was a revelation for the majority of its diners.  I enjoyed many a meal there and loved, what for me, were novel preparations like fish wrapped in banana leaves and the succulent beef curry.  If anything, the chef, Asha Gomez, only increased my longing to visit this beautiful state at the southern tip of India.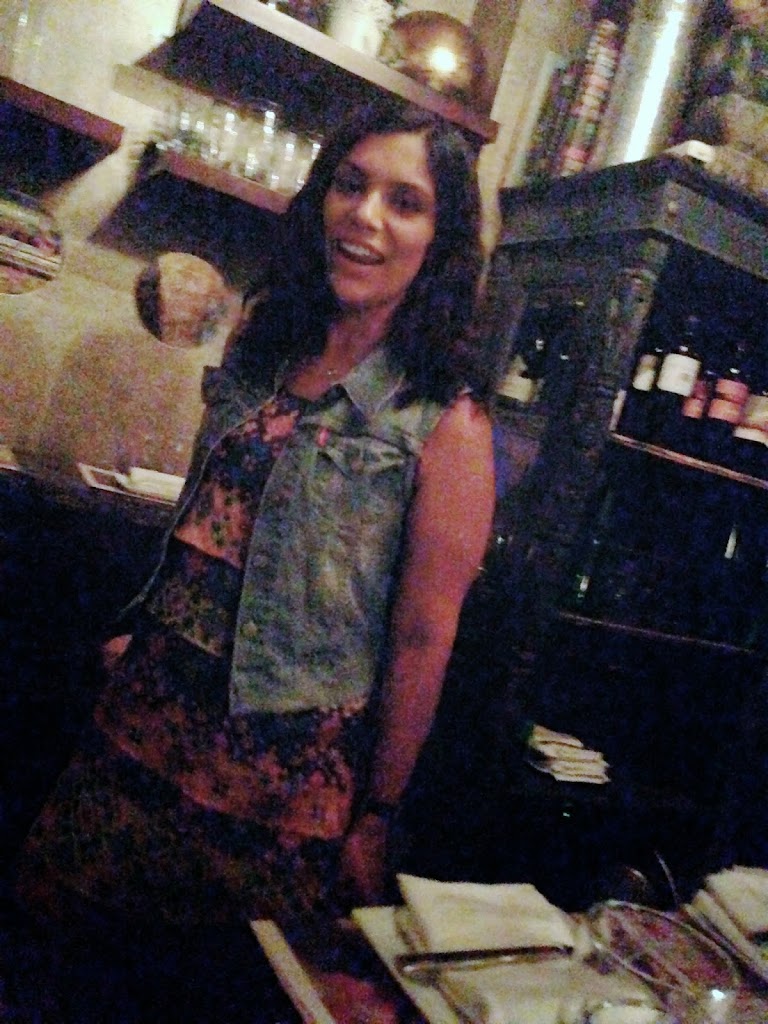 Taking in the space.
I've had the good fortune of stumbling on another culinary gem with a unique, fresh perspective on Indian food.  This time I was in New York City and my sister had the wonderful foresight to book a table at Graffiti.  This restaurant is tiny – seats maybe 20 diners and very intimate.   The lighting is dim and atmospheric and although small, it is liberally sprinkled with Indian artifacts making it very transporting.  Although the lighting made my iphone photos a bit blurry – bear with me on this post.  The photos may have also suffered because of the refreshing lychee martinis that we were throwing back.  Made with sparkling wine, these go down easy.  Watch out!
The chef, Jehangir Mehta, has a fascinating background.  He grew up in Mumbai with the usual middle class trappings like household help which typically includes a cook.  But he showed an interest in food and the intricate workings of the family kitchen which is very very unusual for a male brought up in India.  The kitchen is not a place men are usually encouraged to be so many of them don't know the first thing about the simplest tasks, like scrambling an egg.  Chef Mehta was obviously a brilliant exception.
Fast forward a few years, and Chef Mehta is attending the Culinary Institute of America in Hyde Park and starting an illustrious career at restaurants like L'Absinthe, Typhoon Brewery, and Jean-Georges.  He even made a foray into television, battling it out on The Next Iron Chef on the Food Network in 2009.  Not too shabby.  He has also realized his dream of having his own restaurant. In fact, he has two – Graffiti, which opened in East Village in 2007, and Mehtaphor, in Tribeca since 2010.
The food menu is meant to be shared and is served tapas style.  We started with the green mango paneer which may have been my favorite morsel of our entire meal.  The flavor still haunts me (in the best way possible.)  Impossibly soft cubes of paneer are bathed in a slightly sour, tangy sauce that has the flavor of mango pickle.  It was just divine.  I could eat a whole bowl right now.  They serve this gorgeous dish with strips of fresh naan.
From there we moved on to the scallop with pickled ginger.  The scallop was perfectly cooked and cut into thin slices which were then dolloped with a lovely ginger compote.  The most genius part of the dish was the garnish – fried moong dal.  The crunchy vividly yellow stuff that is sold in the Indian snack aisle.  I am totally stealing that idea in my own kitchen very soon.
We also had the shrimp sauteed with moong sprouts that was a very refreshing simple dish.  And lastly, we had to try the braised pork buns.  Very tender shredded pork that is liberally spiced with star anise is enveloped in these light as air buns.  An apricot chutney comes with to balance out the flavor.  These were really good and gave a nice break from the other more pronounced Indian flavors of the meal.
Sadly we were too stuffed for dessert….but I hope to one day go back!   Readers, do you have a favorite Indian restaurant that veers from the typical menu and spotlights a lesser known cuisine from the sub-continent?  I would love to hear – please respond in the comments below!