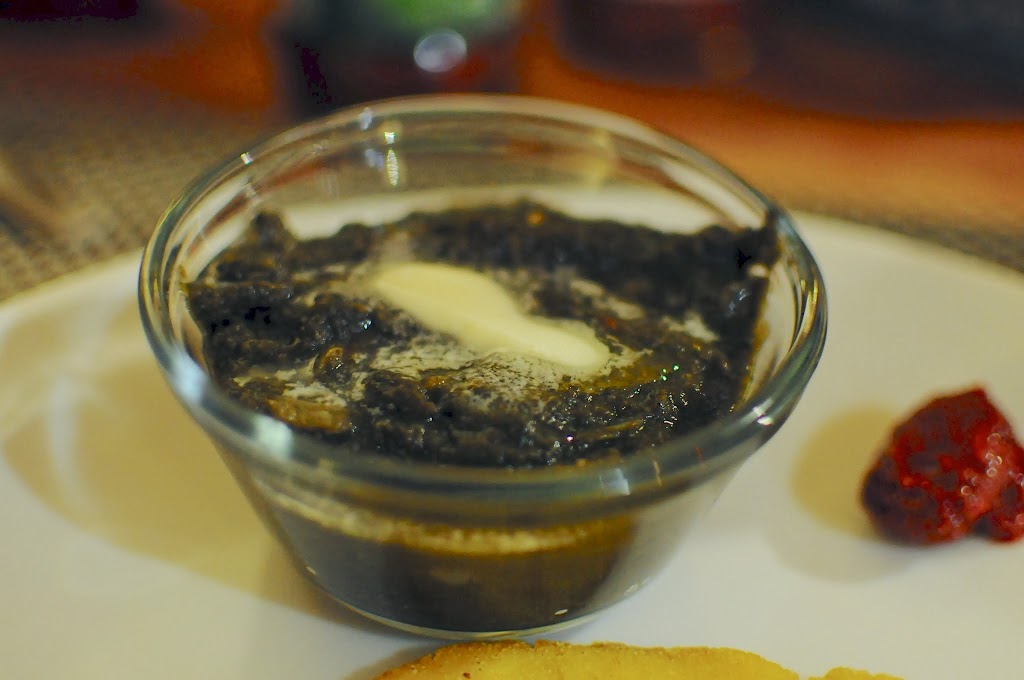 Although March has arrived, I know on the East Coast winter is still rearing its frigid head.  And when it's cold and snowy I turn to comfort food.  For me, on the very top of that list is saag.  This is a Punjabi dish of pureed greens, rich and voluptuous, that warms the tummy and soul.  At first, I thought I would tout this dish as a superfood since it has mustard greens, spinach, AND broccoli.  And then I found out it has half a stick of butter in it.  I guess the fat doesn't negate the excellent benefit of the veggies but I wouldn't call saag virtuous either.   Although it is probably because of the butter that is is so comforting.  This recipe falls into the same genre as Southern collard greens and everything that evokes – classic cooking, ethnic staple, and heart warming.
This is one of my mother's recipes that I have been trying to get my hands on for a long time.  On her last visit, for my daughter's birthday, I insisted she make it.  It had been cold and wet (a boon for us in dry California) and my appetite demanded this dish.  It is pretty easy since the slow cooker does the work.  And it makes a good amount.  This dish ages like chili – even better the next day!  And you can also freeze it with great success.  It has a very gentle spice since cumin and coriander are the only dry spices used.  It is traditionally served with maki ki roti, a corn flatbread that my mother insists on having with it.  But I can eat these greens with naan, bread – and even just on their own.  The next time you need to lift your spirits (and maybe boost your antioxidants) give this one a whirl!
SAAG
Ingredients
1 lb mustard green, coarsely chopped
1 broccoli crown, chopped (just the florets)
2 small turnips, peeled and coarsely chopped
8 oz. frozen, chopped spinach
1/2 cup of water
1 tsp salt
2 inches of ginger, peeled and thinly sliced
4 tbl unsalted butter
1.5 tbl cornmeal
1.5 tbl brown sugar
3 tbl canola oil
1/2 tsp cumin
1/2 tsp chili falke
1 tsp coriander powder
1 small onion finely chopped
1 green chili finely chopped
1.  Put the first seven ingredients in your slow cooker and turn to low.  Cook for 7-8 hours.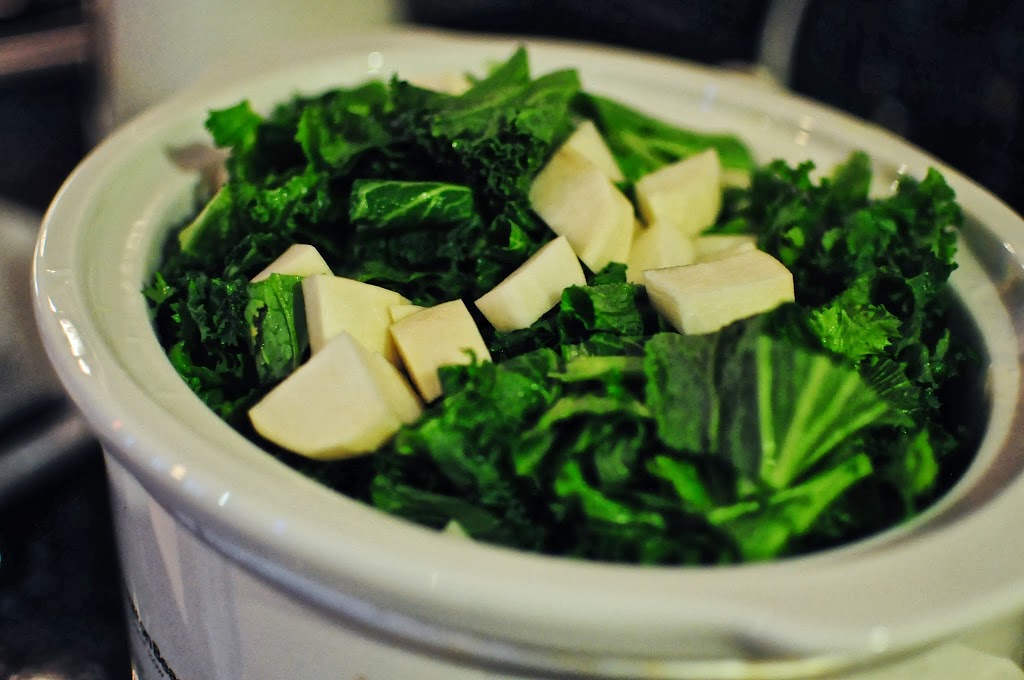 2.  Puree the greens with an immersion blender.
3.  Add the butter, cornmeal, and brown sugar to the pureed greens.  Stir to evenly incorporate.
4.  Heat the oil in a small skillet over medium heat.  When it shimmers, add the cumin and sauté until it turns brown – about 1-2 minutes.
5. Add the chili flakes and cook for 1 minute.
6.  Add the minced garlic, green chili, and coriander and cook until the garlic turns light golden – about 3-4 minutes.
7.  Add the chopped onion and cook until it is softened – 6-7 minutes.
8.  Add the onion mixture to the greens and cook for 15 minutes until the flavors are blended.
Serve immediately with a dollop of butter and bread of your choice.  Excellent with some mango or lime pickle and a cold beer.  It is even better the next day so plan on leftovers or cook in advance with abandon.