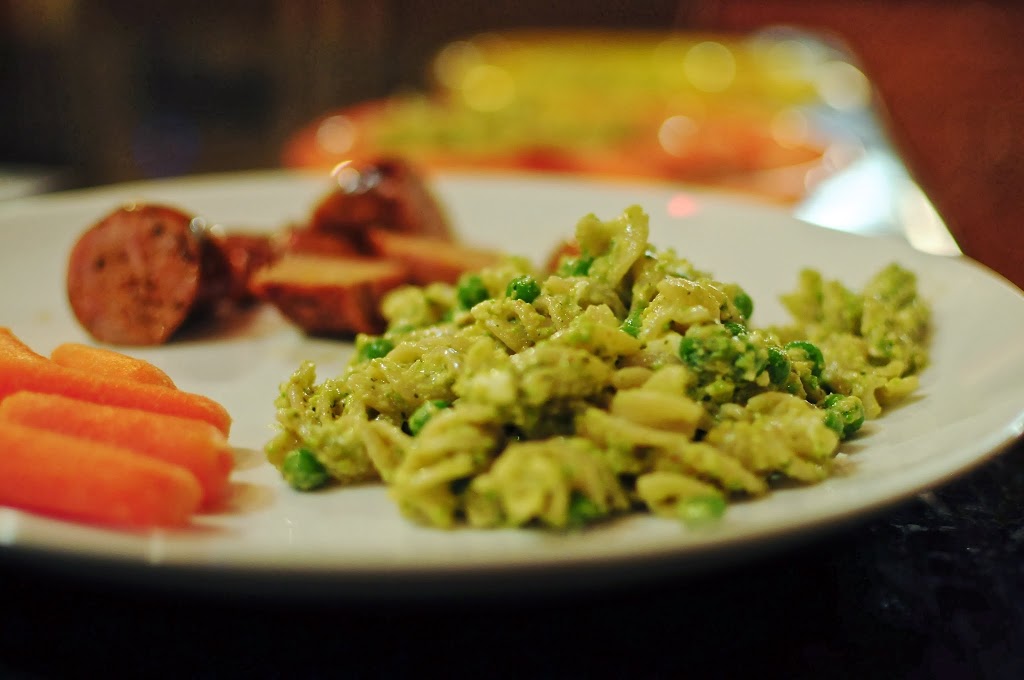 In my house there are many a day well laid plans go for a toss.  This, I think, is one of the biggest dangers of having young kids.  For those days I need back-up recipes.  I'm talking dishes that come together in half an hour or less and usually require ingredients that I have on hand.  This minty pea pasta is numero uno on my back-up list.  So last week, when my husband called to say he had to work late and wasn't going to be home in time for dinner, rather than slave over a more complicated dish just for me and my two little people, I made this pasta.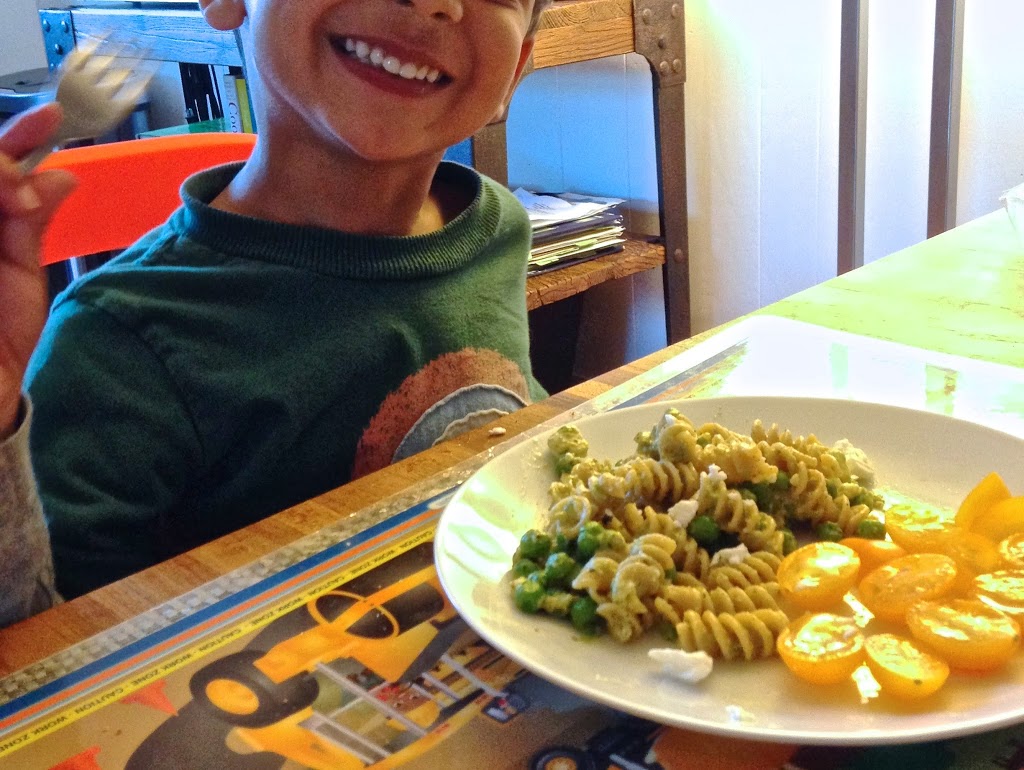 My son adores it (he must have been an Italian in a past life because he could eat pasta almost everyday) and it is simple but so yummy, it doesn't feel like taking the easy way out – even though that's why I turn to it!  It can almost stand up as a one pot dish since it has peas for your vegetable and walnuts to give a hit of protein.  But if I have time, I will fry up some chicken sausage on the side and throw in a handful of baby carrots or cherry tomatoes.
I generally use fusili and recently, I have been using brown rice fusili from Trader Joe's. It is delicious and gluten free to boot.  We are not a gluten-free household by any stretch but sometimes it is nice to have a break.  Plus the brown rice version has more fiber than regular pasta.
The recipe itself is adapted from Didi Emmon's wonderful book Entertaining for a Veggie Planet.  I have been making this dish for years and have tweaked it to suit my taste along the way.  The original version didn't call for boiling the peas and garlic but I like the mellower flavor that step gives the dish.  The original pasta it called for was angel hair which is just trouble with the kids.  It is much easier to pick up fusili with fingers or a fork.  I will say this tastes best the day it is made so I try and just make enough for dinner.  Although I will eat leftovers for lunch the next day uncomplainingly – my son, however, is not so forgiving.  I would be hard-pressed to tell you whether I turn to this dish for its speed or addictive, minty pea feta deliciousness.  I guess I'm of the school of thought that you shouldn't have to sacrifice flavor just because you are short on time – which seems like always lately!
MINTY PEA PASTA
Ingredients:
1/2 cup walnut peices
1 cup of frozen peas
1/2 cup coarsely chopped mint leaves
1 garlic clove
6 tbl extra virgin olive oil
salt to taste
6 oz. fusili (Generally half the box)
1 cup crumbled feta cheese (I like the stuff that is soaked in brine becuase it tends to be creamier)
1. Preheat the oven to 350 degrees.  Spread the walnuts in a single layer on a baking sheet and toast for 5 minutes until they are golden.  Let cool.
2. Meanwhile, bring a large pot of salted water to boil.  Add the peas and garlic and boil for 1 minute.  Remove both with a slotted spoon.  Keep water in the pot at a simmer.
3.  In a food processor, puree half the peas, garlic, walnuts, mint, and 4 tbl of olive oil until smooth.  Add salt to taste – I use about 1/2 tsp.
4.  Add pasta to boiling water.  Cook according to package instructions.
5.  Before draining, reserve 3 tablespoons of pasta water.
6.  Drain pasta and return to pot.
7.  Add the walnut puree, feta, remaining 1/2 cup of peas, remaining 2 tablespoons of olive oil, and reserved pasta water.  Season with salt and pepper and serve immediately.