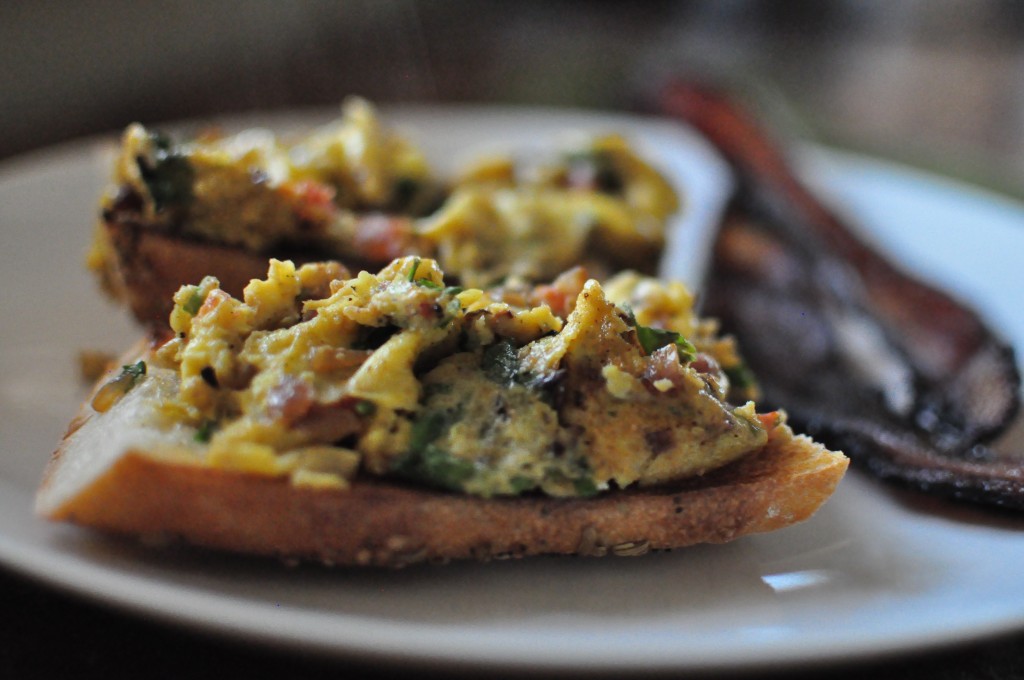 On our most recent trip to India at the start of this year, we had the good fortune to stay at the charmingly old world Tollygunje Club in Kolkata.  And included as part of our stay was breakfast.  And part of the breakfast was an egg station where you could basically get whatever your heart desired.  My kids ate a sunny side up egg almost every day.  My daughter, really had two of those everyday.  She is an egg lover through and through.  For Arjun and I, the buck stopped with the masala scramble.  Available all over India, a masala scramble is basically scrambled eggs with chopped onion, green chili, and tomato.  Because apparently even voluptuous scrambled eggs can use a kick of heat every now and again.
This combination is spicy but yet still comforting in the way scrambled eggs tend to be.  Honestly this is one of those dishes that didn't really strike me as worth exploring in detail until one of you asked for me to post a recipe for it.  And, despite, the short ingredient list, there are a few tricks to get this dish right.  First, you have to cut the onion finely so it cooks quickly and doesn't release water into your eggs to make them runny.  Second, de-seed the tomato for the same reason.  Too much moisture is our enemy on the road to a perfect scramble.  Third, cook these in butter.  That extra flavor really takes them over the edge.  And fourth, before you put in the eggs, turn the heat on the stove to the lowest setting.  The slower you cook your scrambled eggs the softer they will be in the end.
Sprinkle with some fresh cilantro and served with warm buttered toast.  And I don't just reserve these for breakfast – they make a mighty fine dinner when all you the time you can spare to cook is a meager 15 minutes. One night, I took the scramble and decided to make breakfast burritos for dinner with mint-cilantro chutney and smoked mozzarella.  They were ridiculously good and would honestly, be good any time of day.
Crack the eggs into a medium bowl. Add in the milk and salt and whisk until all the yolks are blended.

Heat a large skillet over medium heat. Add the butter and let it melt.

Add the onion and chili (if you are using it) to the melted butter. Sauté for 4-5 minutes until the onions have gone limp and opaque.

Add the tomato and red chili flakes (if you are using) to the pan. Sauté for 2-3 minutes until the tomatoes start to shrivel.

Turn the heat down to the lowest setting. After the pan has cooled for a couple of minutes, add in the beaten eggs.

Once the bottom starts to set, lift the eggs so the liquid egg runs out to be cooked. Sprinkle in the fresh cilantro if you are using it.

Slowly scramble until the eggs are still just a bit runny and then turn off the gas. They will continue to cook in the warm pan.

Served immediately with buttered toast, naan, or paratha (whole wheat flatbread.)