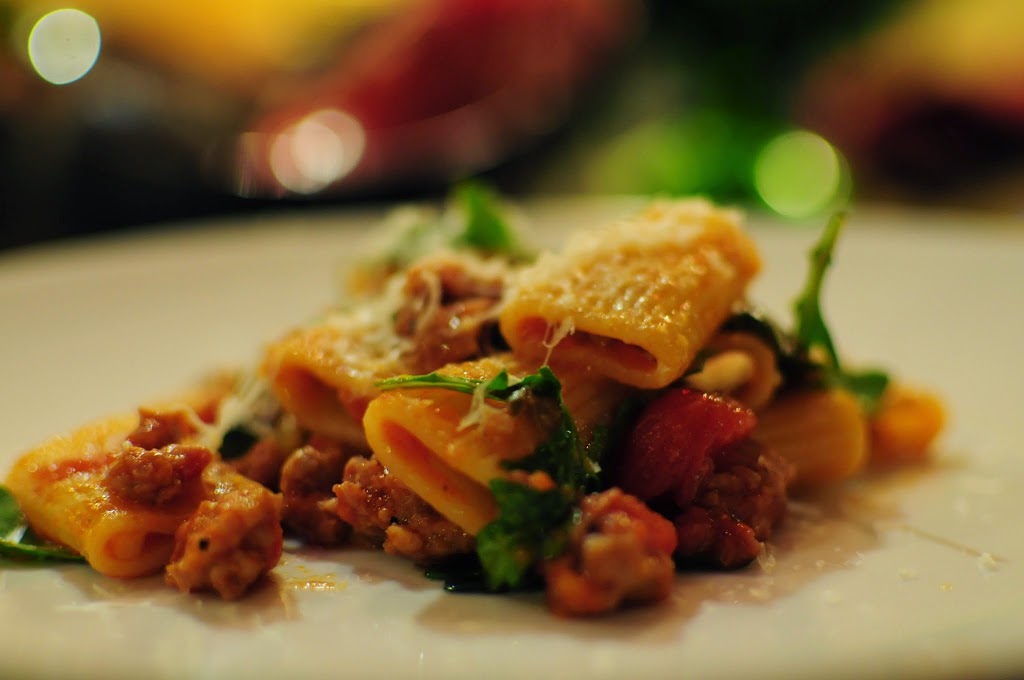 When we lived in Atlanta, one of our favorite restaurants to visit was Osteria 832.  It was that classic, neighborhood Italian joint that served up fresh and affordable fare.  They were super family friendly and our son adored it.  The food was comforting more than earth-shatteringly good.  They did simple dishes well with good ingredients and balanced flavors.  One of my favorite things to get there was Rigatoni Rustica.  I'm pretty sure that this dish doesn't exist in Italy – but it is so good it should!  It was a perfect Italian American pasta dish with a zesty meat sauce, strips of fresh basil and a smattering of sharp Parmesan over hearty rigatoni.  I think I craved this dish about once a month – more when the weather was chilly.
I didn't realize it but I must have been missing this dish on a subconscious level because a few weeks ago, I was looking for a new pasta dish to throw into my repertoire (since we eat pasta weekly) and I ran across
this recipe
for Rigatoni with Spicy Sausage Sauce and I couldn't shop for it fast enough.  I was going to be making it that week.  Well my friends, this dish perfectly recreated everything I missed about my beloved Rigatoni Rustica with the added benefit of having arugula.  Genius!  You get a green in plus it adds a nice peppery hit.  And it makes a HUGE quality of sauce which is a big bonus in my book.  I used about a third of the sauce for half a box (8oz.) of rigatoni and froze the rest.  The sauce would be beautiful used in a lasagna as well or served over polenta.  And for my vegetarian friends, you could use smart ground to make this sauce with equal success.  I served it with roasted cauliflower tossed with a lovely garlic, caper, and butter sauce.  It was one of those dinners where I'm already looking forward to lunch the next day because I knew I would be having leftovers!  Oh, and the kids both ate this up although I would use mild Italian sausage if you are worried about the heat level for little palates.I followed the recipe exactly so here is a
link to the epicurious original
.If you are going to freeze part of the sauce, do not add the oregano, basil or arugula.  Those need to go in fresh when you are making the pasta.  Also, this was on the spicy side so next time I would make it with half mild and half spicy Italian sausage.