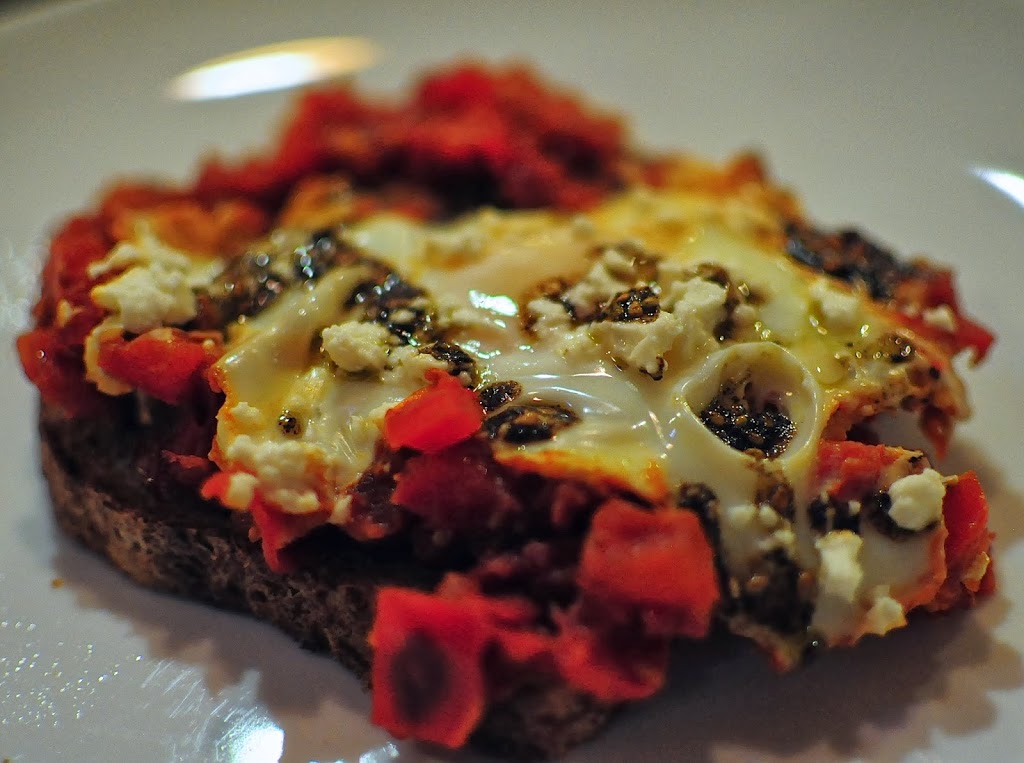 I can't believe it has been three months since my last post.  Life has been BUSY.  We moved to a new house, the holiday madness started, and then promptly went out of town for the end of December for almost two glorious weeks.  In all that time I realized something very important.  I prepare fabulous stuff all the time that I never share with you….because it's not Indian.  Well, that doesn't seem fair does it?  So new year, new rules for Samosa Junkie.  From now on the blog will be more representative of how I actually cook at my home which means global, delicious recipes – some my own and some gleaned from blogs, books, and other sources that I love.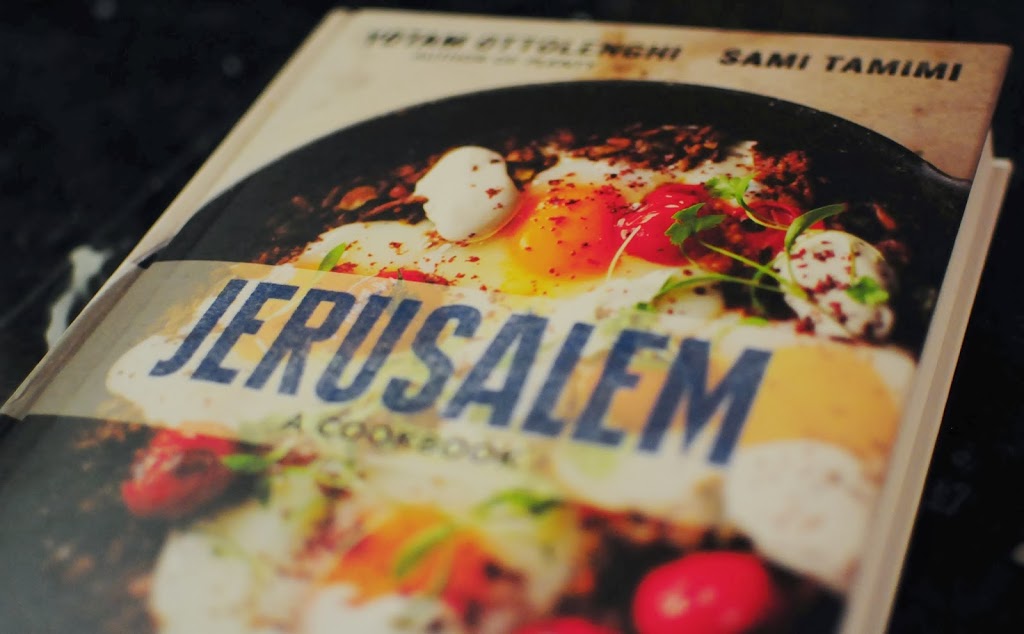 So, without further ado, let's talk eggs.  In our house they are not just limited to breakfast or brunch.  In fact, on a busy night, fried eggs accompanied by a nice simple salad are dinner – and a delicious, healthy one to boot!  I am always looking for ways to spice up my egg repertoire and I had been hearing wonderful things about an egg dish called shakshuka from my sister.  She encountered the dish when she visited Israel and couldn't stop raving about it.  Shakshuka originally hails from Tunisia but is so delicious it has taken over much of that part of the world including Israel and Palestine (maybe it is the one thing those two countries can agree on?)  Just before the holidays I got a copy of the gorgeous new book Jerusalem from (who else?) my sis.  Can you guess the first thing I decided to make from it?  Yup, shakshuka.
This dish comes together in 30 minutes so is perfect weekday fare.  Plus it is healthy so if you are on a new year, new you kick this should fit right in.  I love that it is basically a one pot deal.  You just need some toasted bread to go with.   With the cumin and harissa adding spice notes to the tomato bell pepper sauce the dish reminded me a little of the Parsi dish akuri that I have shared previously.  I made two additions to the original recipe – feta cheese because it seems to make everything taste better and za'atar oil which I had leftover from a lovely sweet potato soup.  As a side note the soup is divine and easy so you should make that too.  Like I said, I'm not holding out on you this year!  We had the shakshuka with simple toast and really it doesn't need anything else.
SHAKSHUKA (barely adapted from Jerusalem by Yotam Ottolenghi and Sami Tamimi)
Ingredients:
2 tbs olive oil

2 tbsp harissa
2 tsp tomato paste
2 large bell peppers chopped into 1/4 inch dice
4 cloves of garlic, minced
1 tsp ground cumin
5 large, ripe tomatoes chopped
6 eggs
salt
Optional additions:
crumbled feta cheese
za'atar oil (recipe here)
1. Heat olive oil in a large fry pan over medium heat.  Add the peppers, garlic, cumin, harissa, tomato paste, and 3/4 tsp salt.
2.  Stir and cook over medium heat for about 8 minutes so that the peppers soften.
3.  Add the tomatoes and simmer gently for 10 minutes until you have a thick sauce.  Taste for seasoning and add more salt if desired.
4.  Make 6 little dips in the sauce.  Gently break the eggs and pour into its own dip.  (Note:  I made the full sauce recipe but only used half to prepare 3 eggs.   I refrigerated the remainder of the sauce and had fuss-free shakshuka again a couple of days later!)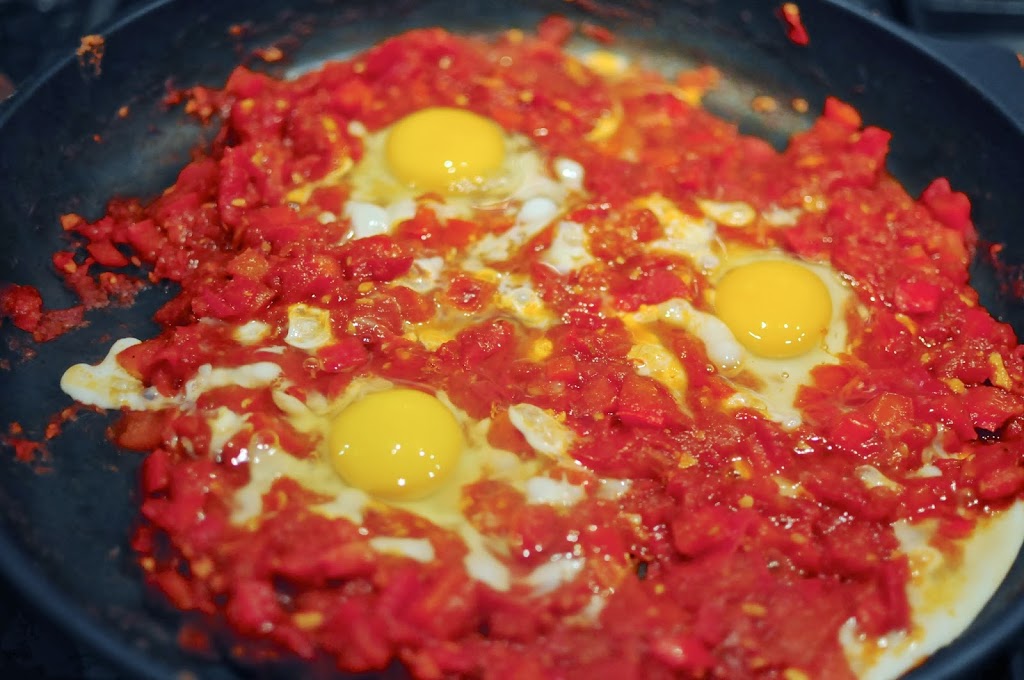 5.  Cover and cook until whites are set – about 5-6 minutes.
6.  Remove from heat and sprinkle with feta.   Let settle for a couple minutes.  Drizzle with za'atar oil if desired before serving.  Beautiful served with fresh, crunchy toast.