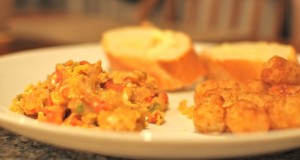 I know the weekend feels far away but it is never too early to start thinking about what you're going to make for brunch! Akuri is an unusual, Parsi egg dish that I had on my very first trip to Mumbai. The Parsis are originally from Iran. They follow the Zoarastrian faith and were persecuted by the Muslims and forced to convert, which is why many fled to India centuries ago. With them, they brought a delicious culinary repertoire. There is a large concentration of Parsis in Mumbai so the food is readily available. I sampled this egg delicacy at Leopold's Cafe, a spot glorified in the bestselling novel,
Shantaram
.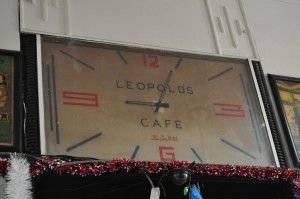 We visited Leopold's early in our trip and were still quite jet lagged, getting up around 4 in the morning. So we were absolutely famished for 10am brunch. Akuri was ordered all around with plenty of buttered bread. Not ever having had the dish I wondered if it would like the Indian egg scramble I had grown up with – essentially eggs cooked with lots of chopped onion and green chilies. Akuri is in a different league all together. With plenty of chopped tomato it has a gentle sourness and a smoky, subtle spice to it. After doing some research and stumbling upon Mademoiselle Chou-Fleur's blog, I learned that the taste profile can be attributed to ground toasted cumin and coriander seeds. I tried my hand at making this dish for the first time and was delighted at its simplicity and yumminess – two things that can be mutually exclusive in the kitchen. Devoid of any unusual ingredients, it hits the spot for brunch OR dinner. In addition to buttered toast, I served akuri with tater tots (yes the frozen kind) with a liberal sprinkling of chaat masala. I know this sounds basic but these are dangerously good. Credit goes to my mother for dressing up this freezer staple! Plus my two year old will eat tater tots no matter what. I swear he doesn't even stop to take a breath between tots. Which means akuri and tots are going to be in regular rotation at my table!
PARSI EGG SCRAMBLE (AKURI)
Ingredients:
2 medium tomatoes, finely chopped
5 beaten eggs with 1/2 tsp of salt
1 large, yellow onions finely chopped
1 large garlic clove, minced
1 inch ginger, grated on a microplane
1 jalapeno, finely chopped
1/4 tsp roasted cumin, crushed to a powder (mortar and pestle or spice grinder will do the trick)
1/2 tsp roasted coriander seeds (mortar and pestle or spice grinder will do the trick)
1/2 tsp salt
1 tbl canola oil
1. Heat up oil over medium heat. When it shimmers, add the onion. Cook for 8-10 minutes until it is golden.
2. Add the ginger, garlic, and green chili. Saute until fragrant, about two minutes.
3. Add the chopped tomato. Saute until it is soft and most of the liquid has evaporated – about 12 minutes.
4. Add the crushed coriander, cumin and salt. Mix well.
5. Turn the heat to low and add the eggs. Stir every few seconds to scramble.
Serve the Akuri hot with buttered bread and chaat masala tater tots.