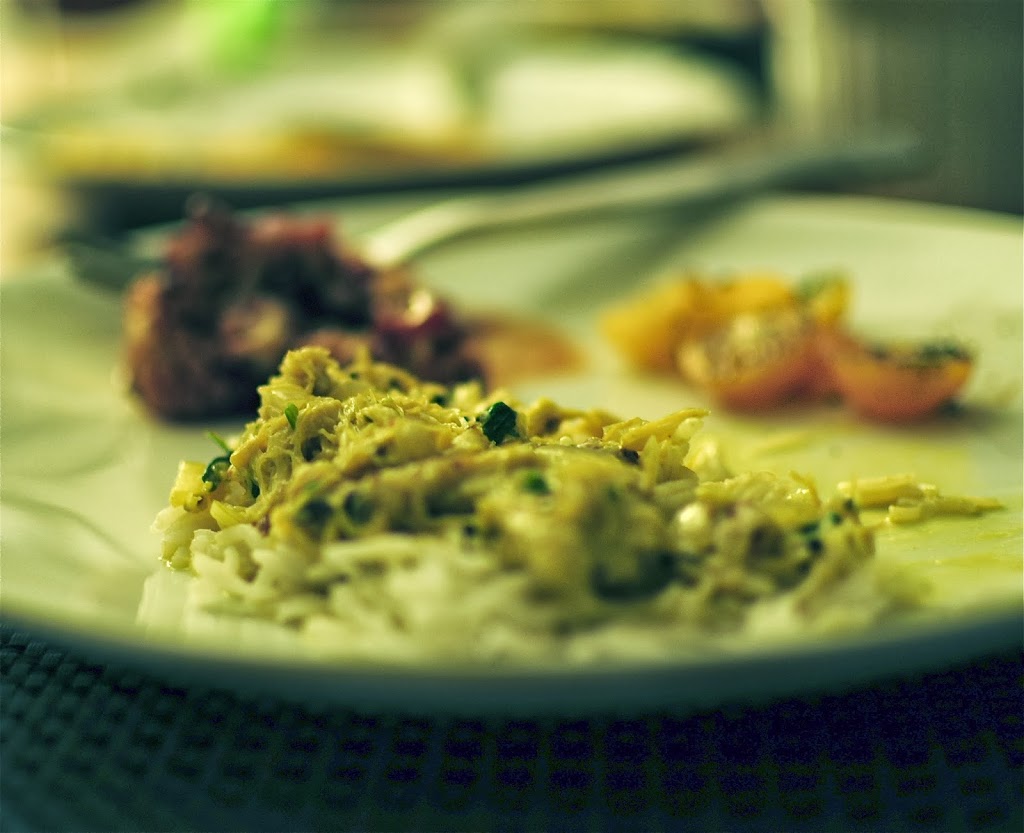 Sometimes you need a dish that pulls out all the stops.  That makes the table go silent when they start to eat.  And, sometimes you need to be able to make it in way less than an hour.  Have I got the perfect dish for you – Kerala crab curry.  This coconut curry is studded with big, tender chunks of jumbo lump crab meat and peppered with mustard seeds and softly sauteed onion.  An expensive ingredient will always take a humble dish to the next level and that is exactly what happens here.  Yes, you will spend around $30 on the crab but this dish is worth it.  I first made this curry for a six-course rice tasting dinner that my hubby and I hosted.  Before you start assuming that I am some sort of very together person that hosts this type of dinner all the time let me assure that we have done a six course dinner as described only once – and now that we have two kids may not do it again for a decade or so.  We had all sorts of goodies – Indian red beans and rice, Hydrabadi lamb biriyani, bhel puri (an appetizer made with puffed rice and sour tamarind chutney) but the stand out dish was this crab curry.  It was the only dish that people actually took seconds of – which is high praise when you've stuffed your guests with SIX courses!  So when we had friends visiting us from out of town last weekend (and one of the guests is an ex-chef) I immediately pulled out this recipe.  As always it was a hit.  I served it with roasted cauliflower with Indian barbeque sauce and simple basmati rice.
This recipe is based on the Kerala Boatman's crab curry in Gourmet Today.  I have added brown sugar and tamarind concentrate to the original for a sweet and sour tang. I've also reduced the amount of crab – I like the curry to be a little bit saucy.  As a side note, Gourmet Today is an awesome cookbook and worth the amount of shelf space it requires!
Kerala Crab Curry
Ingredients:
1 lb jumbo lump crab meat (typically found at the seafood counter)

1 yellow onion, chopped
2 tbl vegetable oil
1 tsp black mustard seeds
3 large garlic cloves, minced
1 1/2 tsp minced ginger
2 dried hot red chilies
1/2 tsp black peppercorns
1 tsp ground cumin
1 tsp ground coriander
1/2 tsp turmeric
2 tbl fresh cilantro
1/2 tsp tamarind concentrate
1-2 tsp brown sugar (depending on how sweet you want it)
 14oz can coconut milk
1 1/2 tsp salt
1.  Heat oil in a medium sauce pan until it shimmers.  Add mustard seeds and cook until they pop.  At this point I usually cover the pot partially with a lid to avoid getting hit!
2. Add the onion, garlic, ginger, peppercorn and red chilies.  Cook until the onion starts to brown – about 3-4 minutes.
3. Add in ground cumin, coriander and turmeric and stir until combined.
4.  Add crab meat gently and stir carefully to incorporate everything.  Try not to break up the big lumps of crab.  Cook until the meat is heated through – about 4 minutes.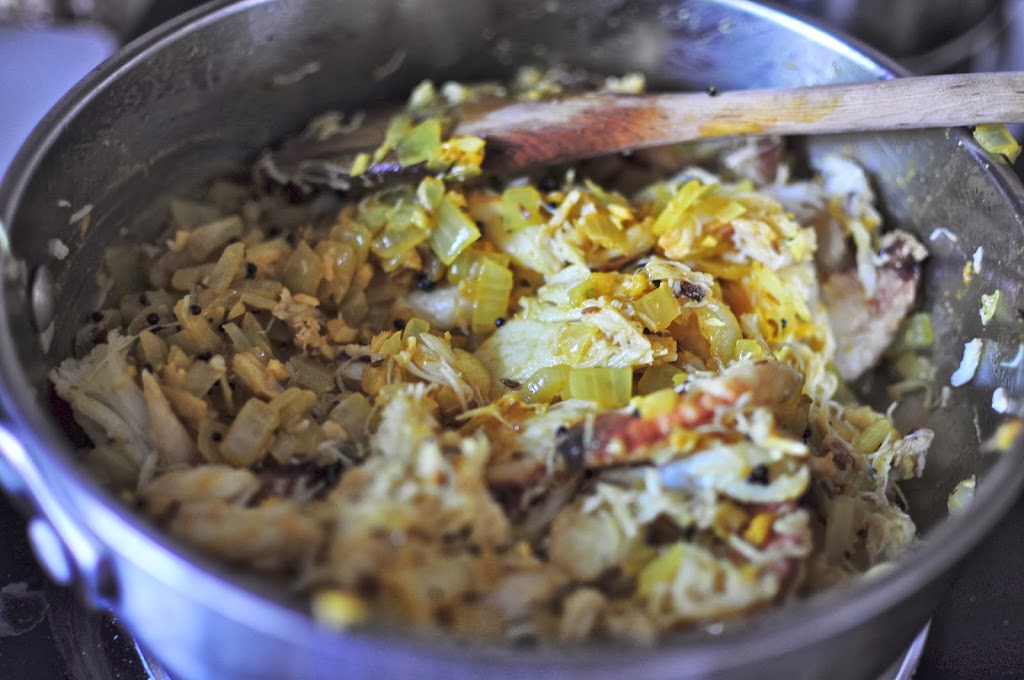 5.  Add the coconut milk, chopped cilantro, tamarind concentrate, brown sugar and salt and bring to a simmer.  Cook uncovered, stirring occasionally until sauce is thickened – about 6-8 minutes.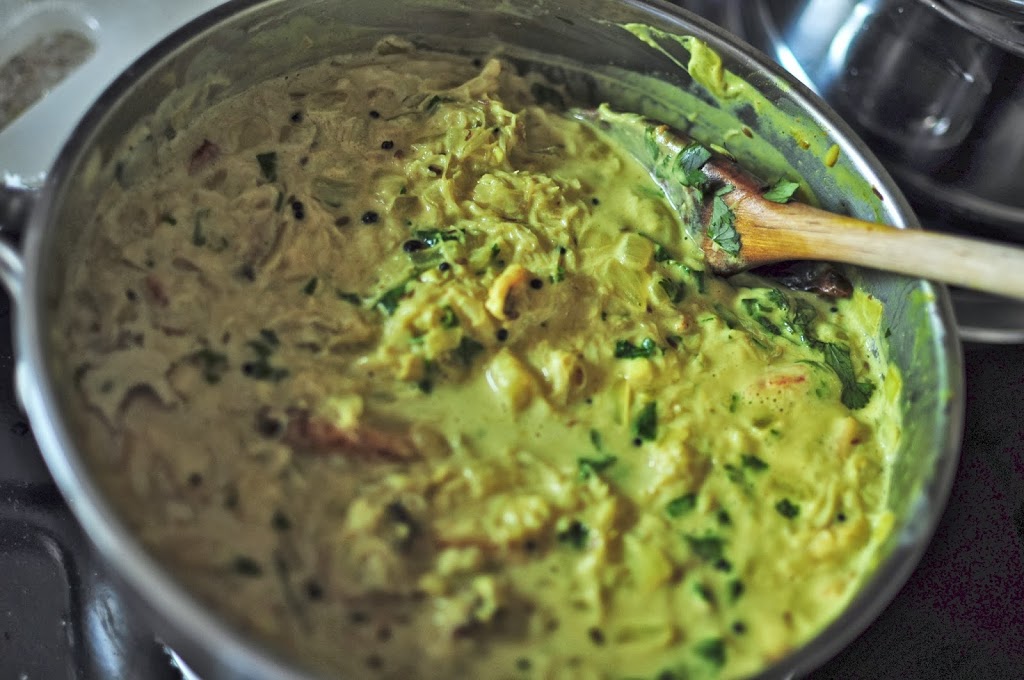 6.  Serve curry over rice.