It is the start of summer and that means grilling season is upon us! We had our first cook-out of the year last night. Our sweet neighbors came over for a belated thank-you dinner for keeping an eye on our house while we were on a month long adventure in Paris and India. I wanted to honor the American South with my menu but give it an Indian twist. So for my main course I decided on Tandoori Ribs. I typically use this marinade on chicken – and it works beautifully – and wanted to see if it would work as well on pork ribs. It was finger licking good. My neighbors immediately offered to watch the house again if it meant they could come over to dinner. Not sure who is getting the better end of the deal here! I served these ribs with grilled naan and Indianized Spinach and Vidalia Onion souffle – that recipe will be up later this week. Just in time for your own weekend barbeque.
TANDOORI RIBS
Ingredients:
2 racks pork spareribs (usually 5-6 lbs and also called St. Louis ribs)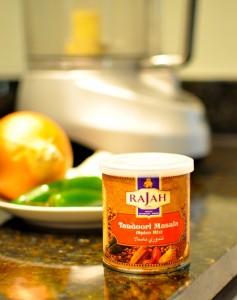 Marinade:
1 large yellow onion roughly chopped
1 head of garlic, cloves separated and peeled
1 1/2 inches of ginger chopped
2 jalapenos chopped
1 lemon juiced
2 tsp salt
1/4 c. Rajah Tandoori Masala (available at Indian markets – see note below)
1 1/2 c. low-fat plain yogurt
1. Put spareribs in 8-10 quart stock pot and fill with water until ribs are completely submerged.
2. Bring water and ribs to a boil and simmer for 50 minutes. You will need to skim the froth that rises to the top and also you may need to push the ribs down if they float to the top. Boiling is such a great trick with this cut of meat – so much of the fat cooks off and they are so tender.
3. While the ribs are boiling make the marinade. In the bowl of the food processor, combine first five ingredients and process until everything is homogeneously finely ground.
4. Add the salt, yogurt, and tandoori masala to food processor and blitz until everything is well combined. You will have a brilliant salmon colored marinade.
5. Transfer 1/2 of marinade to a small bowl for basting.
6. Drain the ribs well and pat dry. I find the best dish for marinading is a cookie sheet covered in plastic wrap – makes for easy clean up. Coat both sides of the ribs in the marinade.
7. Cover the ribs with plastic wrap and refrigerate. Marinate for 8-24 hours.
8. When ready to cook, take the ribs out of the fridge at least 30 minutes prior so they can come to room temperature.
9. Heat grill for at least ten minutes on high. Reduce heat to moderate. Grill ribs covered for 15 minutes flipping them once. Also baste with reserved marinade when you turn them over.
10. Grill uncovered for 10 minutes until the ribs have a nice level of char. Transfer ribs to cookie sheet (after you have removed the plastic wrap) and let rest for 5 minutes.
11. I like to slice these in servings of 3-4 ribs and serve with lemon wedges.
VARIATION: As I mentioned I usually use this marinade with great success on chicken. For the amount made above you can easily marinate 4lbs of poultry. There are two ways I like to do it –
1. thighs – I buy boneless, skinless thighs and marinate them overnight. You can cook them on the grill for 20-25 minutes on moderate heat or in a 350 degree oven for 25-30 minutes until no pink remains in the center. There is no basting required!
2. breast – I buy boneless and skinless chicken breast and cut it into large two inch cubes and marinate overnight. I thread the chicken on soaked bamboo skewers and broil for 3-4 minutes a side in the oven. Again no need to baste. These make a great appetizer served with toothpicks and some cilantro chutney.
**Note: In Atlanta I like to shop for Indian spices and dry goods at Taj Mahal Imports (because it is close to my home and usually has what I need) or Cherian's. The latter is HUGE and has any Indian ingredient you can imagine. Also it is clean and brightly lit.
Cherian's International Groceries
751 Dekalb Industrial Way Decatur, GA 30033
Taj Mahal Imports 1612 Woodcliff Drive Northeast Atlanta, GA 30329