Hello reader. I'm so glad you"re here. Make yourself a nice cup of chai and have a seat! I want to show you how to bring Indian flavors into your kitchen and, for my inaugural post, I am going to start with something basic but oh so important if you want your Indian food to have bright, authentic flavor – garam masala. Used primarily in Northern Indian cooking, it is India's answer to Chinese five-spice powder. Garam Masala is used both as an integral flavor in dishes and also as a finisher – sprinkled on at the end of cooking. I use this spice blend in a variety of dishes – from lentils (dal) to koftas (vegetable dumpling curry) to all sorts of meat curries. You can buy it pre-mixed at an Indian store but I find an IMMENSE difference in flavor if you make your own. I grew up watching my Mom make garam masala at least once a month and I follow her recipe. Trust me when I say it is fabulous! The big trick is taking the time to toast the spices. The flavors become more intense and your house will smell amazing. You will find yourself sprinkling this spice powerhouse on not just Indian food.
GARAM MASALA
Ingredients:
1/2 tbl cumin
1 tbl black peppercorns
1 1/2 tsp cloves
1 cinnamon stick
10 black cardamom pods (these are larger than green cardamom and have a black, ashy appearance. Look for them in the spice aisle of your local Indian market)
1 large bay leaf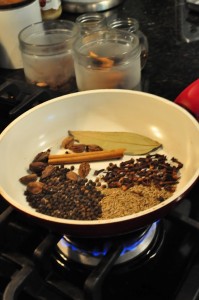 1. Heat small dry skillet over medium low. Add spices.
2. Toast spice for 5-6 minutes until the cloves turn ashy and the spices are popping. Pan may also smoke a little bit – don't be alarmed, this is normal!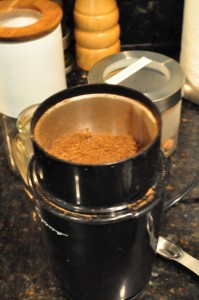 3. Let the spices cool to touch and then grind in your spice grinder. Sometimes large pieces of the cinnamon stick remain – I fish those out.
4. I store the garam masala in a glass jar. It holds its potency for 2-3 months.