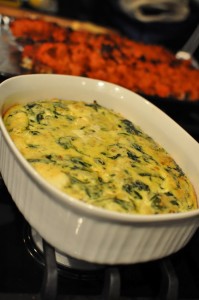 Many of you are very excited about this recipe already and I am thrilled to share it with you. I came across the original version in an eblast from Atlanta Magazine. It is from Athens food writer Rebecca Lang's book Quick Fix Southern: Homemade Hospitality in 30 Minutes or Less. Now, how's that for a title! My interest is already piqued. Here is the link to the original recipe:
http://www.atlantamagazine.com/southernrecipes/sides/story.aspx?ID=1708041
I had a feeling this dish would be beautiful with any barbecued meat and had been looking for an excuse to make it. So of course it came to mind when I settled on making tandoori ribs for the neighbors. But I thought it needed a few additions to make it jive better with the aggressively flavored main course. But I also needed to be careful not to use anything that would overwhelm the delicate onion and cheese custard. I decided to add a chopped jalapeno for a little heat. I added fresh, grated ginger (I used a microplane) whose sweetness I thought would play beautifully with the Vidalia. And I added lightly crushed (in a mortar and pestle) whole coriander seeds which added lovely pops of flavor. The finished product was so delicious the guys from next door took about three helpings each! Even my toddler gobbled it up the next day so this one has kid and grown-up appeal. Hope you get raves at your table too.
INDIANIZED SPINACH AND VIDALIA SOUFFLE
Ingredients
1 medium

Vidalia

onion
1 jalapeno
1 1/2 tsp finely grated grated ginger
1 tbl coriander seeds lightly crushed just until some pods are starting to split
1 tablespoon olive oil
2 (6-ounce) bags baby

spinach

(about 10 cups)
1 (15-ounce) container whole milk ricotta cheese
4 ounces goat cheese
4 large eggs, beaten
2 tablespoons all-purpose flour
1 teaspoon salt
1/4 teaspoon freshly ground pepper
1/8 teaspoon cayenne pepper
Instructions
1. Preheat oven to 350 degrees. Lightly spray a 7- by 11-inch baking dish with nonstick cooking spray.
2. Cut the onion in half and then slice thinly into half-moons. Heat the olive oil in a large skillet over medium heat. Add the jalapeno, coriander seeds and ginger. Saute for about two minutes until you can start to smell all the flavors.
3. Add the onion and cook for 6 minutes, or until soft.
4. Add the
spinach
in batches and toss with tongs until wilted, about 3 minutes. Transfer to a large mixing bowl. Stir the ricotta, goat cheese, eggs, flour, salt, black pepper, and cayenne pepper into the
spinach
. Pour into the prepared dish.
4. Bake for 45-55 minutes, or until set and puffed.