My father would request these crispy veggie fritters whenever the summer sky would grow dark with thunderclouds and the smell of rain would saturate the air. They are a quintessential monsoon treat – although you don't need the excuse of rain to make them. My son, Shiv, first enjoyed pakoras (pu-KOE-raw) when we were in Assam staying at a converted tea plantation. Every afternoon we were spoiled with a substantial tea service. Offerings would be very British one day, butter cookies and pound cake to very Indian the next, fresh samosas or pakoras. Shiv adored these fritters so much that even now, two months after our visit, he will look at me questioningly and say, "pakora?" Lucky for him, my mother is visiting and as soon as she heard her grandson was asking for these, well, nothing could stop her from making them for him. Of course, the rest of us also benefit from Shiv's delicious request! These fried treats are actually very easy to make. The chunky batter is a simple combination of chopped veggies mixed with chickpea flour (besan) and spices. We made two kinds of fritters – cauliflower, potato, and onion & spinach but really you could use just about any vegetable you wanted. Small dice sweet potato with finely chopped onion and green chili would be a mouth watering variation. Once everything is thoroughly mixed you deep fry the fritters until they are golden brown. Double frying assures that you get a really crispy pakora. Every bite holds a different set of tastes depending on whether you get a coriander seed, piece of cauliflower or green chili which is a huge part of thier appeal. Of course, it also doesn't hurt that they are deep fried. You could deep fry an old shoe and it would probably taste fabulous when you were done.
The traditional accompaniment is cilantro-mint chutney – although ketchup or hot sauce also works in a pinch. The chutney recipe will be up later this week. I like to eat pakoras fresh from the fry pan. My father loves to put the pakoras on a slice of thin, white bread with a smear of chutney and fashion a sort of sandwich. Either way, they are addictivly good. One batch of each of the recipes below adequately fed 4 adults and one hungry toddler for dinner. I'm waiting to see what Shiv asks my mother to make next – for absolutely selfish purposes of course.
CAULIFLOWER, POTATO, & ONION PAKORA
Ingredients:
1 small head cauliflower, florets cut into small dice
1 medium red potato, small dice
1/2 red onion finely chopped
1-2 jalapenos or serrano chilies finely chopped
1 tbl coriander seeds lightly crushed in a mortar and pestle
2 1/2 tsp crushed anardana **
2 tsp chaat masala **
1 tsp red chili flakes
1/2 tbl finely grated ginger (I use a microplane)
1/2 tsp ajwain **
2 c. besan
1/2 c + 2 1/2 tbl water
1 1/2 tsp salt
1. In a medium bowl, mix the cauliflower, red potato, red onion and green chili with all the spices and salt.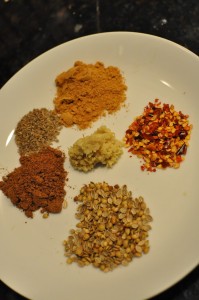 2. Add the besan and stir well until everything is evenly coated.
3. Add the 1/2 cup of water and stir. You are looking for a batter that is chunky and will hold together if scooped and dropped from a large serving spoon. If it is breaking apart or looking dry add water by the 1/2 tbl until you've got the right consistency.
4. Heat 2 inches of oil in a deep fry pan until it is shimmering.
5. Drop spoonfuls of batter into the hot oil. The oil will immediately bubble up around the batter. Fill the pan but don't overcrowd.
5. Once you see the fritters turning golden flip them over. This takes about 3 minutes.
6. Once the second side is done, remove the pakoras from the oil with a slotted spoon.
7. Once you have fried all the fritters once, return the once fried ones back to the pan and fry again. Frying again actually makes the pakoras release oil and makes them crispier. Fry on each side 2-3 minutes until they turn a deeper brown.
8. Remove from the fry pan and serve with chutney and bread if desired.
SPINACH PAKORA
6 c. roughly chopped baby spinach, stems removed (about 6 oz)
1-2 jalapenos or serrano chilies finely chopped
1 tbl coriander seeds lightly crushed in a mortar and pestle
2 1/2 tsp crushed anardana **
2 tsp chaat masala **
1 tsp red chili flakes
1/2 tsp ajwain **
1 c. besan
1/3 c + 2 tbl water
1 tsp salt
1. Mix the spinach and chilies with spices and salt. Follow steps 2-8 above.
**Anardana, chaat masala, and ajwain are all available at your local Indian store.
Anardana is crushed, dried pomegranate seeds. They have a unique sour taste.
Chaat masala is a spice blend – also quite sour – that is often used in Indian street food called chaat. Chaat masala is delicious sprinkled over sliced cucumber with a spritz of lemon and also sweet fruit like watermelon. My husband likes to sprinkle it on toast with a thin smear of mayonnaise.
Ajwain is a small seed that is very good for your digestion. The taste is suggestive of thyme but with a sharp bite at the end.