I first had these chops in Delhi made by Didu, my husband's maternal grandmother. She was an absolutely fabulous cook, and incredibly particular about her cooking process and ingredients. That attention to detail really showed in the food she prepared. These chops I remember very distinctly. We were in Delhi at the end of December and it was freezing. No one imagines India as cold but in the winter, Delhi gets down in the thirties at night and there is no central heat. So the homes are generally pretty chilly. We walked into the house on a particularly cool day and there was Didu waiting for us with cups of steaming tea and these delicate chops. A chop is a Bengali snack staple. It generally means anything covered in mashed potatoes, breaded and then shallow fried. I know – culinary genius. I've had them stuffed with minced chicken and spicy shredded fish. But Didu was famous for her version stuffed with mashed peas fragrant with ginger, fennel seeds, and cumin. There is also asafoetida in the mix which gives its own unique, slightly sour flavor. Didu is sadly no longer with us and I never got the chance to get this recipe from her before she passed. So I had to scour the web and improvise! I got inspiration for the pea filling from Bong Mom's post about pea stuffed flatbread and also followed the process of making the chops from here. And I had a secret weapon that Didu sadly never had access to – panko, the best bread crumb on the planet for frying. All the research was well worth it. One bite and my hubby Arjun declared these were as good as Didu's! Even if you are an avid Indian food consumer these chops will surprise you with their lightness and subtle spice. The patties are bit labor intensive to make but so worth the effort.
BENGALI POTATO PEA CHOP (KORAISHUTIR CHOP)**
Ingredients:
3 large russet potatoes
2 cups frozen peas
1/2 tbl finely grated ginger (on microplane)
1/8 tsp asafoetida
2 tsp fennel seeds
2 tsp cumin seeds
1 1/2 tsp salt
2 large beaten eggs
2 cups panko breadcrumbs
3 tbl canola or vegetable oil
1. Cover the potatoes with water and bring to boil. Reduce heat to a simmer and cook until they are soft all the way through and skins are starting to split – about 40 minutes.
2. While the potatoes are cooking, microwave the peas with 3 tbl water for 4-5 minutes until they are steamed.
3. Drain the peas well and then transfer to the food processor and pulse 10-15 times until you have a chunky puree.
4. Heat 1 tbl of oil in a medium saucepan. When it is shimmering add the ginger, asafoetida, cumin and fennel.
5. After the spices release their aroma, which should take about 2 minutes, add the chunky pea puree and 1/2 tsp salt. Cook for 4-5 minutes until heated through and all the flavors are blended.
6. Let the pea puree cool. In the meantime, peel and mash the potatoes with 1 tsp salt.
7. Now it is time to assemble the chops. Take a golf ball size of mashed potato into your hands and smash it down to a pancake.
8. Add about 1 tbl of pea filling to the center of the pancake and start to pull up the sides of the potatoes. If it seems like there is not enough potato to cover the peas you can grab more mashed potato and use it like glue to make the patty come together over the peas.
9. Roll the patty in your hands a few times so you have a uniform small hockey puck like shape. Roll as many patties as you want to eat before you get ready to fry.
10. Time to fry! Heat a frying pan with 2 tbl of oil over moderate heat. Put shallow bowls with the beaten eggs and panko next to the fry pan.
11. When the oil is shimmering, dip each chop into the beaten egg and then dredge evenly in the panko. Carefully put the breaded chop into the hot oil.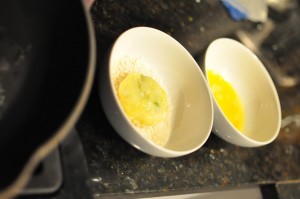 12. Cook the patties for 4-5 minutes until they turn golden brown and then flip.
13. Cook for another 4-5 minutes until the second side is golden. You are ready to eat!
This recipe makes a lot of patties – 22-24 depending on the size. You can easily halve the recipe if desired. You can also refrigerate the mashed potato and pea stuffing separately for up to 5 days and fry the chops fresh whenever the urge hits you.
I like to eat these as-is hot from the pan but Didu would offer ketchup. Tea is a beautiful accompaniment or your favorite cocktail. We served these as an appetizer for guests over the weekend with Manhattans.
** pronounced ko-RYE-shu-teer