Okay folks, here is a recipe that is going to make use of that beautiful garam masala you (hopefully) just made. My mother would prepare these red beans at least twice a month when we were growing up. They are robust, spicy and easy enough for a week night dinner. Although the dish is totally vegetarian it has the heft of something meaty thanks to the complex spice profile. I always use a slow cooker for my Indian lentils and beans. It does a beautiful job of rehydrating without making the beans or lentils mushy (something that can happen in a pressure cooker.) If you don't have a slow cooker, I would highly recommend spending the $30 and getting one. Mine is absolutely basic and does a brilliant job. If you don't have a slow cooker you could also prepare the beans in a low oven.
My mother's innovation to this classic Punjabi dish is the fresh carrot slaw that she always serves with it. The slaw couldn't be simpler – just freshly grated carrots, radish, some thinly sliced red onion, a little cilantro all tossed with fresh lemon juice and salt – but it truly takes this dish to the next level. Ladle some rajma on top of simple basmati rice and pile the slaw on top. The contrast of the soft rice and beans with the fresh crunchy slaw is addictive and so fabulous.
RAJMA
Ingredients:
1 1/2 c. dried kidney beans
2 tsp salt
1 large yellow onion roughly chopped
6 cloves of garlic, peeled
1 inch of ginger peeled and chopped
1-2 jalapenos
2 tbl canola or vegetable oil
1/2 tsp cumin seeds
2 large tomatoes roughly chopped into eighths
1/3 cup low-fat or full-fat plain yogurt
1/2 tsp turmeric
1 1/2 tsp coriander
1 tsp red chili flakes
1 black cardamom pod crushed in a mortar and pestle and skin discarded
1/4 tsp cinnamon
3/4 tsp garam masala
1. Put the beans in the insert of your slow cooker and rinse them thoroughly.
2. Add 4.5 cups of water and the salt to the beans and turn your cooker to high for about an hour. Then switch to low and cook for 8 hours. I usually do this if I am going to be at work all day.
Alternatively you can cook the beans on high for three hours and they will be be ready.
3. When the beans are cooked some of the skins will appear to split, they will be soft and the cooking liquid will be murky. After the beans are done, turn the slow cooker to high if its not already set there so the beans will be ready to come to a boil by the time your onion tomato mixture is ready.

4. In your food processor, blend the onion, garlic, ginger, and jalapenos until finely crushed.
4. Heat the oil in a medium saucepan over medium heat. Add the cumin and cook for about 2 minutes until it turns a shade darker and releases its aroma.
5. Add the onion mixture and cook it for 8-10 minutes. It should bubble and sputter for much of the time. Stir it frequently.
5. While the onion is cooking, puree the two tomatoes on the food processor (don't worry about washing it after the onion.) You should have a pale pink puree.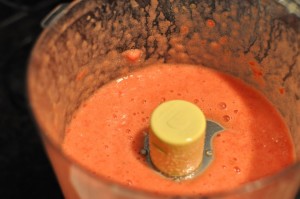 6. Add the blended tomatoes to the onion mixture and cook for 8-10 minutes until the oil starts to separate. You will see oil beads floating on the surface and also accumulating on the sides of the pan.
7. Add the yogurt and cook again until the oil separates. This should take 2-3 minutes. The oil separation is important because many Indian spices (including some used here) are oil soluble. In order for them to flavor the dish well oil separation is crucial.
8. Add the turmeric, coriander, red chili flakes, crushed black cardamom, and cinnamon to the tomato and onion mixture and stir well. Cook for 2-3 minutes.
9. Add the tomato onion mixture and garam masala to the beans in your slow cooker. Boil beans for 10 minutes to incorporate flavors.
Serve with basmati rice and carrot slaw (recipe below.) This is enough rajma and slaw to serve 4-6 people.
I usually whip together this slaw while the beans are doing their final boil. Using the food processor makes preparation a snap!
CARROT SLAW
Ingredients:
2 lb carrots peeled
small bunch of radish – about 6-8 trimmed
1/4 red onion, thinly sliced
1/4 c finely chopped cilantro
juice of a lemon
1 tsp salt
1. Using the grating attachment on your food processor, shred the carrots, and radish.
2. In a bowl, combine the shredded carrots and radish with the onion and cilantro. Add the lemon juice and salt and combine well.
Serve on top of the rajma and rice.