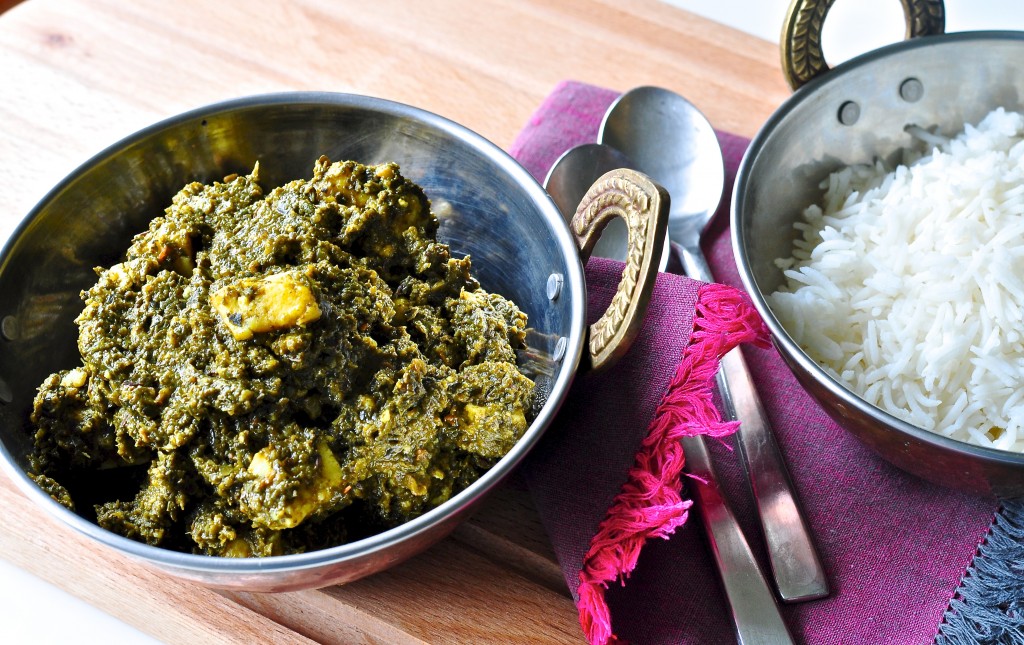 Palak paneer is always one of the first dishes I order when I'm trying a out new Indian restaurant.  For those that have never tasted this dish, it is basically silky Indian creamed spinach that is studded with Indian cheese or paneer.  Paneer is a fresh cheese made by curdling hot milk with an acid like lemon juice or vinegar.  It has a mild, creamy tasty and very tender texture.  Growing up, paneer was very hard to find so my mother would make her own but now, it is readily available in Indian markets or even at well stocked supermarkets, like Whole Foods.
I have ordered palak paneer at countless restaurants over the years but my favorite version remains my mother's.  I finally got the opportunity to watch her make it and take copious notes and measurements during her visit last Fall.  I've since made it several times and found two genius moves to take this recipe over the top.
The first one centers around the paneer.  If you plan to use store bought paneer, which I assume will be the majority of you, it is critical that you cut it into cubes and then soak it in hot water (I use water from a freshly boiled kettle) for at least 45 minutes so it softens up.  Without this soak, your paneer will be firm white chunks interrupting the otherwise voluptuous texture of this dish.
The other brilliant change I've made has to do with the onions.  My mother finely chops the onion for this dish so that in the finished product you still get small bits of sautéed onion in every mouthful.   This is not entirely displeasing but I have noticed in the restaurant versions the spinach puree is totally smooth.  So I thought it would work to blitz the onion in the food processor, along with the garlic and green chili and then sauté the resulting puree.  Not only did the flavor and resulting texture really shine, but it saved me a bit of chopping!  And you have to use the food processor anyway to blitz the tomatoes, and spinach/kale mixture so why not use the heck out it and utilize it for the onions/garlic/green chili as well.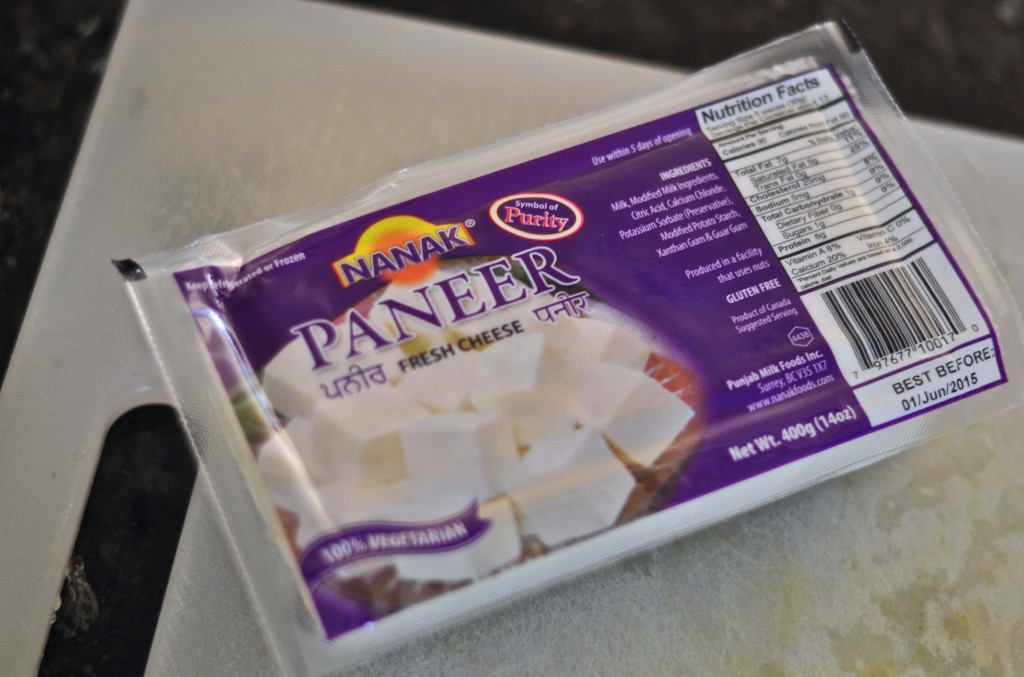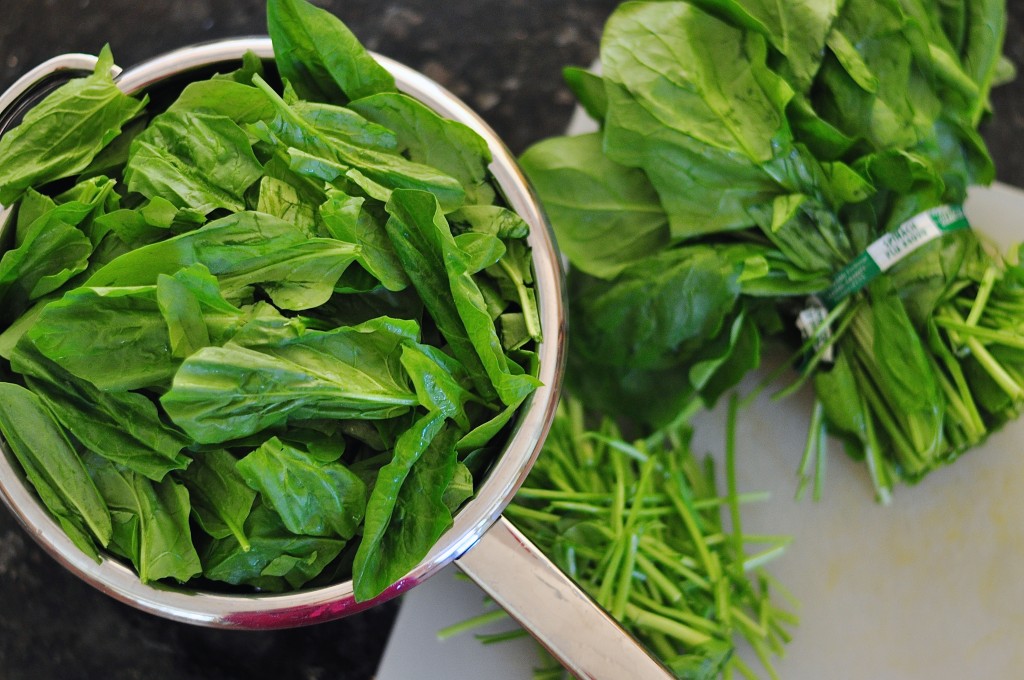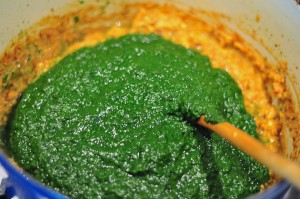 I am really proud of the resulting dish.  It is the palak paneer I crave.  And while it does take close to an hour to make, it can stand on its own as dinner since it provides both vegetables and protein.  When I made it most recently, I felt like going on a cooking spree and served it with Punjabi tea soaked chickpeas (chole) and sautéed cauliflower.  Add some fresh basmati rice and garlic naan (Trader Joe's has an excellent frozen version) and we had a vegetarian feast!
Before I sign off, I have to mention that my mother is coming for a visit at the end of March.  If there are any North Indian or Punjabi vegetarian recipes that you have been dying to get your hands on, please let me know in the comments below!  I plan to have a couple of good cooking days with her where I walk away with some goodies to share with you.

Take the paneer and transfer the cubes to a bowl. Cover with very hot water - from a freshly boiled kettle works beautifully.

Stem all the spinach and wash throughly.

Take the ribs out of the kale - I find it easy to do this by hand but a knife works too - and wash thoroughly.

Bring the water to a boil in a dutch oven. Add the kale and spinach and cover, cooking for about 5 minutes or until everything has wilted. Set the pot aside to let the wilted greens cool a bit.

Puree the onion, green chili, and garlic together in the food processor until smooth. Do not wash the food processor.

Heat oil in dutch oven or large saucepan over medium heat. When it shimmers, add cumin and saute until it is darker brown.

Add the ground coriander, turmeric, and pepper flakes and saute until the spices release their aromas.

Add the pureed onion mixture and cook for 5-7 minutes until it browns and dries up a bit.

While the onion is cooking, add the tomatoes to the food processor and blitz until it is a smooth pale pink liquid. Do not wash the food processor.

Add the pureed tomato to the browned onion and cook until the oil starts to separate. You will see small pools of oil in the pot and around the sides. This should take 10-12 minutes.

While the tomato is cooking, puree the greens with their cooking liquid and 1 tsp of salt in the food processor. Set aside.

Add yogurt and cook until oil separates - about 5 minutes.

Grate in the ginger. I use a microplane but you could also mince it finely and add it in. Cook for 2 minutes.

Add the greens into the pot and stir throughly.

Drain the paneer and add that in, stirring gently to incorporate.

Add the crushed cardamom and cinnamon and stir gently.

Cook at a gentle simmer for 20 minutes.

Add the ghee and taste for salt. Add more if needed. Serve with piping hot basmati rice or naan.
** Ghee is clarified butter or basically butter that has the milk solids removed.  You can find it at Indian markets or well stocked supermarkets like Trader joe's and Whole Foods.  I really like the Trader Joe's version.
Palak Paneer keeps in the fridge for 3-4 days so can be made ahead.