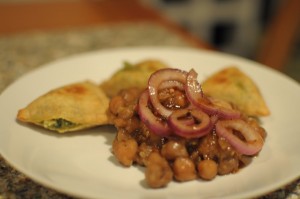 We all have dishes that were special for birthdays. These chickpeas are what I requested for dinner on my sixteenth birthday. A couple of my girlfriends came over and my mother also made puffy, fried bread called batura that is the traditional accompaniment. I was in heaven. Half a world away my husband's standard brunch every Sunday was, you guessed it, two plates of chole bature from his favorite sweet shop, Sweets Corner in South Delhi. Regardless of how I feel about destiny and soul mates I do have a very strong belief that I was absolutely destined to learn how to make these addictive silky soft chickpeas.
Even though they feel like a treat, they are simple to prepare. Most of the actual cooking happens in the slow cooker – which is a boon for the chef because you can be doing anything while they cook. I often start these in the morning before work and finish them off in the evening when I get back. Plus Fall is the perfect time to dust off the slow cooker and make something that will warm your belly like this dish – and leftovers freeze beautifully! You must start with dried chickpeas – they have a much better texture than canned which can be a bit mealy next to the meltingly tender re-hydrated variety. After the chickpeas have cooked all that's left is to saute some garlic, ginger and spices add that into the mix and bring the whole mixture to a boil. I like to served them with my favorite frozen naan (Deep brand) or frozen samosas (again Deep.) I have even used these as stuffing for a sandwich made in one of those classic sandwich makers – actually there may have been one semester in college when I survived on those, they are that good. Crunchy, sour quick pickled onions make the perfect topping for chole.
CHOLE
Ingredients:
2 c. dried chickpeas
5 cups of water
one black teabag (I use Pu Erh but my mom always has Lipton)
1 1/2 tsp salt
1/4 cup vegetable or canola oil
5 garlic cloves, crushed in mortar and pestle
1 inch ginger, crushed in mortar and pestle
2 tsp cumin
1 1/2 tsp channa masala **
2 tsp ground coriander
1-2 tsp chili falkes or 1-2 fresh serrano chilies chopped finely
2 tsp crushed anardana **
2 tsp tamarind concentrate
1 tbl brown sugar
1 tsp garam masala
1. Add the chickpeas and water to your slow cooker and turn to High.
2. When you start to see the water bubble (about an hour for my cooker) add the salt and teabag.
3. Turn cooker to low and cook 6-8 hours.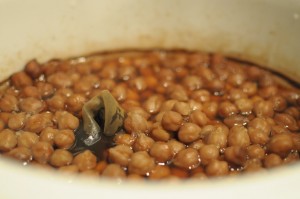 4. Test a pea for doneness – it should be perfectly tender with no bite. These are NOT supposed to be al dente. Discard the teabag and turn your cooker off.
5. Heat the oil in a large dutch oven over medium and add the garlic, ginger and cumin and fry for 2 minutes until it is golden.
6. Add the channa masala, ground coriander, green chili or chili flakes and saute until the spices release their aroma – about 1 minute.
7. Add the chickpeas and their soaking liquid. Bring to a boil.
8. Stir in the crushed anardana, tamarind paste, and garam masala.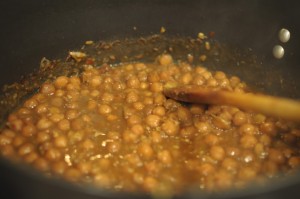 Serve with your favorite naan or samosas. If you are buying frozen I would recommend the Deep brand. Thier naan is quite good and they make a tasty spinach paneer samosa. Quick pickled onions are a classic accompaniment and a snap to make. Slice a red onion into half moons. Mix with 3 tablespoons salt in a small bowl. Let them sit for 10 minutes. Then rinse and add the freshly squeezed juice of one lemon.
** Channa masala is a spice blend you can find in Indian stores. Crushed anardana is also available at Indian stores. It is the dried seeds of the pomegranate fruit that are then ground.