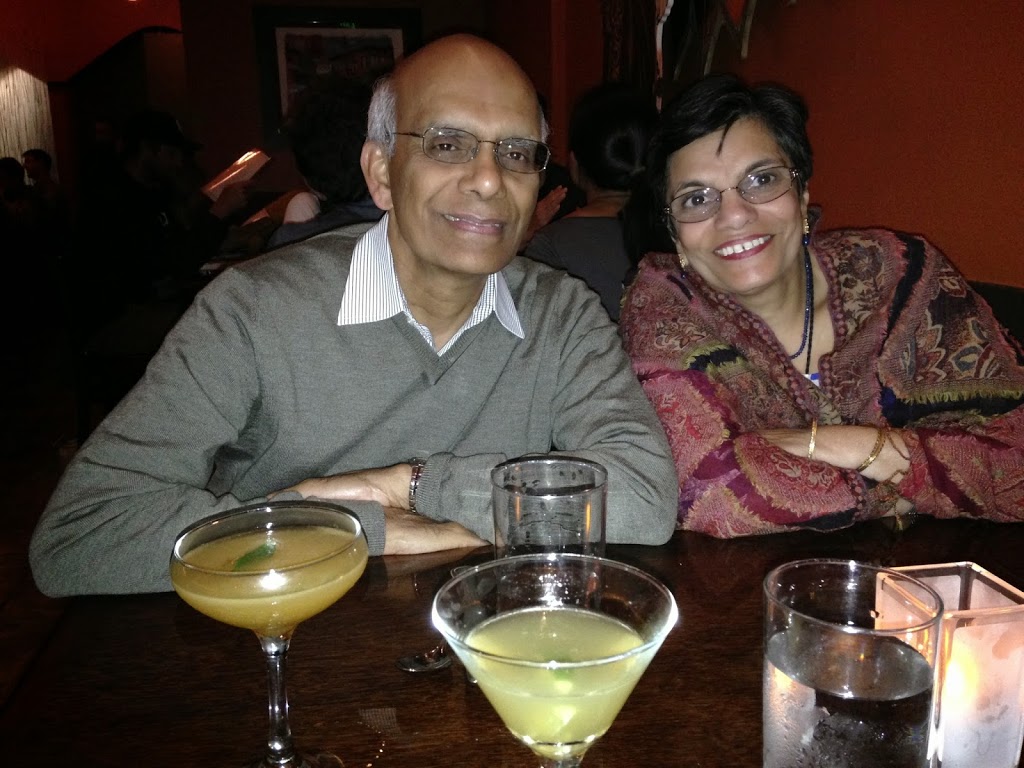 My parents came to visit in earlier this month which is always a treat.  Food wise, it always means I try and extract a new recipe from my mom (in this case palak paneer – coming soon!) and we go out for one adults-only nice dinner.  The cuisine varies but wherever we go it must be vegetarian friendly as my mom is a strict veggies only kind of lady.  In the past, some of our favorites have been Millennium and Slanted Door.   My mom and dad appreciate all cuisines although my mom is the more adventurous eater of the two.  Given a choice, I think my Dad will probably prefer Indian food above all else.  His favorite special occasion restaurant back home in the Virginia burbs of Washington, D.C. is the fine dining Indian gem, Rasika.
Keeping that in mind, I chose Dosa on Valencia for our dinner outing.  My husband and I have eaten here before and loved it.  But we were able to try more dishes with my parents and I was really impressed.  They represent a class of Indian restaurant that I'm happy to see more of lately.  I'm talking about a restaurant experience that is a cut above your normal, everyday neighborhood place.  The ambiance is appropriately moody with dim lighting and they have a thoughtful cocktail and wine list.  But even more importantly, the food is carefully prepared and outside the box.  At Dosa, this means they do the standard South Indian fare like their namesake dosas really well.  The one dosa we ordered, onion rava, was perfect.  Crunchy, piping hot with that unmistakable sourness, it disappeared from the table rather quickly.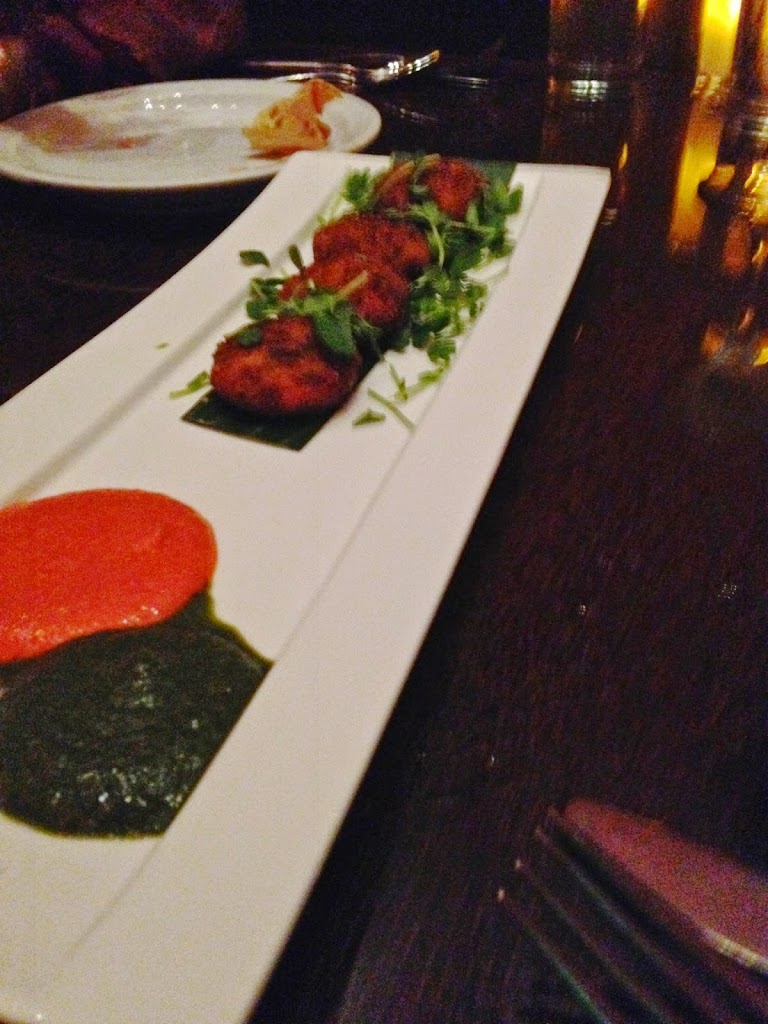 But the items that really stole the show for us were the unique ones that I don't think I would be able to find at another restaurant.  Case in point, the appetizers we ordered.  The first was a black eyed pea vada (basically fritter) with manchego.  I mean I wasn't even sure if this flavor combo would really work!  But it did and magnificently well.  The creaminess of the beans played beautifully with the cheese.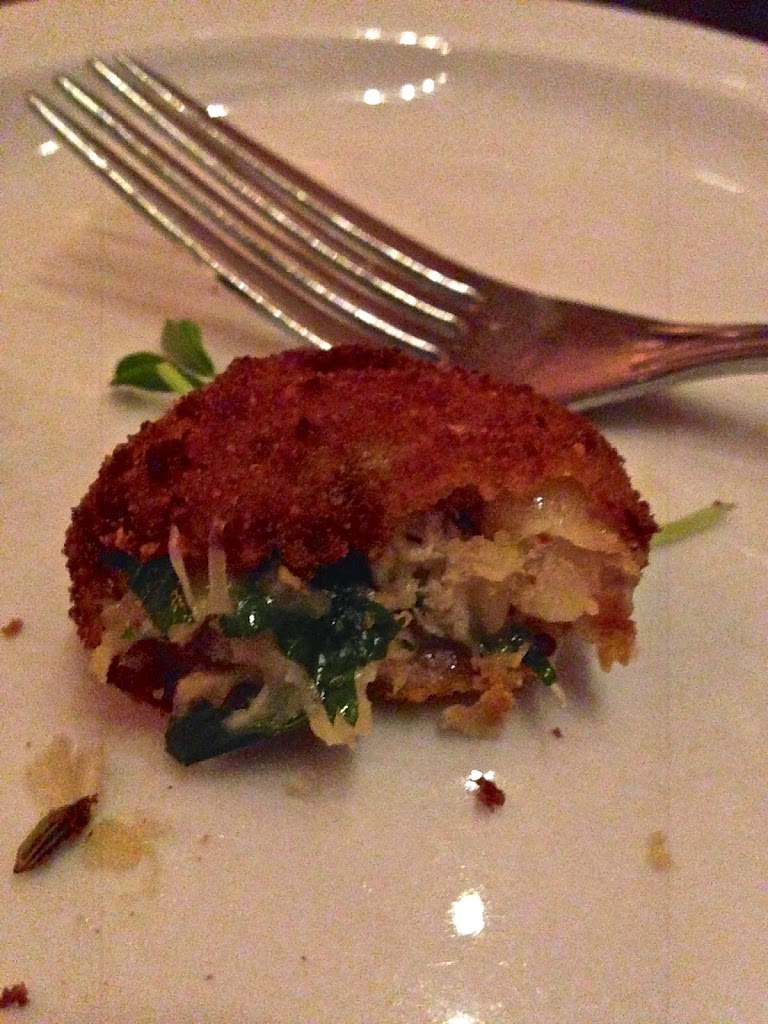 up close and personal with the vada
We also ordered the Cochin calamari and it was probably my favorite thing we ate that night.
not to be missed!
Fragrant with mustard seeds and coconut the flavor just blew me away.   The calamari itself was silky and tender – even my dad who typically shies away from seafood enjoyed this dish.  It was served with two, small appams (similar to a dosa but thicker and chewier) which were the perfect accompaniment.
For our main dishes, we tried the sunchoke kofta which were basically vegetarian meatballs made of
sunchoke in a creamy gravy with a base of cashew nuts.  This dish felt hearty and my parents really enjoyed it although I found it to be a tad sweet for my taste.   We also ordered the chicken korma which was fabulous.  Boneless chicken in a voluptuous gravy with a complex spice profile – my hubby could not get enough of this dish.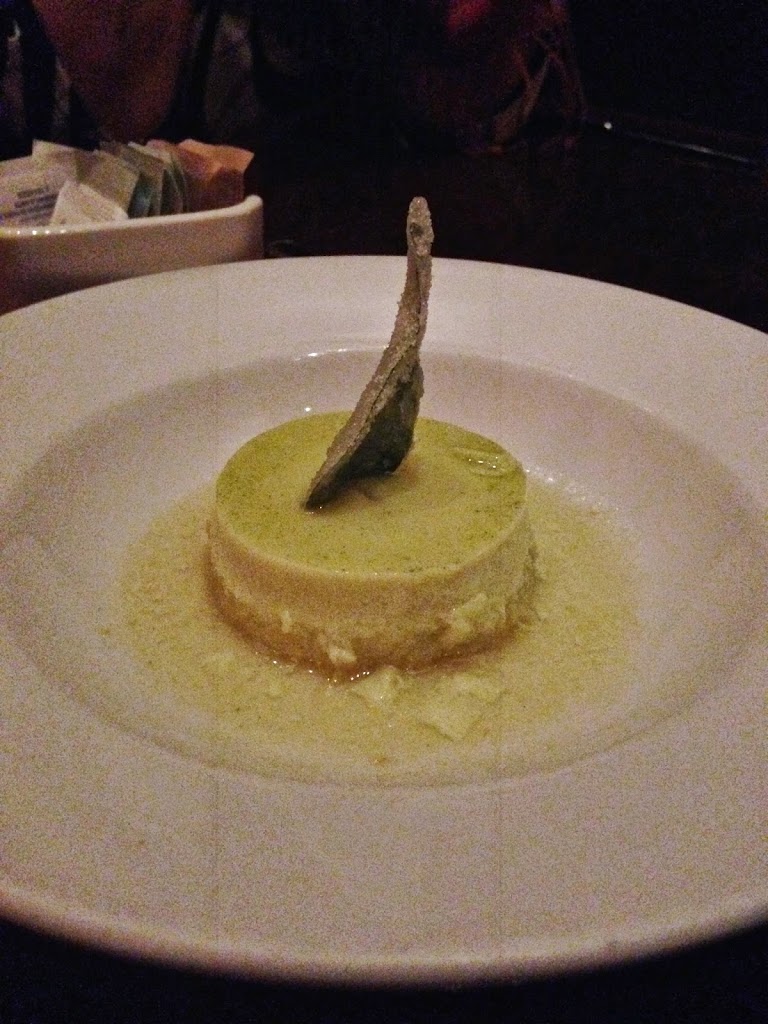 For dessert we tried the fresh coconut custard cake.  It sort of tasted like a coconut creme brulee minus the caramelized sugar topping.  The base was like a crunchy coconut cookie and it was topped with a creamy coconut custard glazed with a pale green syrup flavored with curry leaf.  This dish was really interesting.  Curry leaf is an unusual flavor to encounter in a dessert and I can't say that I totally loved it.  But I did enjoy it for the novelty.  And I still remember the flavor so it makes a lasting impression.
Dosa has another location on Fillmore in Japantown that is bigger and also has an expansive bar.  We love going here before catching a flick at the Kubuki for a truly decadent date night.  Eating at the bar means you can get out in an hour if required to catch a show time.
My parents loved thier introduction to Dosa – and I hope this post inspires you to try it if you haven't been!
If you enjoy reading Samosa Junkie and are new to the blog, please subscribe at the top left of the page.  That way, each time a new post is written (typically once a week) it comes right your inbox.  And I always welcome comments below.  I love the feedback!