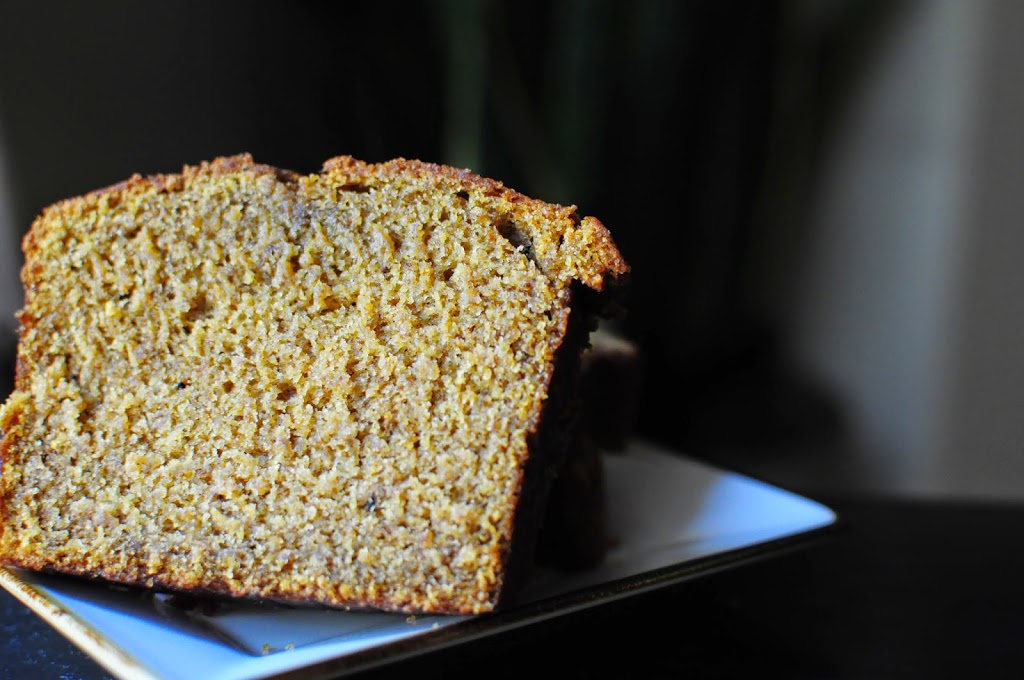 The weather has finally cooled off a bit in Northern California and it is starting to feel like Fall.  I know many of you are watching football weekly and you're in luck!  I just discovered the perfect chicken wing recipe on one of my favorite food blogs.  What set this one apart was the meat was perfectly cooked and the skin completely crispy.  Nothing dims my wing enthusiasm than soggy skin.  The sriracha sauce is the killer finishing touch.
These saucy meatballs are another comforting dish that has recently made it's way on my slow cooker short list.   They come together in about 30 minutes.  I made mine before the kids were up and then dinner was ready several hours later.  All I had to do was boil some pasta and roast some broccoli.   Given the short, convenient ingredient list, it tasted more complex than you would expect.  The long slow cooking time really did wonders to develop the flavor of the sauce.
But perhaps the Fall dish that gets the most love in this house is pumpkin bread.  As soon as the canned pumpkin is out at the grocery store I buy it to make this recipe.  My kids can consume a loaf over a weekend.  It is sweet but not so sweet that it feels like you are eating dessert.  And the addition of all the spices gives it warmth that we all crave this time of year when days become shorter.   My favorite is to have it as an afternoon snack with a steaming cup of tea or latte.  It is also beautiful as a casual dessert with a scoop of vanilla or ginger ice cream.  But of course, my kids clamor for it straight up and unadulterated.
My recipe is barely adapted from Bobby's Flay's version on epicurious.  I just reduced the amount of sugar, replaced some of the white flour with whole wheat and added some ground ginger.   In this house, it is pretty much considered the perfect Fall sweet treat.
My recipe is for two loaves and if you don't consume both immediately they last for up to a week well wrapped.  They also freeze beautifully for up to a month.
PUMPKIN BREAD
Ingredients:
1 stick unsalted butter, softened plus more for the pan
2 cups all purpose flour
1 1/2 cups whole wheat flour

1 tsp salt
2 tsp bakingsoda
1 tsp baking powder
1 1/2 tsp cinnamon
1/2 tsp nutmeg
1/2 tsp ground allspice
1/2 tsp ground cloves
1/2 tsp ground ginger
2 1/2 cups sugar
1/2 vegetable oil
one 15 oz can pumpkin puree (not pie filling)
4 large eggs
1.  Preheat oven to 35 degrees.  Grease 2 9-inch loaf pans.  I like to use Pam baking spray for greasing.  They make a version with butter and flour and it takes seconds to use.
2.  Whisk together the flours, salt, baking soda, baking powder, cinnamon, nutmeg, allspice, cloves, and ginger in a small bowl.
3.  Beat the butter, sugar, and oil on high speed in the bowl of a stand mixer fitted with the paddle attachment until light and fluffy – about 1 minute.  Scrape down the sides a few times to make sure everything is incorporated.
4.  Add the pumpkin puree and mix until combined.
5.   Add the eggs, one at a time and mix until incorporated.  Mixing on low speed, slowly add the flour mixture and 1 1/3 cup of water and mix until everything is combined.
6.  Pour the batter into the prepared pans and bake until a toothpick inserted into the center comes out clean – 1 hour to 1 hour and 15 minutes.
7.  Let cool in the pan on a wire rack for 10 minutes.
8.  Remove from pan and cool completely.