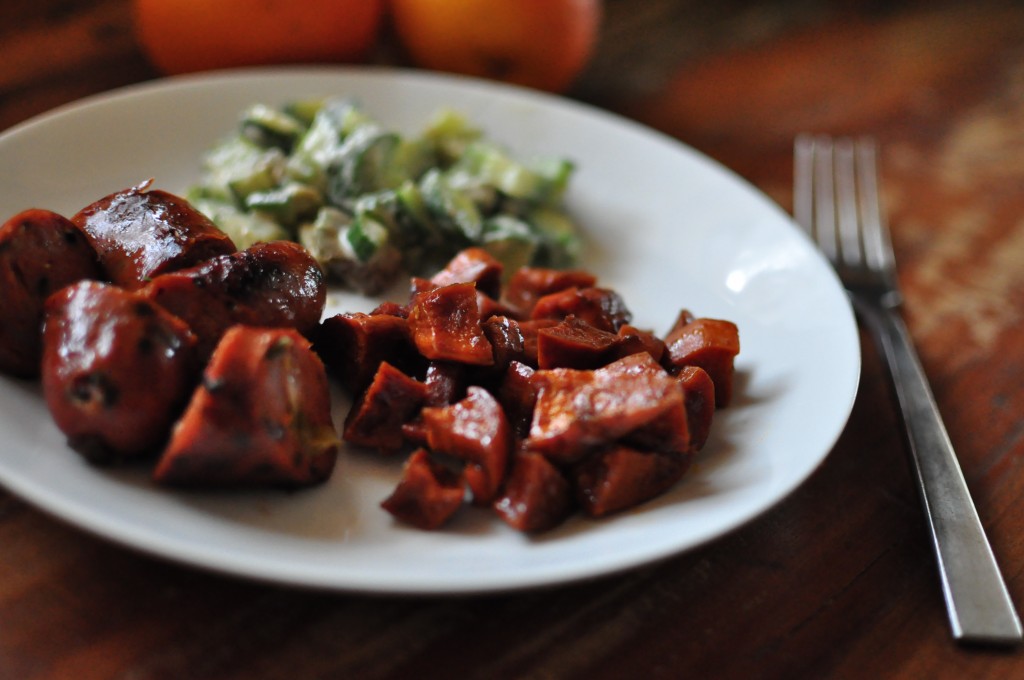 I've been toying with adding Indian flavors to non-Indian recipes.  Sometimes it works beautifully and elevates a dish and others it just totally falls flat.  For those that have not tried it, fusion cuisine can be really really hard to get right.  I am happy to say that this sweet potato recipe is an example of when I got it right. The original recipe is a gem that I found on epicurious and have been making every year for Thanksgiving for more years than I can remember.
The recipe itself is pretty simple.  Sweet potatoes are cubed, tossed with some flavorful liquids and spices, dotted with butter and then roasted.  The resulting potatoes are meltingly tender and beautifully glazed.  I wanted to keep the technique from the original recipe the same but switched up the flavor profile to give it a more tart flavor.  One of my go-to ingredients for adding a tangy taste to any dish is tamarind.  I have a jar of tamarind concentrate (available at Indian markets or online) at the ready in my house it is awesome in soups or sauces. It is also what I turned to for these potatoes. The concentrate has a thick almost jelly like consistency so you have to make sure to dissolve it thoroughly.  Molasses was included for sweetness mostly because I can't get enough of its rich taste. The resulting dish was addictively sweet and sour and would be at home with any number of meals from an Indian spread to tacos, frankly. I served these last with grilled sausage and this delightful avocado cucumber salad.  The addition of orange juice in the glaze  gives the dish a very fresh flavor which is perfect for Spring when our palates start to crave brighter tastes plus it works great with anything off the grill.
I, for one, am so glad that warmer weather is finally here and am looking forward to playing in the sun this weekend.  It also happens to be my birthday on Saturday and I have the good fortune of having some dear girlfriends from Atlanta coming to help me celebrate.  You better believe there will be lots of great food involved.  If you want to check out all the fun, follow me on instagram – @shvetaberry .  It might make you hungry though.  I'm just sayin'….if it does, make these potatoes!

Preheat oven to 375 degrees.

Place the sweet potatoes in a baking dish that will hold them in one layer - 9 x 13 works!

Tuck the cinnamon sticks in the potatoes.

In a small bowl, whisk together the orange zest, orange juice, molasses, tamarind concentrate, ginger, and salt.

Pour the mixture over the sweet potatoes and dot with butter.

Bake the potatoes for 45 minutes. I like to stir the potatoes ever 15 minutes or so so they are all coated with the lovely glaze.