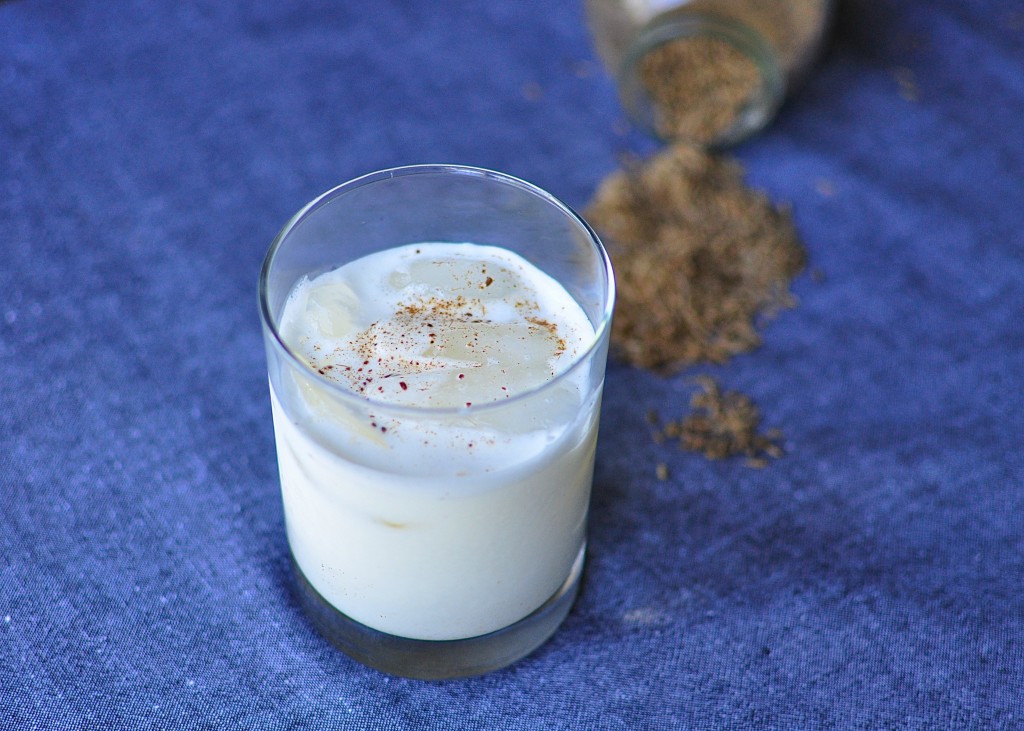 Friends, warmer weather is coming….I can almost taste it in the air.  And, of course, you need a short list of refreshing drinks that will quench your thirst and excite your palate and I've got just the thing for you today that also happens to be my personal favorite – salty lassi.  I know many of you are familiar with mango and also the sweet versions of this yogurt drink but I'm willing to bet most of you haven't tried the salty version.  And let me be the first to tell you, you are missing out.  It is satisfying in totally different way from sweet drinks and has a lovely earthy taste from the roasted cumin.
This recipe is a mere four ingredients and comes together in minutes.  The ingredient that takes it over the edge is the cumin.  Just toasting those little seeds for 5 minutes or so in a dry pan deepens the flavor and gives them a wonderfully smoky quality.  I actually will roast a bunch – like a couple of tablespoons – and grind it up ready to have on hand to put in salad dressing or chili as well.  It is also my not-so-secret ingredient in raita, that cooling yogurt sauce that comes with many Indian meals at restaurants.  You will not regret having a small stash of this stuff in your spice pantry.
Salty lassi is delicious with Indian food but I actually love it as an afternoon snack or brunch beverage.  Especially if I'm making the famous Parsi egg scramble called akuri.  I'll bet it would be a wonderful, non-alcoholic alternative to beer alongside a spicy bowl of chili as well.  I take it pretty much any way I can get it!!

Roast the cumin seeds in a dry pan over medium heat for about 5 minutes until they turn a darker shade of brown.

Remove the seeds from the heat and either crush with a mortar and pestle or use a spice grinder. I like using the spice grinder if I'm doing a larger quantity. Set aside a small amount of ground cumin for garnish.

Put all ingredients in your blender and blitz until throughly blended. This happens quickly - 30 seconds or less depending on the blender.

Serve salty lassi over ice and contemplate why there aren't more salty drinks in the world.