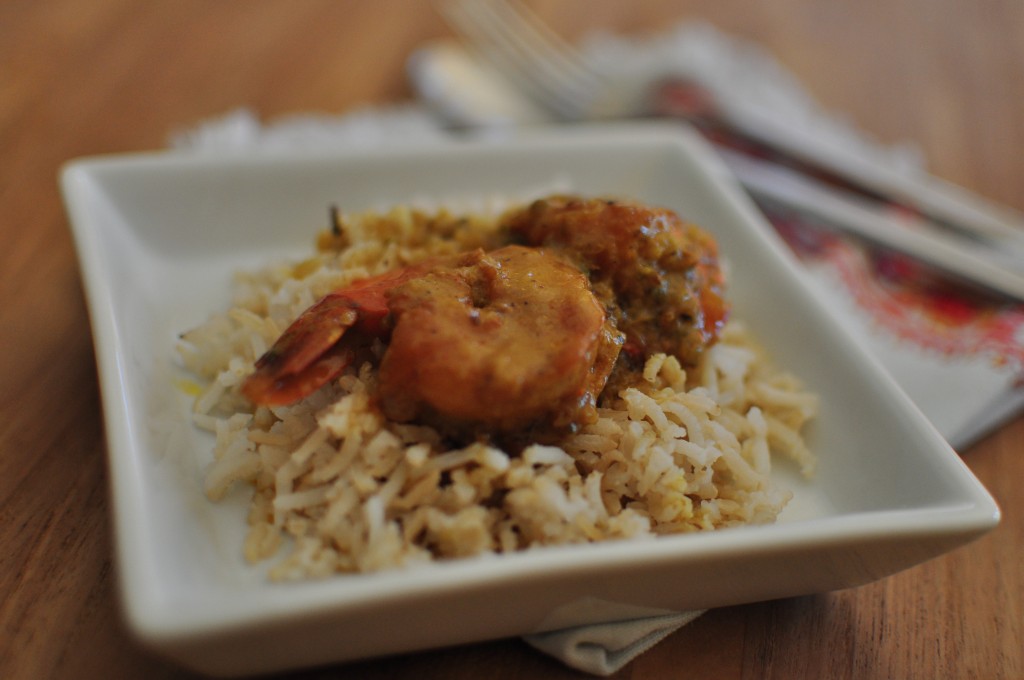 When I first met my husband, Arjun back in 2000 he would regale me with stories of foods he grew up eating, many with a heavy seafood emphasis, all of which sounded terribly exotic to me.  My exposure to seafood up until college had been fairly limited and even 15 years ago I was still in a novice in the matters of delicacies from the ocean.  I remember him mentioning this shrimp curry  early on and it sounded almost Thai with its coconut milk base.  On our first trip to India after we got engaged, Arjun's grandmother made this shrimp coconut curry for us and I suddenly understood why, when he was thousands of miles away, he would talk about this dish.  Its name, chingri maacher malai curry, was probably the first bit of Bengali that I learned just so I could request it again.  It was slightly sweet, creamy, with soft spices and incredibly tender shrimp.  I was hooked.  And I have been trying to recreate it in my kitchen ever since.
When I started researching this dish, I learned that that malai most likely refers to Malay and this curry was probably fashioned after a Malaysian import.  So my early impression of it sounding East Asian was spot on.  The combination of spices – cardamom, clove, cinnamon – almost invokes a star anise like flavor which would make total sense. I also learned that is has been a staple of Kolkata housewives for over a hundred years so I think we can call it a classic with certainty.
I, luckily, got the opportunity to watch Arjun's grandmother make this when she was still alive, so the method I have had down pat for years.  And I will say it is terribly easy.    For the ingredient list, I referred to not one, but three cookbooks I own that feature this recipe and each is virtually the same.  But the flavor was never quite right.  I have finally just in this past month, solved this culinary riddle, and I can confidently tell you what I was doing or rather sourcing incorrectly.  The first was the ground onion.  Our onions here are much larger and have a stronger taste than those in India.  Indian onions almost look like shallots so my first change was to replace the onion with shallot.  This change was perfect.  The more mellow onion flavor worked much better with the coconut milk and shellfish.
The other ingredient conundrum was coconut milk.  In India they use fresh coconut milk (or rather Arjun's grandmother did) and it's taste is not like canned.  First of all it is much less thick so my first innovation was to mix regular coconut milk or cream with light coconut milk.  Brilliant – the thickness of the curry was now spot on.  But the flavor still lacked that caramelly sweetness.  I toyed with the amount of sugar and while that made the sauce sweeter but didn't really lend depth of flavor.  I finally cracked it in my last attempt with this dish and you'll never guess what provided that missing taste…….drum roll please….MOLASSES!!!  Just adding half a tablespoon of molasses gives it that missing deep dark sweetness.  The resulting dish is so so good.  And it comes together rather quickly so attemptable for a weeknight in my opinion.
And if you are ever in the covetous position of having extra lobster lying around, it would be fabulous tossed in with this curry too.  I'm totally drooling as I type that….actually, in the case of extra lobster, just drop me a note and I will make you the curry provided you bring over the shellfish.  Win, win I think!!
Mom gets here tonight and we are going to get our cooking on!!  Can't wait to share the results here in a bit.

Mix the shrimp with 1/2 tsp turmeric and 1/2 tsp salt and set aside for a half hour.

In the meantime, grind together the shallots, ginger, and green chili a food processor, until it is smooth.

When the 30 minutes is up, heat 1 tbl of oil in a large dutch oven over medium heat until shimmering. Lightly fry the shrimp until they turn pale golden and curl up. When the shrimp are done, remove to a paper towel lined plate.

Heat the remaining 1 tbl of oil and ghee in the same dutch oven. Add the garlic and fry until it is golden and then remove. For this dish you just want the gentle taste of the garlic flavored oil. You can used the fried garlic in another dish.

Add the whole spices and sauté for about 60 seconds until they release their aromas.

Add the onion-ginger-chili paste and cook until it turns lightly golden and dries up. This takes 4-5 minutes.

Add the coconut milk and sugar and mix well.

Add the red chili powder, remaining 1 tsp turmeric, and salt. Mix well and bring the mixture to a boil.

Add the molasses and stir thoroughly.

Add the cooked shrimp and simmer gently for 5 minutes to combine flavors and thicken the gravy a bit.

Serve this lovely curry over simple basmati rice.