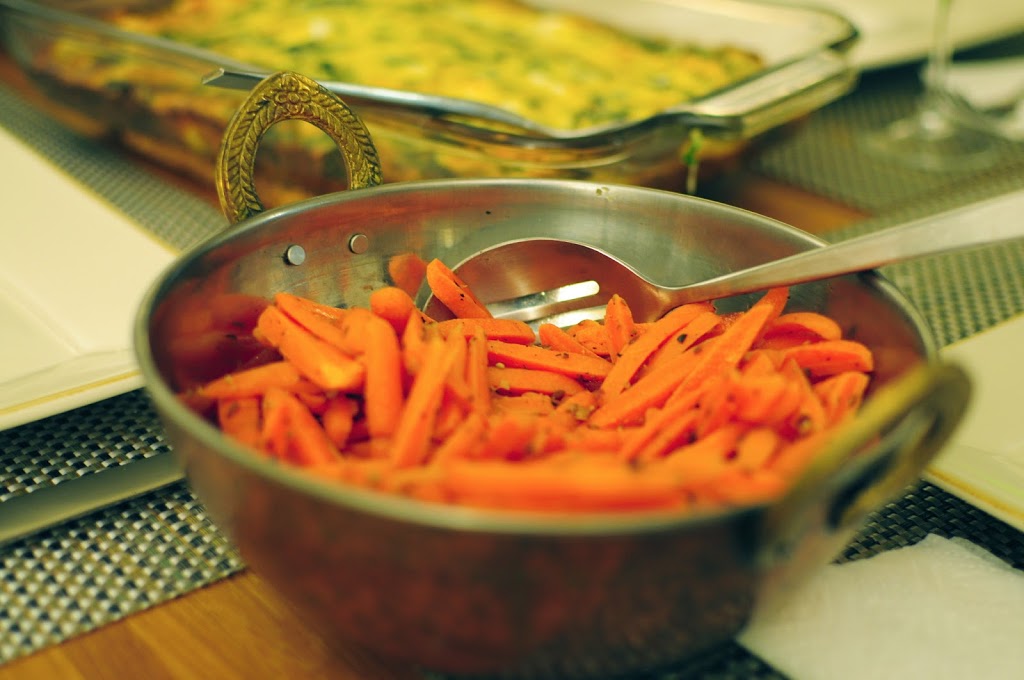 I love to have a stash of easy, quick, healthy side dishes that I can throw together that will accompany a showstopper of a main dish without stealing the stage.  However, it can be hard to find such dishes in traditional Indian cooking.  Most of the veggies have just as many spices and complex flavor profiles as the main dishes they are meant to compliment.  So, for Christmas, when I decided to make Arjun's grandmother's chicken biriyani I decided I would create a simple veggie side that would be quick, delicious, and most importantly, let the biriyani shine.  After all, if you are going to spend that much time on the main course you don't want to steal its thunder.  I chose to make carrots both for the vibrant color and taste they would bring to the table and was inspired by the simple Moroccan side dish that takes cooked carrots tossed with some simple lemon juice, spices and honey.  I used both ginger and garlic and spiced my version simply with ground, roasted cumin.  Lemon juice and honey added a sweet and sour element that was a welcome foil to the other richer food at my holiday table.  This dish is light and a breeze to make and would work with anything from Indian fare to sandwiches.  It would be smashing at a potluck or picnic.  And of course, it paired gorgeously with the biriyani.
ROASTED CUMIN CARROTS
Ingredients:
1.5 lbs baby carrots, quartered length wise 
2 tbl vegetable oil
2 garlic cloves, minced
1/2 inch of ginger, grated (I prefer using a microplane) 
1/2 tsp roasted ground cumin
1/2 tsp red pepper flakes
1 tsp honey
juice of half a lemon
1/2 tsp salt
black pepper to taste
1. Steam carrots over a steamer rack for 6 minutes.   Remove from heat.
2.  Heat oil in skillet over medium/low heat.  Add garlic and ginger once oil is hot and saute until fragrant – about 1 minute.
3. Add cumin, red pepper flakes, honey and carrots to pan and cook until carrots are well mixed.  Add lemon juice, salt and pepper.
I let these cool and served them at room temperature but they would taste great warm as well!