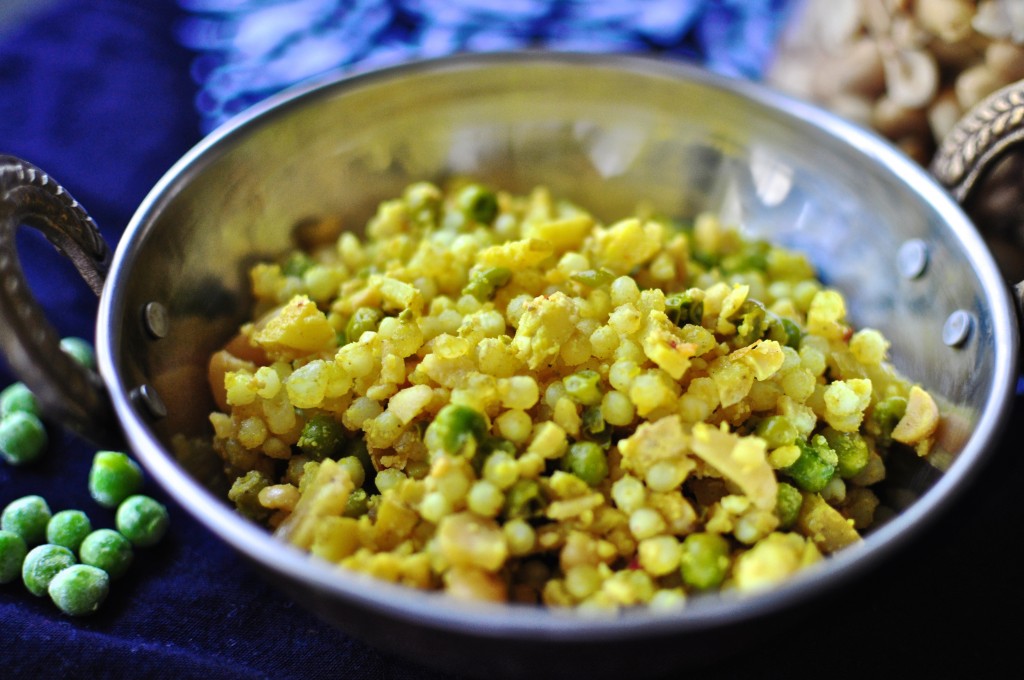 Until I was in middle school, I didn't realize that the majority of the United States considers tapioca mainly an ingredient for sweet pudding. I remember the day of my enlightenment well. I was eating outside with my dear friend Tara and she opened up a container and offered me a taste of this exotic sounding tapioca pudding. I took a bite and was momentarily perplexed.  The flavor was totally new but something about the texture tickled at my brain. The little balls suspended in the pudding had that addictive chewiness that I already loved. And then it hit me. This tapioca was the same thing as sabudana (in Hindi)!
Tapioca in Indian cuisine is often used in savory preparations. The way my mother served it was as a lunch dish, stir fried with crushed peanuts, peas, potatoes, and onions.  Lemon juice and the tangy spice blend, chaat masala are used liberally for a punchy flavor profile. I have always had a soft spot for sour tastes so no surprise that this dish is one of my favorites.  My mother says this savory tapioca hails from the Indian state of Maharashtra and that she got the recipe from a native.  If there are any Maharashtran readers in the house, please let me know how this recipe stacks up to your family's version.
Now that I see my mother a handful of times a year, I usually ask her to make this savory tapioca for me.  On her last visit, I finally learned to make it.  The secret is to coat the little white balls in a bit of buttermilk so they don't all stick together when you fry them. And bonus – not counting the time to soak the tapioca, it comes together in less than thirty minutes and reheats well so you can make a big batch.  It makes a stellar lunch to take to the office and a great offering for a vegetarian meal.
The chewy, subtly spicy, and pleasantly sour qualities of this dish will give you whole new perspective on humble tapioca.

Soak the tapioca in water for 5-6 hours. All or most of liquid will be absorbed.

When you are ready to start cooking the dish, drain any water that may be left over in the bowl with the tapioca. Then toss the tapioca with the buttermilk. The balls are pretty delicate so I generally use my hands to do this.

Take the peanuts and crush them in a spice grinder. You want them to turn into coarse sand NOT peanut butter so watch closely. Set aside.

Heat the oil in a large skillet over moderate heat. When it shimmers, add the chili flakes and turmeric. Let them sizzle for 30 seconds.

Add the green chili, salt, and potatoes to the pan. Cook for 3-4 minutes until the potatoes are almost done. Try not to stir them around too much. You want them to get some lovely golden patches.

Add the peas. Cover and cook for 3-4 minutes.

Add the tapioca, chaat masala, ground peanuts, and juice of half the lemon and toss. Cook for 2-3 minutes until the tapioca is done. This happens pretty quickly so keep an eye and don't be afraid to taste test! When the balls are soft and have lost any bite, they are ready.