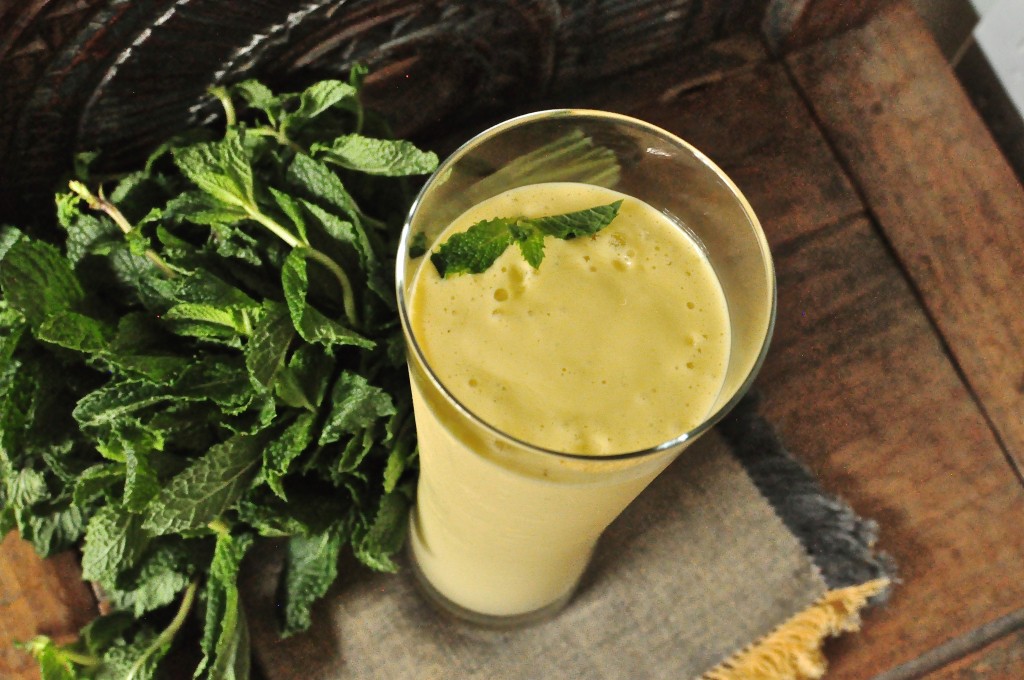 Here in the Bay Area we often experience this strange weather phenomenon called June gloom. Basically the weather turns grey and cold (think the mid 50s) when the rest of the country is experiencing the first warm days of summer.  This year, the gloom came early and most of May was dreary.  For a relative newcomer to the area like me, this weather is a total downer.  I know there are warmer, brighter days to come but after two weeks of not seeing the sun, I needed a pick me up.
Lucky for me I had the taste of summer sitting in my freezer in the form of frozen mango chunks.  I went into a bit of a mango binge in early April and ended up buying a couple of large boxes of mangos from my local Asian market.  These were the champagne variety that are more oblong and so sweet.  After I grew sick of eating them every morning for breakfast, I (actually my mother who was visiting – thanks Mom!) cubed up the remainder and froze them.  Best. Decision. Ever.  Because fast forward to May and I needed the taste of mango to remind me that summer exists somewhere and will eventually come here too.
My kids are nuts for mango lassi – that sweet blended yogurt drink on just about every Indian restaurant menu.  I think by now, if you've been reading samosa junkie for a while, you might have gathered I'm not the biggest fan of overly sweet things and the restaurant mango lassi is no exception.  Those drinks are generally made with canned mango puree which will make your teeth hurt if you taste it straight from the can.  A homemade mango lassi is a totally different story.  Use fresh or frozen mango, blend it with some yogurt, milk, a touch of sugar and you are in business.  I switched it up a bit and added mint to this version.  It totally elevated this drink.  My son is probably the biggest mint fan I know and just could not get enough of it.  Regardless of whether it is gloomy or perfectly sunny outside, you need this beverage on your summer menu.  I'm already planning a repeat performance this weekend.

Combine all ingredients in the blender and blend until it is silky smooth. I have a Vitamix and use the smoothie function.

Pour into your favorite glass, with ice if you prefer, and imagine you are on your favorite beach. Take a sip. Aaaaahhhhhhh.