The past couple of months have felt like a whirlwind. I started a new job. My husband, Arjun, started a new job. The kids went back to school and are actually at the same school for first time which is pretty exciting. It feels like quite an intense period of change and my mind has been tired processing all of it. I haven't had the brain space to write or really experiment too much in the kitchen. I'm hoping that will change as we get into the groove and adjust to our new normal.
Before this crazy time, we did get a chance to take a glorious family vacation to Maui in June. It was our second trip to the island and we stayed in a different part of the island this time. Our last trip we stayed just north of Ka'anapali which I fully documented (plenty of great eats to be had there) and this time around we stayed in South Maui just North of the resort mecca of Wailea in Kihei.
We totally lucked out on our location on this trip. The condo I rented butted up next to a supermarket and was walking distance for several great restaurants. Oh, and we could walk to the beach too! In general, this part of Maui was pretty convenient with all the necessities close by. And I would be remiss if I didn't share all the delectable places we discovered on our trip. Here were our favorites:
Fat Daddy's: I really wasn't expecting to find a BBQ place this good in paradise. The ribs were fall of the bone tender, the sausage was spicy, and everything had pervasive, fabulous smokiness. And they had good beers on tap.
Maui Pie: We were walking distance to Maui Pie from our condo which meant we ate pie almost. every. night. I'm glad I don't permanently live near this place because my waist line would be toast. My favorite was the cherry but really all the varieties were smashing. The also have savory quiche that are fabulous for breakfast.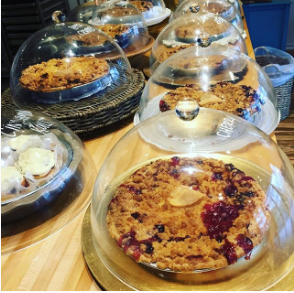 Coconuts Fish Cafe: This little place is in a strip mall and and is easy to pass by – until you see the hoards of people eating the fresh grilled and fried seafood everywhere. It is terrific bang for your buck and very fresh. My favorite were the fish salads here.
Ululani's: The best shaved ice. period. The ice is so fluffy and the syrups are super flavorful. I always get mine with ice cream in the middle.
Nutcharee's Authentic Thai Food: Tucked into a corner of a strip mall this place is easy to miss. The owner has another popular Thai place in Hana that has a devoted following. And I can see why. Everything we order was tasty. And they have some mroe unusual items on the menu like Northern Thai sausage and crispy fish mango salad. I could eat both for days.
Mill House: This restaurant is on the Maui Tropical Plantation property and was quite a surprise for us. You can tour the plantation which is a little cheesy but fun if you have young ones that want to see how everything grows. The restaurant uses all the produce that is grown on site so everything is as fresh as it can get. We had lunch here and tried the tacos and they were the best tacos I have ever had. I don't say those words lightly. The meat was perfectly cooked and the sauce was bursting with rich flavor. The also have a farm stand on property that sells the produce that is grown there which was a true fine. The produce is incredibly well priced, local, and just picked. What more could you ask! We shopped there several times after our discovery.
Surfing Goat Dairy: This farm is towards the center of the island in Kula but worth the drive. You can take a tour, meet the goats and hear all about the cheese making process. And then, the best part – you get to taste the cheese! They have so many varieties, both sweet and savory. We ended up going home with a bottle of the black dragon which was a piquant mustardy flavor. We put it on top of burgers. My son enjoyed it so much, he still asks to buy it…I wish!
I hope these recommendations are helpful to any of you lucky to travel to Maui in the near future. If you end up trying any of the above mentioned places, I would love to hear about your expereince. And if you want to see my food adventures in real time, follow along on instagram!