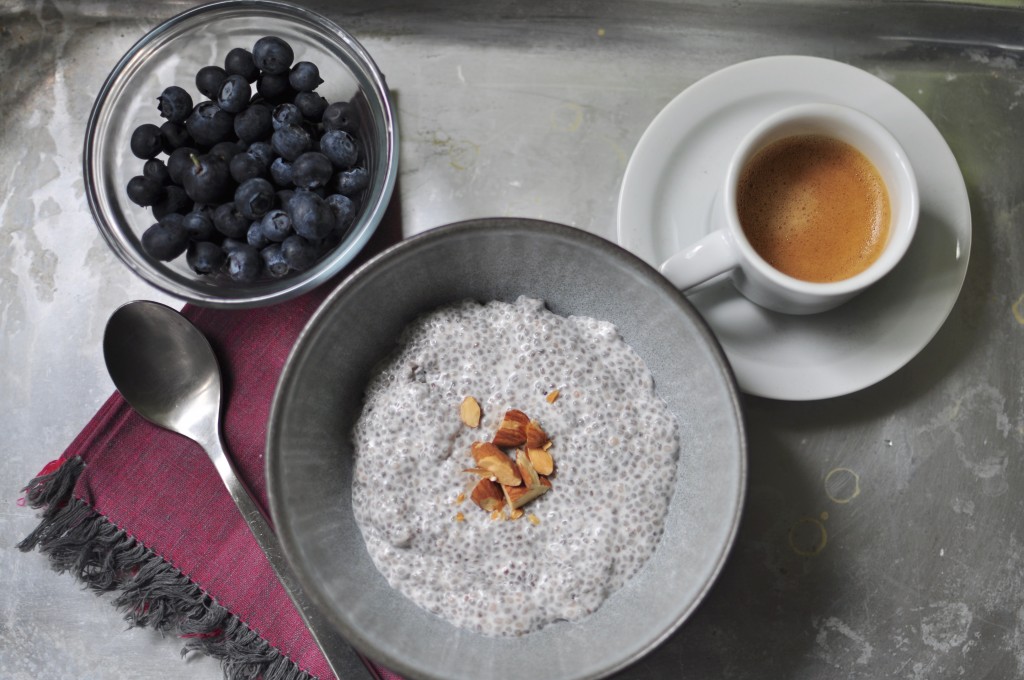 Before I was on the Whole30 my breakfast would be either some sort of egg (boiled being the go-to) or oatmeal plus fruit.  Since I can't currently eat grains, I have been eating a lot of eggs.  The easiest way to do this and still get out the door on time is by making a big frittata once a week loaded with veggies (often leftover from dinner the night before) that I can re-heat through out the week.  This is an easy and pretty tasty solution but I still miss having a bowl of something creamy topped with fruit and nuts occasionally.  My answer to this is chia seed pudding.
Chia seeds are little black seeds that are purported to have a slew of health benefits that you can read about here.  Some of the juicer highlights are they are supposed to keep you full longer and have lots of healthy fats. I personally love them because they turn into delicious pudding without even the need for cooking!  That's right, you don't even need to turn on the stove.  You literally mix the seeds with liquid, my preferred choice is coconut milk, add some spices and some sweetener if you desire.  You let the mixture hang out in the fridge overnight and the next morning you have creamy pudding.  As long as you keep the seeds to liquid ratio 1 to 4, you are in business.
Since my milky Indian chai is off limits for me at the moment, I  thought, why don't I incorporate the the same spices into chia seed pudding.  That way I could still savor the flavors I missed.  I have left sweetener out of the below recipe because I can't have it at the moment, but if you aren't doing a Whole30 you can add 2 tablespoons of maple syrup to sweeten it up a touch.  Also, feel free to play around with the spice amounts.  Love cinnamon, add more of it!  There is really no way to screw this recipe up – which is why I've currently got it on a weekly rotation.  I hope it adds some variety and spice to your breakfast table.  It would also be a fabulous, light dessert after an Indian meal as well.

Mix together the coconut milk with the spices. Then add the chia seeds and combine throughly. Cover and keep in the fridge overnight - at least 8 hours. Serve in the morning with fresh fruit if desired.