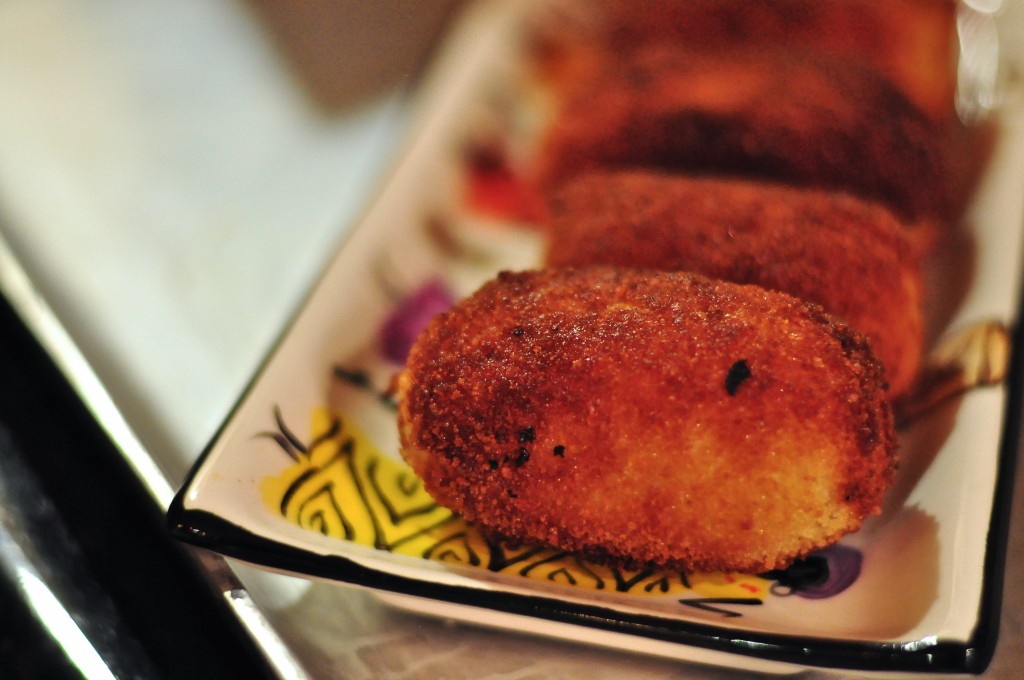 First of all, welcome to the new Samosa Junkie site.  If you have a moment, please poke around and check out the new features like recipe search.  I would love it if you could leave a comment below on how the site is working or if there are other features you would like to see.  And now let's get on to the important stuff…..food!
In case you are new to the site, let me catch you up.  My family and I visited Kolkata this winter for a couple of weeks and just returned about a month ago.  I came away with lots of foodie inspiration and this is the first dish inspired by the trip that I am sharing.  For me, no visit to Kolkata is complete without a trip to Howrah Badi – literally translated to the house in Howrah.   Howrah is actually a separate city and is located across the Hoogli River from Kolkata.  After you cross the river, it feels as though time has stood still.  The malls and other modern development one sees in other major Indian metropolises are not evident here.  My husband, Arjun's maternal grandfather, Dadu, grew up in Howrah as part of a large family of 8.  His family has lived there for generations and the house Dadu grew up in is over 200 years old.  It is a a very large house with a central courtyard (typical of many older Indian homes) and a small family temple.  I would have a tough time drawing you a blue print of the place because the rooms are endless and seemingly go on and on.  Imagine the most perfect place for a crazy game of hide and seek.  The house is bright in the customary Kolkata colors of emerald green, yellow and brick red.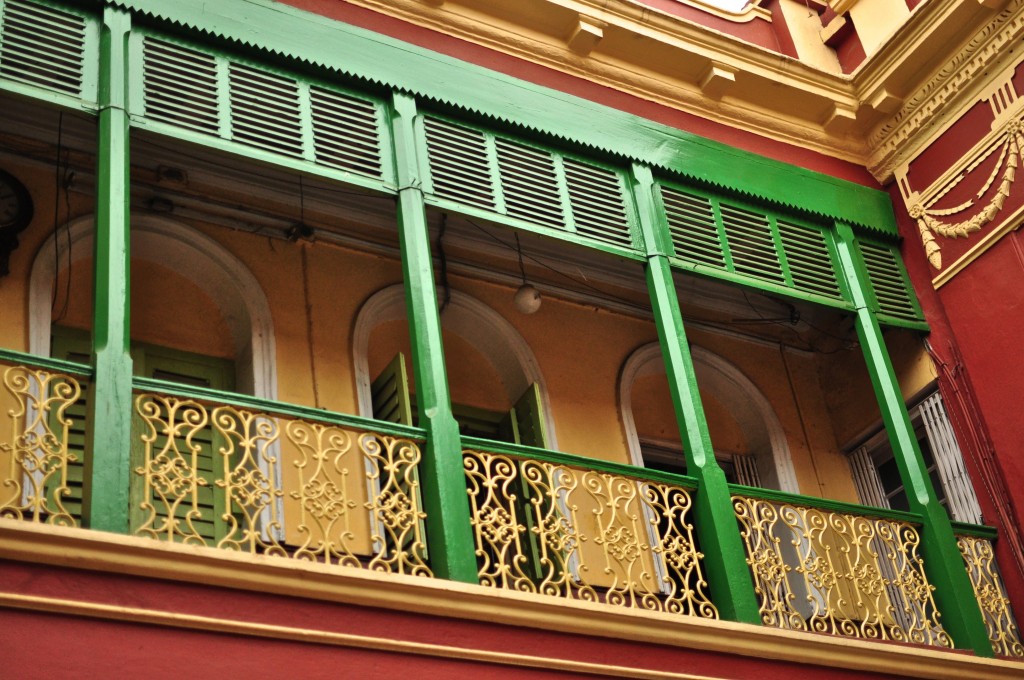 I have always enjoyed visiting this home.  Arjun's family that still lives there is very warm and I like to imagine Arjun playing there as boy with his cousins – especially during the busy Durga Puja season in the Fall.  The goddess Durga is worshiped for several days and there are feasts galore.  At Howrah Badi, it is customary that they provide food for much of the neighborhood.  And speaking of food, let's get to the real reason I love visiting.  The food in this house is famous.  Even Arjun's grandmother, Didu, who had very exacting taste, would always praise the food served at Howrah Badi.  On our last to last trip in 2012, we visited mid-morning so weren't planning  to have meal.  But it is totally out of the question for guests to come and not eat anything at an Indian home so of course we were served plates of puffy fried, circular bread stuffed with peas and maacher chop, or as I'm calling them, Bengali fish croquettes.  I was totally stuffed, having had a huge breakfast that morning, but couldn't resist downing two, maybe three of the croquettes.  They were exquisite.
For those that have never encountered this delicacy (and I imagine that is most people that are not Bengali, myself included) imagine pillowy mashed potatoes are wrapped around delicious, very finely flaked fish that is dotted with tiny pieces of sauteed shallot and raisins.  The fish is simply spiced with some mild red chili powder, salt, and Bengali garam masala that basically tastes of cardamom, cinnamon and clove.  The whole oblong-shaped thing is coated in egg wash and breadcrumbs and deep fried so the exterior is crisp and crunches when bitten.  Believe me when I tell you I have been dreaming about these croquettes since 2012.
When we booked our trip to Kolkata this past December, the first thing I asked Arjun's mother was to arrange a trip to Howrah Badi so I could get my hands on this recipe.  And I did!  And also got fed an amazing lunch in the process.  The man behind the croquette is Lob, who has been cooking at Howrah for decades.  He very sweetly showed me all the ingredients, demonstrated how they are put together and shared with me his double crumbing technique which is nothing short of genius.  The chop is dipped in breadcrumbs, then in beaten egg, then again in breadcrumbs to ensure a nice sturdy coating that delivers a substantial crunch – essential against the softness of the mashed potato.
I successfully recreated this dish in my kitchen last weekend (while the Super Bowl was going in the background) and am thrilled to be able to share it with you.  I served these with rice and lentils but honestly they are such a showstopper (and filling) you could serve them with salad and be done.  My son went bananas for these and even Ish happily ate half so I say kid approved.  But even if the kids had hated these, I would go to the trouble to make them again….and again…..and again….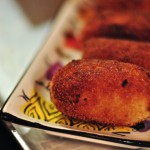 A crunchy breadcrumb coating encases soft mashed potatoes that surround a gently spiced flaked fish filling punctuated with shallot and raisins.
Servings

Prep Time

20

croquettes

1

hour
Servings

Prep Time

20

croquettes

1

hour
A crunchy breadcrumb coating encases soft mashed potatoes that surround a gently spiced flaked fish filling punctuated with shallot and raisins.

Servings

Prep Time

20

croquettes

1

hour

Servings

Prep Time

20

croquettes

1

hour
Cover the potatoes with water and bring to a boil. Cook for about 10-12 minutes at a boil until they are absolutely tender. Drain.

While the potatoes cool cook the fish. In a large skillet add about a half inch of water. Bring the water to a boil and add the fish fillets. Cover the pan and steam the fish for about 3 minutes a side until it is thoroughly cooked through. Remove the fish from the pan and allow to cool.

While fish is cooling, mash the boiled potatoes thoroughly with 1 tsp of salt. You don't want any lumps!

Now let's get going on the Bengali garam masala. Toast all the ingredients in a dry skillet until they are fragrant - about 10 minutes. You will notice that the cloves start to get a lighter, ashy appearance. This means they are done!

Grind all the spices in a spice grinder or mortar and pestle until you have a fine powder. You might need to remove some of the green cardamom pod covers in the finished spice mix. They all don't seem to grind down - at least for me!

Back to the fish which is hopefully totally cool. Flake it into tiny pieces with your hands. Make sure and remove any bones you find. You want the fish to be in very fine shreds.

To finish making the filling, heat 1 tbl of oil in a small saucepan. Add the shallots and saute until they are opaque and tender - about 5-7 minutes. Add the garlic, ginger, and red chili powder and saute for about 2 minutes. Turn off the heat and add the flaked fish, Bengali garam masala, 1/2 tsp salt, and raisins.

When the fish filling has cooled, gather it in your hands and make walnut sized balls. Set aside these small mounds on a plate.

Take a golf ball size amount of mashed potato in your hand and flatten it like a pancake. Put a ball of fish filling in the center and pinch the sides together to form an oblong ball. Keep going until you run out of potato and fish. You should get about 20 croquettes.

Now get ready to bread these babies. Place the beaten egg and bowl of breadcrumbs side by side. Also have a clean plate handy to place breaded croquettes.

Take each croquette and gently roll it in the breadcrumbs with one hand. With the other hand, transfer it to the beaten egg and roll it again until it is thoroughly covered. With the same hand transfer it back into the breadcrumbs. Use the other, clean, dry hand to roll the croquette in crumbs again. Repeat until they are all done.

Heat 2 inches of oil in a cast iron skillet or small, wide saucepan. When the oil is hot test it by adding a few breadcrumbs. If they sizzle immediately and rise up, you are ready to fry.

Add the chops gently to the hot oil and fry for 2-3 minutes a side until they are golden. Since the croquettes are round I rotated them a quarter turn so they evenly browned all over. If your ends are still pale, you can stand the chops up carefully (very very carefully) to get those golden.

Let these cool for 5-10 minutes before enjoying to avoid burning your mouth. And yes, I know it is hard to wait! These just look mouth watering. Enjoy!
Make ahead:  You can make the mashed potatoes and fish filling a day or two ahead without a problem.  You can also assemble and bread the chops up to a day ahead.
Leftovers:  In the rare case of leftovers, put the chops on a cookie and broil them in the oven on low for 3-4 minutes a side.  They will get crispy again and warm.