Once a year, when my parents are visiting us during the summer typically, my husband Arjun and I escape the kids and take a couple of days off of parenting.  I love my kids but one of the hardest parts about being a parent is you really never get a day off.  And date nights are great but to really unplug you need more time away than a two to three hour meal can give you.  Arjun and I started doing this last year when we got to spend a glorious weekend in Mendocino.  This year I wanted to explore some of the wine country closer to us and had my eye set on Healdsburg in Sonoma County.  I had heard from many friends that it was charming and laid back which sounded like exactly what we needed.
We drove up on a Friday and stopped at J Winery for a tour and tasting.  I worked with J Winery earlier this year on their social media content and community management so had visited already but my husband had never been. They actually pour wine for you during your tour which I think is very civilized.  J is known for their sparkling wines and Pinot Noirs.  My favorite is their Brut Rose which is easy drinking and could pair with just about anything.  The offer a food and wine pairing experience in their Bubble Room which is on my list to try on a future visit.  After a tour and tasting we were ready to check into our wine country cottage which is exactly what we did.
We found this charming spot through Airbnb which was nestled among vineyards and a little away from the bustle of downtown Healdsburg.  The owners of the cottage thoughtfully leave some coffee, eggs and pastry for their guests so you you have the makings of breakfast at your finger tips.  And hard to beat the view you get with your morning cup of joe.  I am feeling relaxed just thinking about it…..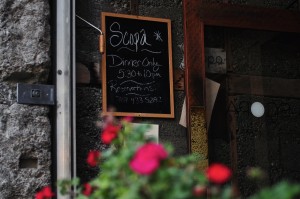 After settling in and doing a quick costume change, we stepped out for dinner at the intimate Italian spot, Scopa in downtown Healdsburg.  This gem had been recommended by several friends and it did not disappoint.  Service was attentive without being overbearing and the food was exquisite.  The dish not to be missed is Nonna's chicken.  It braised all day and is falling off the bone, bathed in this rich tomato sauce spiked with rosemary.  The whole thing is served over creamy, dreamy polenta and wilted greens.  It is exactly the sort of dish you want to eat after the sun goes down in wine country and the temperature suddenly drops.  That chicken will warm you through and through.
The next morning, we drove down to the Russian River to do a stand up paddle board trip through SUP Odyessey.  Jeff, our instructor exuded a calmness I have generally only experienced in the company of yoga instructors.  The river was quiet and lovely when we got started.  We saw quite a few birds, including a graceful egret.  In the second half of our trip while I was trying to make a turn on my board (it was only my second time on a SUP) I suddenly lost my balance and tumbled into the water…..and lost an earring….one of a pair that my mother had given me when my daughter was born.  Tragic.
After brushing off my dignity and changing into dry clothes, it was clear that the only thing left to do was drown my sorrows.  So off to Iron Horse Vineyards we went for a tasting.  I find it is almost impossible to be in a bad mood when drinking bubbly and that is one of Iron Horse's specialities.  They make several gorgeous varieties but my favorite is the Wedding Cuvee.  Perfectly yeasty and rich but balanced.  The lovely people at Iron Horse directed us to the Underwood Bistro in nearby Graton when we inquired about a tasty place to grab lunch.
Underwood was a short ten minute drive away and embodied much of what I love about California.  In a relatively small town with less than five restaurants you can find local produce and exceptional food.  Arjun and I shared oysters, a smoked trout salad and the lamb gyro.  It was all fabulous but the star (or should I say hero) of the show was the gyro.  With perfectly smoky, tender lamb and a piquant, house-made chili aioli, it totally knocked our socks off.  And, Jeff, our SUP instructor, happened to call during lunch to say he found the missing earring!  Jeff rose in my ranks from a great instructor to a saint.
After a quick earring pick-up we hit a couple more wineries.  My favorite was Quivira.  It was less than a five minute drive from our cottage and had some unusual varieties like Viognier-Sauvignon Blanc.  I was skeptical at the blends at first but ended up enjoying most of what was poured and walking away with several bottles.
After a brief nap at the cottage, we ventured out to dinner at the new hot spot in Healdsburg, Valette.  We started with a pretty epic charcuterie platter and a luscious tomato burrata salad.  I chose to have fish for my main course which was perfectly cooked.  Arjun got the smoked and sous vide lamb bacon.  He was floored that the meat was cooked both ways and could not stop raving about the dish.  It managed to be intensely smoky and unctuously tender all at the same time.  Pretty mind blowing.  With full bellies we retired to the cottage for a good night's sleep.
The next morning we had one last wine tasting before heading home and it turned out to be the best one.  We had made an appointment at Jordan Vineyards (they are appointment only) and were impressed by the tour and tasting experience.  Our guide was so knowledgeable and helpful.  Wines were poured through out the tour and paired with little bites.  The setting and grounds are beyond gorgeous and provide a perfect backdrop for the delicious wine.  Jordan only makes a chardonnay and Cabernet Sauvignon.  During the tour they actually pour three different vintages of the cab so you can taste how different the wine is year after year.  All the vintages were tasty but they were noticeably different.  Everyone in our group had a different favorite.  I would visit Jordan again in a heartbeat and also think it is perfect for out-of-towners who want to get the best out of wine country but don't have the luxury of coming often and have limited time.
All in all, our trip to Healdsburg was a success and I recommend it wholeheartedly to anyone looking for a wine country getaway or even as a home base for a more extended visit to Napa and Sonoma.  We walked away with many new memories and bottles we are excited to open.