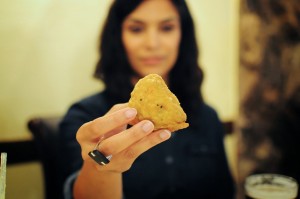 Some of you may have noticed that there is a new tab at the top of this blog called shop my favorites.  I realized that I should introduce this new, and hopefully exciting, feature of Samosa Junkie.  Basically, I have partnered with Amazon to create a special store just for readers of this blog.  In it, I have some of my favorite cookbooks, foodie novels and also tools that are indispensable in my kitchen.  And best of all, there are also spices!
I've tried to find ingredients that would typically require a trek to the Indian store like chaat masala or black cardamom pods.  Now you don't need to live near a well stocked market to capture those flavors in your kitchen!  Full disclosure – I have picked these products myself but if you click over to Amazon through this blog and purchase they do give me a small commission.  As I spend more time working on this blog, I'm trying to find ways to cover cost of supplies and my time.  But there is no incentive for me to pick the items – I only choose what I myself would buy for my own kitchen.
I'm hoping the shop will save you some time and also the frustration of navigating an Indian market for the first time.  And if you have a a moment, check out some of the fiction.  I just finished The Last Chinese Chef and it was absolutely exquisite.  The way Nicole Mones has described the food is delectable.   And the story is top notch as well – but I wouldn't expect anything else from the woman who wrote Lost in Translation.   Happy browsing!   And if you have a chance, let me know what you think of this feature.
If you enjoy reading Samosa Junkie and are new to the blog, please subscribe at the top left of the page.  That way, each time a new post is written (typically once a week) it comes right your inbox.  And I always welcome comments below.  I love the feedback!