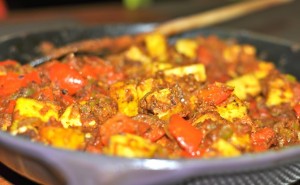 Sadly, my mom's visit drew to a close this week.  She has been a tireless, patient grandmother, not only reveling in my son's every action but also cooking all our favorite foods.  Time to return the favor.  I turned to one of my all time favorite, fairly quick and yet delicious Indian main courses – Kadai Paneer.  As much as I love my mother, the mercury has been climbing to over a hundred in Atlanta and I couldn't imagine hovering over a hot stove any longer than absolutely necessary!  This dish is a one pot meal.  You've got protein from the paneer (Indian cheese not unlike a big hunk of cottage cheese), veggies from the tomato and bell pepper.  Add your favorite naan or bread and dinner is served!  The dish has a unique vibrant flavor thanks to the roasted cumin powder, asafoetida and garam masala.  This recipe comes from my friend and fabulous cook, Mala.  Like my mother she is also a vegetarian and I can always count on something absolutely tasty at her house.  We usually end up doing pot-luck (so much easier on the host) and exchanging recipes afterwards.  This dish is the take away of one of those dinners.  My mother enjoyed it thoroughly.  The leftovers also reheat beautifully.
KADAI PANEER
Ingredients: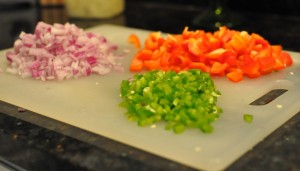 3 tbl canola oil
1 tbl cumin seeds
1 tsp asafoetida powder
1 medium red onion finely diced
3 medium tomatoes pureed in your food processor
1-2 jalapenos or serranos, finely chopped
2 tbl grated ginger (I use a microplane)
1 tbl coriander powder
1 tsp red pepper flakes
1 tsp turmeric
2 medium red bell peppers diced into 1 inch pieces
16oz paneer cut into 1 inch cubes
2 tsp roasted cumin powder
2 tsp garam masala
1 1/2 tsp salt
1. Soak the paneer cubes in hot tap water.  This is to soften them before they are added into the dish.
2. Heat vegetable oil over medium.  When shimmering, add asafoetida and cumin seeds.  Cook for about a minute until the seeds turn a shade darker
3. Add the onion and saute until it is just starting to brown around the edges – about 5-7 minutes.
4. Add the tomato puree, ginger, green chilies, coriander powder, pepper flakes and turmeric.  Simmer until most of the liquid has evaporated and the oil begins to bead on the edges of the pan – 8-10 minutes.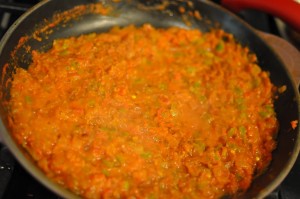 5. Add the red peppers and cover.  Cook for 5 minutes.
6.  Drain the paneer cubes and add them to the pan along with the roasted cumin powder, garam masala and salt.
7.  Reduce heat to low and simmer for 5-7 minutes.  Serve with hot, buttered naan.  I like the frozen ones made by Deep.