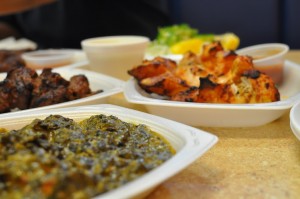 I have already blogged about my favorite vegetarian spot in the Atlanta area known for fabulous South Indian grub. Now I'm going to go to the other end of the spectrum and tell you about my favorite place for succulent, grilled meats from the Indian North-West/Pakistan. Sabri Kabab House is an unassuming little dive in Norcross right next to a gas station convenience store. But you don't go here for the posh location. It is family run and always very clean. It is cafeteria style – you order the food at the counter and then it comes out to you on Styrofoam trays. The food is why you go. This place is my absolute go-to when I need a hit of spicy, grilled meats. A friend of a friend turned my husband and I on to this place when we first moved to Atlanta 4 years ago and we have been going about once a month (if not more often) ever since. Here is what you MUST order:
1. Beef seekh kebabs: I know, beef at an Indian restaurant? This place is Muslim run so beef is absolutely on the table – along with lamb and chicken. These kebabs are juicy and have a good hit of heat. The heat does not stop my toddler Shiv from devouring them! They are that good.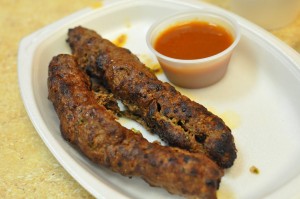 2. Bihari kebab: This is a pretty tough dish to find at an Indian restaurant in Atlanta. This beef kebab literally melts in your mouth. I'm guessing that it has a really long marinade that completely tenderizes it. It is redolent with spice and we absolutely never miss ordering this when we go.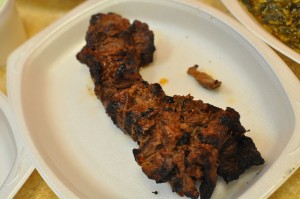 3. Chicken tikka breast: This is a milder dish – perfect for my son (even though last time he preferred to devour the fiery seekh). It is juicy but perfectly slightly charred on the outside. It is on the right at the picture at the top of this post. They score it so you get plenty of nice, crispy outside as a foil to the moist inside.
4. Palak Paneer: This place is not known for its veggies but for me a meal is not complete if I don't have something that grew from the Earth. This is the best option. It is not the best rendition of this dish I have ever had but it is tasty and the paneer is tender.
5. Naan: They make there naan fresh to order so get several. They are the perfect thing to wrap the fabulous meats in and eat!
Being Muslim this place does not serve alcohol but they do make a pretty decent salty lassi (blended yogurt drink) and Indian masala chai. The lassi is key if your mouth is on fire – nothing will cool it down faster!
Sabri Kabab House
6075 Singleton Rd
Norcross, GA
http://www.sabrikababhouse.com/
678 768 1300
I am on vacation at the beach next week so no blogging for me. But lots of tasty stuff – and the recipe for one of my mother's signature dishes when I get back!