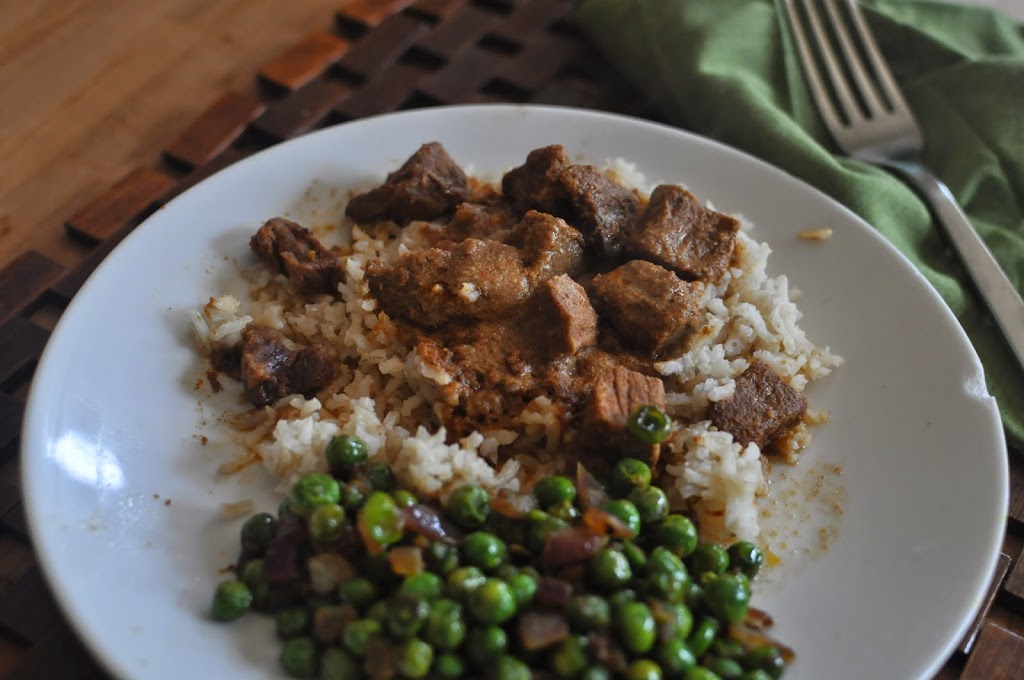 For my husband, Arjun, special occasions meant Rogan Josh.  This gentle, aromatic lamb or goat stew was one of his maternal grandmother, Didu's specialties.  Whenever we would travel back to India, the first meal we would be served (usually right after getting home from the airport late, late at night) would include rogan josh along with those shammi kebabs I just blogged about.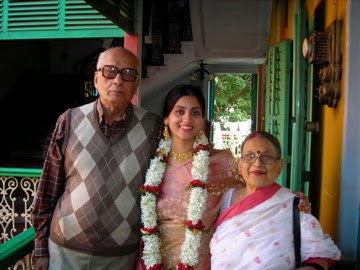 Didu on the far right with Arjun's sister and Dadu
Didu was an incredibly gifted cook and very adventurous in her taste.  She was about five feet tall with huge eyeglasses and forever a bright smile on her face – especially when she was watching her family eat her food around the table.  She came from an illustrious Calcutta family that even boasted a few knights.  I remember asking her what types of foods were served in her house growing up and her reply surprised me.  She said that Indian food was always served at lunch but dinner would be continental cuisine including lamb roasts.  I had no idea that there were Indian families that served non-Indian food on a regular basis.  It was quite a revelation for me.  Consequently she would often serve us totally unexpected things like mushrooms on toast and perfect scrambled eggs.
No matter the type of cuisine, she was a total perfectionist in her cooking process.  She demanded the best ingredients and was very particular on how ingredients were prepped by the kitchen staff.  I remember one visit when my mother-in-law bought powdered coconut milk instead of fresh for Didu to make her famous shrimp curry.  Such a row ensued!  Ultimately Didu used the powdered coconut milk but declared the curry totally worthless.   In reality, it was quite tasty but not totally up to Didu's standard.  I don't think my MIL ever bought powdered coconut milk for Didu ever again.
I asked Arjun if he remembered when Didu started making this Rogan Josh.  He remembers eating it as a boy, around 7, for the first time.  He said as soon as he tasted it he loved it and it became the dish he would always request on his birthday.   Didu passed away in 2010 and our way of honoring her is by preparing her best recipes.  After much trial and error, Arjun has successfully recreated her delicious Rogan Josh and I am thrilled to be able to share it with you.  I know it would make Didu proud.
ROGAN JOSH
Ingredients:
8 threads of saffron
1/2 cup whole milk
2 tbs butter
1 tbl grapeseed oil
1.5 lb beef stew meat
3 tsp kashmiri mirch (mild red chili powder from Kashmir)
2 tsp ground ginger
1 tsp ground coriander
1 1/2 tsp salt
1/8 tsp asafoetida
3/4 cup low-fat yogurt
1/2 tsp cumin seeds
1/2 tsp fennel seeds
1/2 tsp cinnamon
2 cloves
5 peppercorns
1/8 tsp nutmeg
1/2 cup of water
Instructions:
1.  Heat the milk and saffron in a small saucepan just until the milk is about to boil.  Turn off the heat and set the mixture aside.
2.  Heat the butter and oil over medium heat in a dutch oven.
3.  Add the stew meat and brown it on all sides.
4.  Turn the heat down to low and add the kashmiri mirch, ground ginger, coriander, salt, asafoetida, and yogurt to the meat.  Bring to a simmer and cook until the oil separates – about 5-6 minutes.  It should look like picture below – pools of reddish oil in the lighter gravy.
5.   Grind together the cloves, peppercorns, fennel seeds, and whole cumin in a spice grinder or mortar and pestle until it is a consistent powder.
6.  Add the fresh ground spice mixture along with the ground cinnamon, ground nutmeg, saffron milk mixture, water and salt to the meat.
7.  Stir to incorporate throughly.
8.  Transfer Rogan Josh to a slow cooker and cook on low for 3-4 hours until the meat is fork tender.  Alternatively you can also put the dutch oven in a 300 degree oven and cook for 2-3 hours.
This is delicious with rice or any Indian flat bread like naan or roti.