I can go only so long before I start to crave the tangy, spicy, distinctively unique flavor of Delhi street food. These are eats that are typically pretty tough to find on a restaurant menu in the US but are sold on every corner in Delhi. Growing up it became our tradition to have a complete street food menu on Christmas which included potato patties topped with the Punjabi chole I recently blogged about, and of course samosas. In Atlanta, we are lucky enough to have a restaurant called Bhojanic in Decatur (1363 Clairmont Rd.) that thinks outside the box and serves excellent street food – in fact, I have a hard time ordering anything else when I'm there! Two of my absolute favorites are the papri chaat and the pani puri.
The papri chaat for the uninitiated are little fried crackers that are topped with tamarind and cilantro chutneys, plus a salty yogurt sauce. Chickpeas and small chunks of boiled potato are sprinkled on top along with fresh, chopped cilantro and crunchy little noodles made of gram flour. It is a crazy, delicious party in your mouth of spicy and sour with the yogurt acting as a lovely contrasting, cooling flavor. I love the way Bhojanic does this dish because their chutneys are made from scratch and always taste very fresh. The tamarind chutney is actually sweetened with unprocessed brown sugar – and you can tell in the taste. It is not cloyingly sweet as this sauce tends to be at so many other Indian establishments.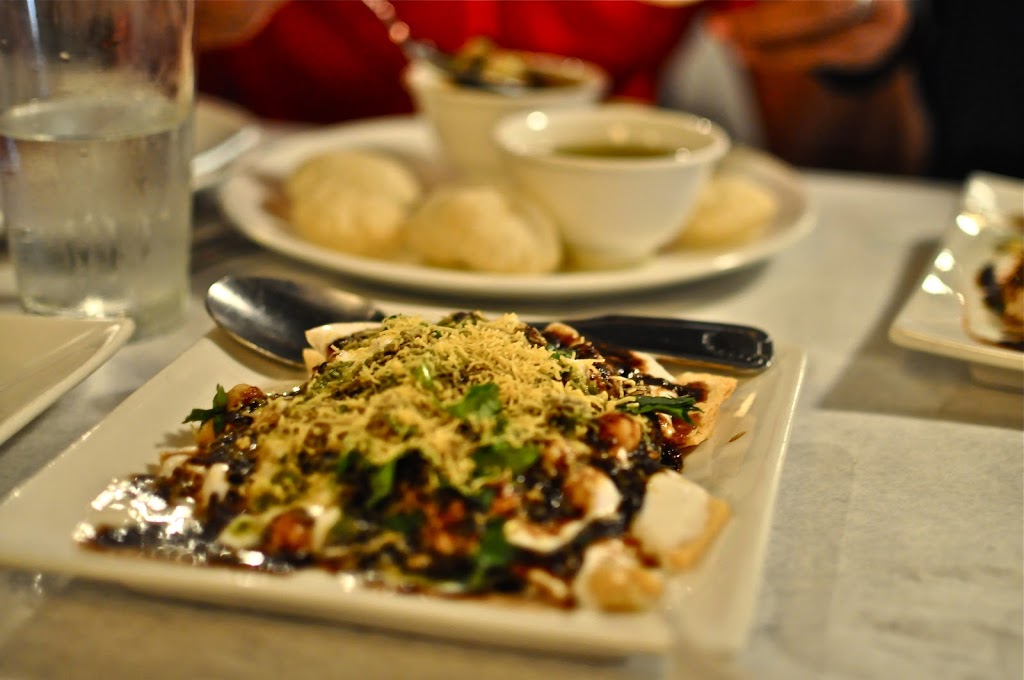 The other dish that I simply cannot get enough of is the pani puri. This dish comes in three parts – the first is the puffy, crispy round puri, the second is the spicy, refreshing water or pani, and the third is the chickpea plus boiled potato mixture. To eat this dish you start with carefully poking a hole in the puri with your finger just larger than the size of a chickpea. Then you add as much potato and chickpea as you like into the puri. Lastly you dunk the puri in the water so the hole is submerged and it fills up. You have to put the whole thing in your mouth at once and when you do the spicy cold pani rushes out. It is utterly fantastic.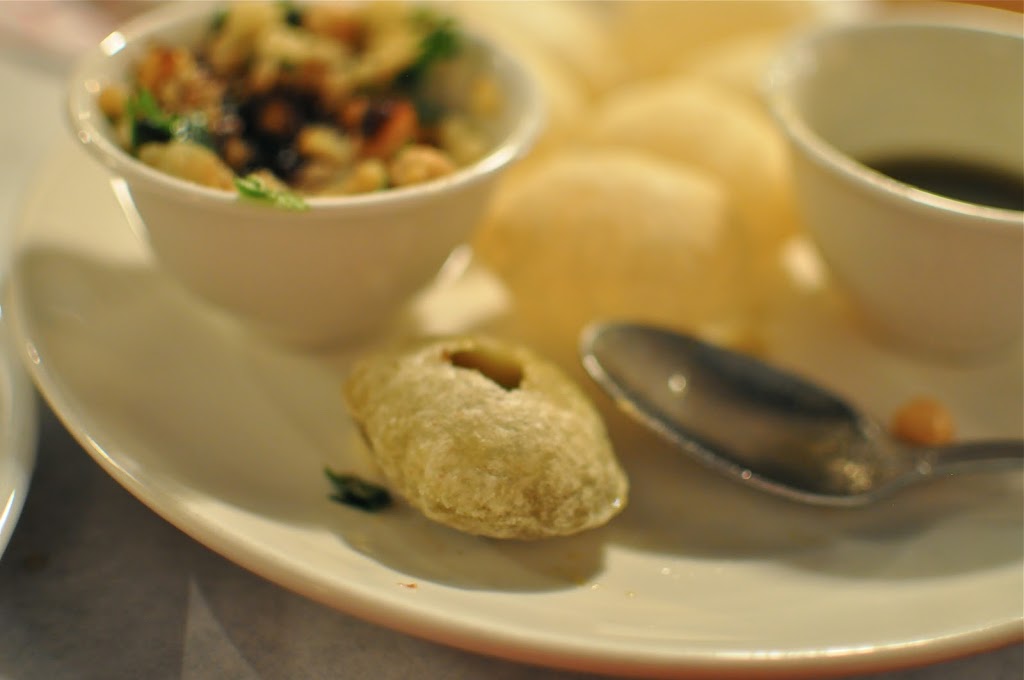 I recently had the pleasure to film a segment for my new show, Atlanta Eats, at Bhojanic and could not have been more impressed with the care the kitchen takes in preparing the food. Everything is fresh and made in the same fashion I would in my own kitchen. So please, check it out! And don't miss the premiere of Atlanta Eats this Saturday, October 20 at 12 noon on CBS 46. The first episode features the fabulous food of The Optimist, Salt Factory Pub, Lotta Frutta, and Bocado plus the crazy antics of host Steak Shapiro. Would love to hear what you think!